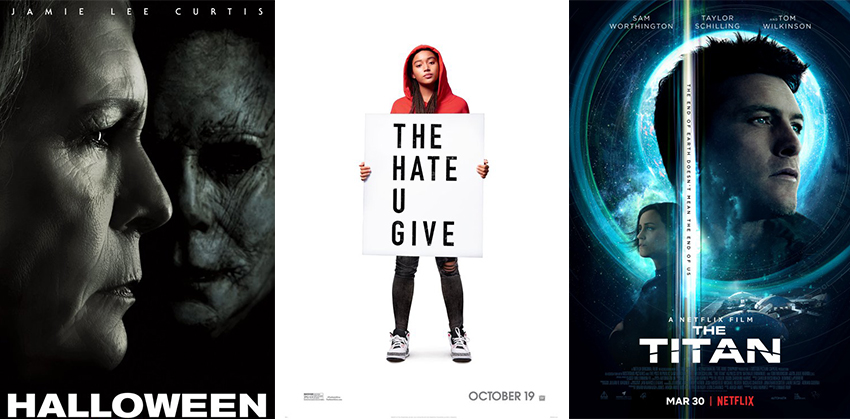 The highly anticipated Halloween graces our screens this week, alongside the well-received local musical-war-drama Kanarie, the lauded The Hate U Give and some other stuff that isn't doing so well.
Halloween (2018)
Age Restriction: 18 H L V
Laurie Strode comes to her final confrontation with Michael Myers, the masked figure who has haunted her since she narrowly escaped his killing spree on Halloween night four decades ago.
Eschewing the increasingly fanciful sequels that came before it in favour of a return to its roots, Halloween is a masterfully executed, modern-day love letter to classic slasher films. It's suspenseful and wholly satisfying.
Critical Hit: 8/10
Rotten Tomatoes: 84% (Certified Fresh)
Metacritic: 69 (Generally Favourable Reviews)
The Hate U Give
Age Restriction: 13 D L P V
Starr Carter is constantly switching between two worlds: the poor, mostly black, neighborhood where she lives and the rich, mostly white, prep school she attends. The uneasy balance between these worlds is shattered when Starr witnesses the fatal shooting of her childhood best friend Khalil at the hands of a police officer. Now, facing pressures from all sides of the community, Starr must find her voice and stand up for what's right.
Incredibly timely and hard-hitting, The Hate U Give is fiercely gripping with its story telling. With a total lack of arrogance and open, raw emotion, The Hate U Give is a standout film, with a standout breakout performance from Amanda Stenberg.
Rotten Tomatoes: 97% (Certified Fresh)
Metacritic: 82 (Universal Acclaim / Metacritic Must See)
The Titan
Age Restriction: 16 L V D
In the near future, a military family uproot their lives so they can participate in a ground-breaking experiment to accelerate man's genetic evolution. The goal? To relocate humanity to another planet and avoid extinction.
Starting with an intruiging premise but ending as a cliched, and frankly tedious, monster movie, The Titan lacks pretty much anything that makes a body horror movie worthwhile. Sans disgust and gore, it's just a squandered opportunity with ridiculous sci-fi non-science and a wooden cast.
Rotten Tomatoes: 16% (Rotten)
Metacritic: 33 (Generally Unfavourable Reviews)
Papillon
Age Restriction: 16 L V
Based on the international best-selling autobiographic books "Papillon" and "Banco", PAPILLON follows the epic story of Henri "Papillon" Charrière (Charlie Hunnam), a safecracker from the Parisian underworld who is framed for murder and condemned to life in the notorious penal colony on Devil's Island. Determined to regain his freedom, Papillon forms an unlikely alliance with quirky convicted counterfeiter Louis Dega (Rami Malek), who in exchange for protection, agrees to finance Papillon's escape.
This new spin on an old story might be more bloody and violent, and just as well acted and put together, but 2018's Pappillon just doesn't stack up to the original 1973 version. Though, if you haven't seen the original, it's still a solid adventure.
Rotten Tomatoes: 53% (Rotten)
Metacritic: not found
Kanarie
Age Restriction: 16 L V N S P
KANARIE (Afrikaans for 'Canary') is a coming-of-age musical war drama, set in South Africa in 1985, about a young boy who discovers how through hardship, camaraderie, first love, and the liberating freedom of music, the true self can be discovered.
Kanarie combines thoughtfulness and exuberance into an award-winning film that's been well received at international film festivals. Now debuting on local shores, Kanarie is led by Schalk Bezuidenhout.
Rotten Tomatoes: Tomatometer not available
For more information about the age restrictions, click here.
Last Updated: October 19, 2018