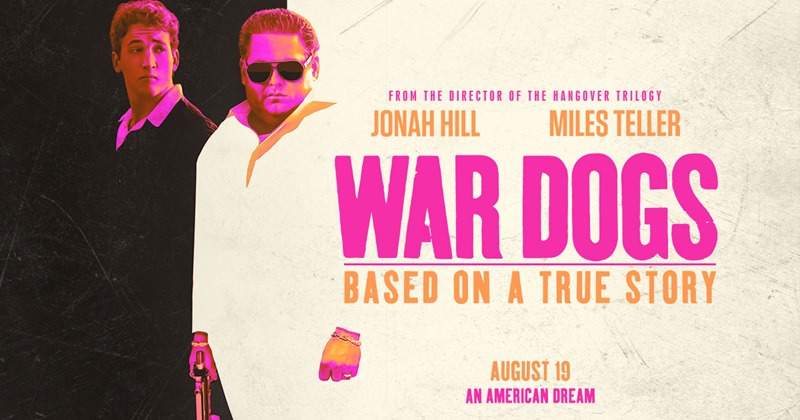 This week, we get to cry havoc and let slip the dogs of war! Well, only with one of our new releases, but I guess it still counts.
As an aside, a kind Twitter follower of ours (hi @Sageville!) suggested adding the age restriction ratings to the new releases, so that everyone can get an idea of what films they're allowed to take their kids to. As a non-parent, this is something that's never occurred to me, so I've added it in. If anyone has any other suggestions on how we can improve, please let us know!
War Dogs
Age restriction: 16 (L V D)
WAR DOGS follows two friends in their early 20s (Hill and Teller) living in Miami Beach during the Iraq War who exploit a little-known government initiative that allows small businesses to bid on U.S. Military contracts. Starting small, they begin raking in big money and are living the high life. But the pair gets in over their heads when they land a 300 million dollar deal to arm the Afghan Military – a deal that puts them in business with some very shady people, not the least of which turns out to be the U.S. Government.
Billed as a black comedy, War Dogs does hit the comedy mark, and it is on the dark side. That being said, there's not a heck of a lot of story. The main characters are repulsive by design, but not exactly hard-hitting. There's nothing majorly impactful about the film in general, just mild entertainment. You'll probably laugh, and feel guilty about doing so.
Rotten Tomatoes: 60%
Metacritic: 57
Book now at Nu Metro or Ster Kinekor.
The Light Between Oceans
Age restriction: 10-12 PG
On a remote Australian island in the years following World War I, lighthouse keeper Tom Sherbourne (Michael Fassbender) and his wife, Isabel (Alicia Vikander), discover a boat washed ashore carrying a dead man and a two-month old baby. Rescuing the infant, they make the decision to raise her as their own but the consequences of their choice prove to be devastating.
Superbly acted by a stellar cast, The Light Between Oceans is a beautiful, mesmerising film. Ultimately though, it forces its drama and tear-jerker moments, becoming too ponderous and melodramatic at times. But it's very pretty, so the scenery will give you something to stay occupied. Oh, and bring the tissues, this one's a weepy.
Rotten Tomatoes: 61%
Metacritic: 60
Book now at Nu Metro or Ster Kinekor.
Noem my Skollie
Age restriction: 16 (D L SV V)
It was the Cape Flats in 1960's South Africa, and four teenage boys formed a gang to protect themselves, thus beginning the downward descent toward hard-core gangsterism. Years later, while incarcerated, gang leader Abraham discovers a talent for storytelling, and becomes the prison "cinema." When Abraham is released, he begins a new life with his childhood sweetheart, but his old gang associates involve him in a crime with deadly consequences.
Filmed with intricate attention to detail, Noem my Skollie superbly captures the dangerous mood of the 1960's Cape Flats. It's also decently acted by veteran South African actors and newcomers alike. Producer David Max Brown has turned out an honest, gritty movie with heart that serves as a credit to our local film industry.
Book now at Nu Metro or Ster Kinekor.
The 9th Life of Louis Drax
Age restriction: 13 (L V)
After surviving eight near-death accidents throughout his unlucky life, Louis Drax [Aiden Longworth] plunges off a steep cliff on his ninth birthday. While police investigate the cause of Louis' near-fatal fall and the whereabouts of his violent father Peter [Aaron Paul], acclaimed neurologist Dr. Allan Pascal [Jamie Dornan] uses unorthodox techniques to try to tap into the boy's unconscious mind and reveal the truth about the events that led to his condition. But as he's drawn deeper and deeper into the mystery of Louis' seeming ability to cheat death, the doctor finds himself falling for Louis' mother, Natalie [Sarah Gadon]. As new clues emerge in the case, a shocking revelation changes the fates of Louis Drax and everyone around him.
Part fantasy, part mystery thriller, part family drama, The 9th Life of Louis Drax is a melding pot of ideas. Pity that none of them really work all that well, least of all when they're thrown in together. With its inconsistent tone and fits of ham-fisted melodrama, you'll leave the cinema scratching your head. And not because the mystery was so great, but because none of it really made that much sense.
Rotten Tomatoes: 44%
Metacritic: no metascore yet
Book now at Nu Metro or Ster Kinekor.
Heidi
Age restriction: PG
Orphan Heidi spends the happiest days of her childhood with her reclusive grandfather, Almöhl, living in a simple wooden hut in the Swiss Alps. She and her friend Peter tend to the goats and enjoy the freedom of mountain life to its fullest. That is, until Aunt Dete takes Heidi to Frankfurt to be a companion to wheelchair-bound Klara under the strict eye of Nanny Miss Meier. Will Heidi get back to the place she longs for?
Does anyone else remember that Afrikaans dub of the animated Heidi series? I remember watching it when I was in primary school, and I'm getting flashbacks now. If you're super nostalgic about having Afrikaans dubbed over other productions, then you're in luck, because that's exactly what this is.
Book now at Nu Metro or Ster Kinekor.
Khuli Chana : Picking up the pieces
Age restriction: TBA
The documentary covers the massive year that was 2013 for Khuli Chana. From winning big at the SAMAs that year and other award shows, having his music dominate on radio, being one of SA's most loved personalities, to being involved in a mistaken identity shooting and having to "pick up the pieces" of his life after that shooting.
I'll be honest, I have no clue who Khuli Chana is or why he's famous, nor can I recall the incident in 2013 when he was shot at by police with an automatic rifle. Nevertheless, after a protracted legal battle with the SAPS that has finally reached a settlement, here's a documentary about the incident and how it affected him, for anyone that's interested. Also the above video where Chana is talking about the documentary is about the closest I could get to a trailer.
Book now at Ster Kinekor.
Last Updated: September 2, 2016