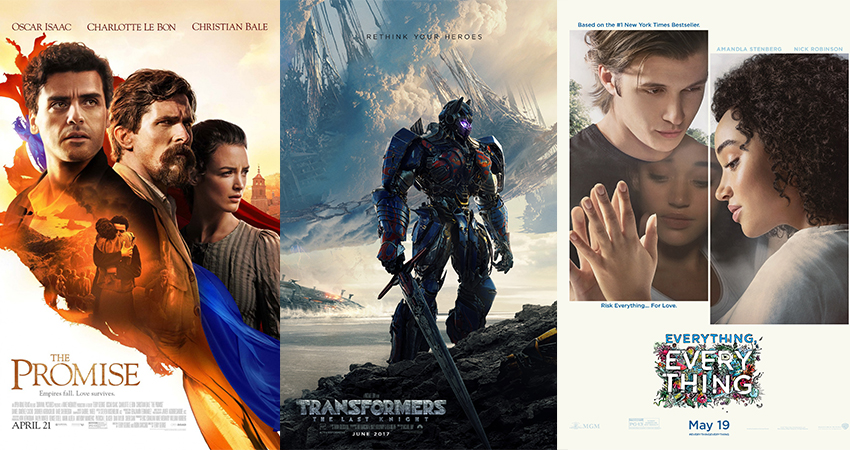 Three new movies are opening in cinemas today, just in time for the winter school holidays. We have some explosion-heavy mind-numbing action, a Young Adult drama-romance, and some more high-brow fair for the parents who got dragged to the cinemas by their kids.
Transformers: The Last Knight
Age Restriction: 10-12 PG L V
Humans and Transformers are at war, Optimus Prime is gone. The key to saving our future lies buried in the secrets of the past, in the hidden history of Transformers on Earth. Saving our world falls upon the shoulders of an unlikely alliance: Cade Yeager (Mark Wahlberg); Bumblebee; an English Lord (Sir Anthony Hopkins); and an Oxford Professor (Laura Haddock). There comes a moment in everyone's life when we are called upon to make a difference. In Transformers: The Last Knight, the hunted will become heroes. Heroes will become villains. Only one world will survive: theirs, or ours.
The longer I think about this stupid movie, the angrier I get. I absolutely loathed Transformers: The Last Knight. Some of my fellow contributors managed to find a few highlights, however minor they were. Myself on the other hand? The only positive I can see that will come of this movie being released is that they will finally stop showing the trailer in cinemas. Otherwise, I just keep finding new depths to my vitriol.
Critical Hit: 2.5/10
Rotten Tomatoes: 15%
Metacritic: 27
Book at Nu Metro (2D)
Book at Nu Metro or Ster Kinekor (3D)
Book at Nu Metro (4DX)
Book at Ster Kinekor (IMAX)
The Promise
Age Restriction: 13 V
It is 1914. As the Great War looms, the mighty Ottoman Empire is crumbling. Constantinople, the once vibrant, multicultural capital on the shores of the Bosporus, is about to be consumed by chaos. Michael Boghosian (Oscar Isaac), arrives in the cosmopolitan hub as a medical student determined to bring modern medicine back to Siroun, his ancestral village in Southern Turkey where Turkish Muslims and Armenian Christians have lived side by side for centuries. Photo-journalist Chris Myers (Christian Bale), has come here only partly to cover geo-politics. He is mesmerized by his love for Ana (Charlotte le Bon), an Armenian artist he has accompanied from Paris after the sudden death of her father. When Michael meets Ana, their shared Armenian heritage sparks an attraction that explodes into a romantic rivalry between the two men. As the Turks form an alliance with Germany and the Empire turns violently against its own ethnic minorities, their conflicting passions must be deferred while they join forces to survive even as events threaten to overwhelm them.
Well, at least I can thank the synopsis of The Promise for not having to worry about my word count for this article. That was quite the breakdown. But contrary to the synopsis, the focus of this movie isn't really on historical drama. Instead, The Promise wastes its energy on a saccharine love triangle between leads that may be strong, but have no chemistry together. Other areas of the film make up for this, the cinematography and deft handling of the brutal topic of genocide in particular, but The Promise is nevertheless unbalanced and fails to make the impact a film of this calibre should.
Rotten Tomatoes: 50%
Metacritic: 49
Book at Nu Metro or Ster Kinekor (2D)
Everything, Everything
Age Restriction: 10
Everything, Everything tells the unlikely love story of Maddy (Amandla Stenberg), a smart, curious and imaginative 18-year-old who due to an illness cannot leave the protection of the hermetically sealed environment within her house, and Olly, the boy next door who won't let that stop them. Maddy is desperate to experience the much more stimulating outside world, and the promise of her first romance. Gazing through windows and talking only through texts, she and Olly form a deep bond that leads them to risk everything to be together… even if it means losing everything.
You didn't think they could make a Young Adult drama out of the same concept as Bubble Boy, did you? But they did, and crossed it with The Fault in our Stars to make Everything, Everything: a sweet, light, coming-of-age drama about a fragile, charismatic girl in a bubble and the boy she falls in love with. Oh, hang on, this is just a gender-swopped rehash of The Boy in The Plastic Bubble, isn't it? Good grief, how many of these freaking movies are there?!
Rotten Tomatoes: 48%
Metacritic: 52
Book at Nu Metro or Ster Kinekor (2D)
For more information about the age restrictions, click here.
Last Updated: June 23, 2017