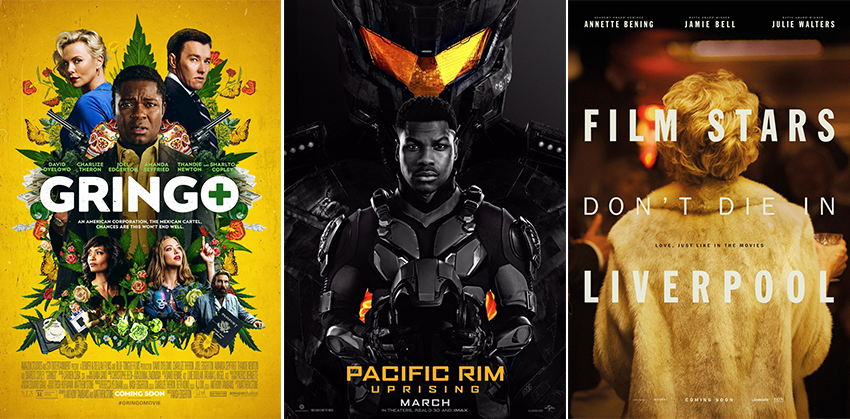 The highly anticipated robot/monster brawler, Pacific Rim: Uprising, smashes its way onto screens today. That doesn't mean you should discount the rest of our new releases, as the hilarious black comedy Gringo is also well worth a look in.
Pacific Rim: Uprising
Age Restriction: 13 L V
John Boyega stars as the rebellious Jake Pentecost, a once-promising Jaeger pilot whose legendary father gave his life to secure humanity's victory against the monstrous "Kaiju." Jake has since abandoned his training only to become caught up in a criminal underworld. But when an even more unstoppable threat is unleashed to tear through our cities and bring the world to its knees, he is given one last chance to live up to his father's legacy by his estranged sister, Mako Mori (Rinko Kikuchi)-who is leading a brave new generation of pilots that have grown up in the shadow of war. As they seek justice for the fallen, their only hope is to unite together in a global uprising against the forces of extinction.
The original Pacific Rim was so uniquely Guillermo del Toro that a sequel without him at the helm seemed impossible. It happened regardless though, and much of the original charisma was lost between 2013 and now. That being said, the childish delight we get from watching giant robots punching giant monsters can't be contained, and Pacific Rim: Uprising certainly delivers in that regard.
Critical Hit: 6.5/10
Rotten Tomatoes: 45% (Rotten)
Metacritic: 44 (Mixed or Average Reviews)
Gringo
Age Restriction: 18 D L S V
Crossing the line from citizen to criminal, mild-mannered American businessman Harold Soyinka (David Oyelowo) tangles with duplicitous business partners, Mexican drug lords, international mercenaries, and the DEA. As he attempts to survive in one of the most dangerous places on earth, the question lingers: is this ordinary man in way over his head, or is he two steps ahead?
Though Gringo's pace can't be sustained throughout the film, you'll come for the dark humour and stay for the stand-out performances of the cast, especially the fierce Theron and bumbling Oyelowo. There's no denying that the cast are having a great amount of fun and you'll be swept up alongside them, even if the film ultimately doesn't linger.
Rotten Tomatoes: 39% (Rotten)
Metacritic: 46 (Mixed or Average Reviews)
Film Stars Don't Die in Liverpool
Age Restriction: 13 L S
Based on Peter Turner's memoir, the film follows the playful but passionate relationship between Turner (Jamie Bell) and the eccentric Academy Award (R)-winning actress Gloria Grahame (Annette Bening) in 1978 Liverpool. What starts as a vibrant affair between a legendary femme fatale and her young lover quickly grows into a deeper relationship, with Turner being the person Gloria turns to for comfort. Their passion and lust for life is tested to the limits by events beyond their control.
In a novel twist on the usual Hollywood May-September romances, the September side of the equation is Annette Benning, portraying Gloria Grahame in the real-life story of Grahame's love affair with her significantly younger co-star. Fresh, frank and buoyed by Benning's layered performance, Film Stars Don't Die in Liverpool is a rewarding romantic drama for fans of the bygone days of the silver screen.
Rotten Tomatoes: 80% (Certified Fresh)
Metacritic: 65 (Generally Favourable Reviews)
Paul, Apostle of Christ
Age Restriction: 13
Paul, Apostle of Christ is the story of two men. Luke, as a friend and physician, risks his life every time he ventures into the city of Rome to visit Paul, who is held captive in Nero's darkest, bleakest prison cell. Before Paul's death sentence can be enacted, Luke resolves to write another book, one that details the beginnings of "The Way" and the birth of what will come to be known as the church. But Nero is determined to rid Rome of Christians, and does not flinch from executing them in the grisliest ways possible. Bound in chains, Paul's struggle is internal. He has survived so much–floggings, shipwreck, starvation, stoning, hunger and thirst, cold and exposure–yet as he waits for his appointment with death, he is haunted by the shadows of his past misdeeds. Alone in the dark, he wonders if he has been forgotten… and if he has the strength to finish well. Two men struggle against a determined emperor and the frailties of the human spirit in order to bequeath the Gospel of Jesus Christ to the world.
Handsomely filmed and well produced, Paul, Apostle of Christ nevertheless gets dragged down by the unrelentingly slow pace and a lack of focus on Paul himself, ultimately stumbling under the weight of its sincere intentions.
Rotten Tomatoes: 25% (Rotten)
Metacritic: 48 (Generally Favourable Reviews)
For more information about the age restrictions, click here.
Last Updated: March 23, 2018