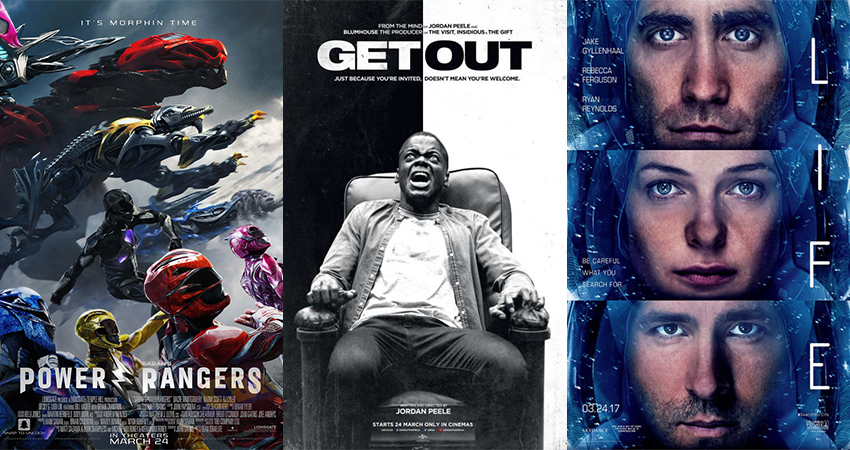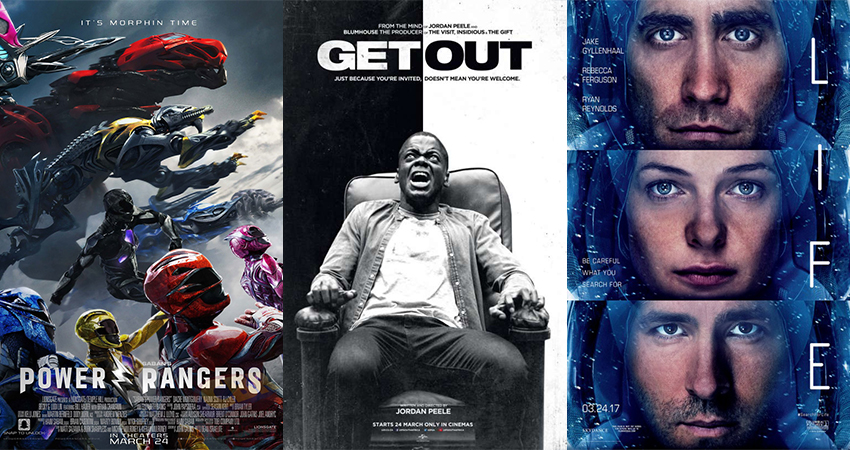 For many South Africans, it's been a three-day working week thanks to the public holiday. Which means this weekend can't come fast enough, because you know those three days have felt like five years. Fortunately, if you need some big screen escapism, there are six new movies to choose from as of today. From superheroic action to sci-fi, comedy, horror and slice of life drama, they cover the full genre spectrum. Now let's start with the movie we're confident our readers will care about the most…
Saban's Power Rangers
Age Restriction: 7-9 PG L V
Power Rangers follows five ordinary teens who must become something extraordinary when they learn that their small town of Angel Grove – and the world – is on the very foe being obliterated by an alien threat. Chosen by destiny, our heroes quickly discover they are the only ones who can save the planet. But to do so, they will have to overcome their real-life issues and before it's too late, band together as the Power Rangers.
It's not without its issues, but Power Rangers is a helluva lot better than many people expected it to be – chiefly because it never forgets that it's supposed to be fun. The film is currently dividing critics, but the Critical Hit team had a blast, even while acknowledging problems like a final act that suffers from CGI bloat.
Critical Hit: 7.5/10
Rotten Tomatoes: 44%
Metacritic: 42
Book at Nu Metro or Ster Kinekor (2D)
Book at Nu Metro (4DX)
Life
Age Restriction: 16 H L V
The six-member crew of the International Space Station is on the cutting edge of one of the most important discoveries in human history: the first evidence of extraterrestrial life on Mars. As the crew begins to conduct research, their methods end up having unintended consequences and the life form proves more intelligent than anyone ever expected.
Life is solid if derivative science fiction, with a "first contact" focus that delivers some genuine chills. Again, the movie is splitting critics. However, if you stick through the dull patches, the ending apparently makes it all worthwhile. Consider Life a B-movie with an A-grade cast and budget.
Critical Hit: 7/10
Rotten Tomatoes: 64%
Metacritic: 54
Book at Nu Metro or Ster Kinekor (2D)
Book at Ster Kinekor (IMAX)
Get Out
Age Restriction: 16 H L V
Now that Chris (Daniel Kaluuya) and his girlfriend, Rose (Allison Williams), have reached the meet-the-parents milestone of dating, she invites him for a weekend getaway upstate with Missy (Catherine Keener) and Dean (Bradley Whitford). At first, Chris reads the family's overly accommodating behavior as nervous attempts to deal with their daughter's interracial relationship, but as the weekend progresses, a series of increasingly disturbing discoveries lead him to a truth that he could have never imagined.
Get Out is the first surprise hit of 2017. It came out of nowhere to floor critics and audiences alike with its flawless combination of horror, comedy and social commentary. At this point the movie risks over-hype, but it truly is must-see. It's ideally consumed without exposure to promotional material, which will likely spoil the full experience.
Critical Hit: 8.5/10
Rotten Tomatoes: 99%
Metacritic: 84
Book at Nu Metro or Ster Kinekor (2D)
CHiPS
Age Restriction: 16 L N V
Jon Baker (Dax Shepard) and Frank "Ponch" Poncherello (Michael Peña) have just joined the California Highway Patrol (CHP) in Los Angeles but for very different reasons. Baker is a beaten up pro motorbiker trying to put his life and marriage back together. Poncherello is a cocky undercover Federal agent investigating a multi-million dollar heist that may be an inside job—inside the CHP. The inexperienced rookie and hardened pro are teamed together, but clash more than click, so kickstarting a partnership is easier said than done. But with Baker's bike skills combined with Ponch's street savvy it might just work…if they don't drive each other crazy along the way.
It's unclear who the intended audience is for this 70s-80s TV adaptation – certainly not fans of the lightweight original. A handful of reviewers have admitted to getting a kick out of the raunchy, R-rated action comedy. The majority of critics, though, have complained that CHiPS is a juvenile, confusing and generic buddy cop effort.
Rotten Tomatoes: 34
Metacritic: 31
Book at Nu Metro or Ster Kinekor (2D)
The Sense of an Ending
Age Restriction: 13 L S
Tony Webster (Jim Broadbent) leads a reclusive and quiet existence until long buried secrets from his past force him to face the flawed recollections of his younger self, the truth about his first love (Charlotte Rampling) and the devastating consequences of decisions made a lifetime ago.
Novel adaptation The Sense of an Ending is this week's offering for the Nouveau crowd. The mystery-drama's major selling point is its performances, especially from Broadbent, who rarely gets to headline a movie. Otherwise, it's a thematically dense effort that will please some viewers and frustrate others.
Rotten Tomatoes: 74%
Metacritic: 61
Book at Nu Metro or Ster Kinekor (2D)
Kampterrein
Age Restriction: 7-9 PG
Vakansie-chaos aan die orde van die dag. Wanneer die Afrikaanse gesin, die Fouchés, by die ATKV-Buffelspoort-vakansieoord opdaag, sien hulle dat die karavaanstaanplek waar hulle elke jaar kampeer, deur die Khumalo's beset word. Die onderonsie tussen die twee gesinne wat in 'n heen-en-weer-gestryery ontaard, is skreeusnaaks.
Not up for Get Out? You could always catch Afrikaans comedy Kampterrein, which looks at interracial relations and rivalries from a uniquely, and all too recognisable, South African perspective. Alternatively you could always go for supper at Spur. (Too soon?)
Book at Nu Metro or Ster Kinekor (2D)
For more information about the age restrictions, click here.
Last Updated: March 28, 2017