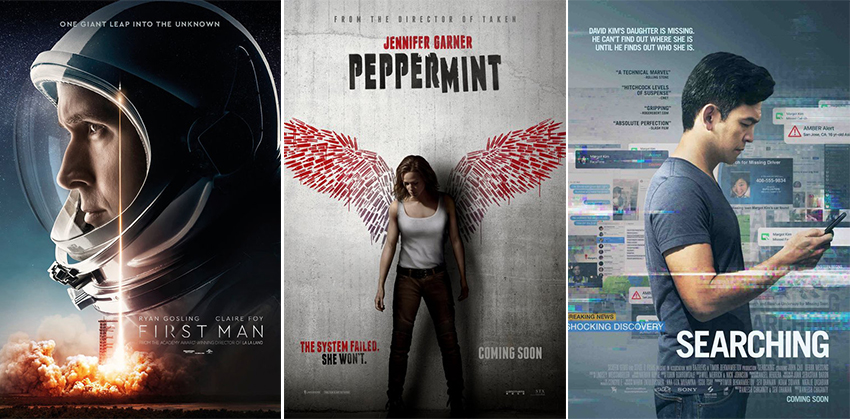 There's a very noticeable divide in this week's new releases. The movies are either really, really good, or really, really bad. This is not the week for any inbetweens.
First Man
Age Restriction: 13 L
First Man is the riveting story of NASA's mission to land a man on the moon, focusing on Neil Armstrong and the years 1961-1969. A visceral, first-person account, based on the book by James R. Hansen, the movie will explore the sacrifices and the cost-on Armstrong and on the nation-of one of the most dangerous missions in history.
Exhilarating on a level that beggars belief, First Man is a triumphant ode to one of man's most triumphant moments. Soaring with majestic beauty and grounded with emotional investment, it's hard to believe that this film is only director Damien Chazelle's third outing.
Critical Hit: 9/10
Rotten Tomatoes: 89% (Certified Fresh)
Metacritic: 84 (Universal Acclaim – Metacritic Must See)
Peppermint
Age Restriction: 16 L V D
Peppermint is an action thriller which tells the story of young mother Riley North (Jennifer Garner) who awakens from a coma after her husband and daughter are killed in a brutal attack on the family. When the system frustratingly shields the murderers from justice, Riley sets out to transform herself from citizen to urban guerilla. Channeling her frustration into personal motivation, she spends years in hiding honing her mind, body and spirit to become an unstoppable force — eluding the underworld, the LAPD and the FBI — as she methodically delivers her personal brand of justice.
Jennifer Garner deserves a better movie than Peppermint. While her performance is as solid as can be and her turn as an action star as believable as possible, the movie itself is a lacklustre revenge story with a pathetic script that spins its wheels and says nothing of impact, never mind importance.
Rotten Tomatoes: 9% (Rotten)
Metacritic: 29 (Generally Unfavourable Reviews)
Searching
Age Restriction: 13 L V D
After David Kim (John Cho)'s 16-year-old daughter goes missing, a local investigation is opened and a detective is assigned to the case. But 37 hours later and without a single lead, David decides to search the one place no one has looked yet, where all secrets are kept today: his daughter's laptop. In a hyper-modern thriller told via the technology devices we use every day to communicate, David must trace his daughter's digital footprints before she disappears forever.
While Searching's execution may seem gimmicky, in practice it's the perfect vehicle for this taut mystery-thriller about our digital lives. Searching also brings in a surprising level of emotion and keeps its pacing tight and effective, resulting in a novel film that's elevated by its unique delivery.
Rotten Tomatoes: 93% (Certified Fresh)
Metacritic: 71 (Generally Favourable Reviews)
Goosebumps 2: Haunted Halloween
Age Restriction: 10-12 PG H V
Halloween comes to life in a brand-new comedy adventure based on R.L. Stine's 400-million-selling series of books.
A follow-on to 2015's hit Halloween movie Goosebumps, Haunted Halloween is a haphazard attempt at cashing in on the resurgence of R.L. Stine's popularity. Unfortunately, this one lacks pretty much everything that made the original great, including the cast, the genuine creepiness and the overall investment in entertaining.
Rotten Tomatoes: 44% (Certified Fresh)
Metacritic: 53 (Mixed or Average Reviews)
The Little Vampire
Age Restriction: 7-9 PG H V
THE LITTLE VAMPIRE, based on the characters from the bestselling novels by Angela Sommer-Bodenburg, tells the story of Rudolph, a thirteen year old vampire, whose clan is threatened by a notorious vampire hunter. He meets Tony, a mortal of the same age, who is fascinated by old castles, graveyards and – vampires. Tony helps Rudolph in an action and humor packed battle against their adversaries, together they save Rudolph's family and become friends.
A low-effort, low-energy and low-budget film, The Little Vampire took cues from its protagonist and drained the life out of the film. Fans of the beloved books should avoid like the plague, as watching great source material be reanimated into a corpse of an effort will cause outrage.
Rotten Tomatoes: 14% (Rotten)
For more information about the age restrictions, click here.
Last Updated: October 26, 2018