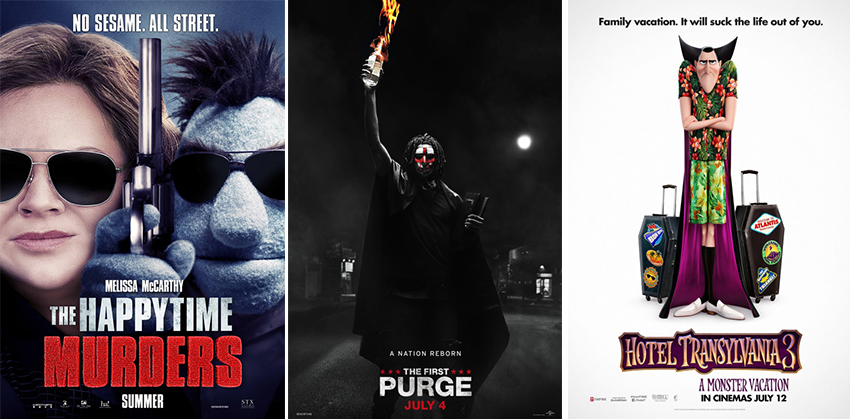 Fun story, I concussed myself yesterday by losing a fight with my car door. Thankfully, with a concussion, you're supposed to limit your screen time, so I don't have to see any of this week's new releases. Doctor's orders!
The First Purge
Age Restriction: 18 D H L P S V
To push the crime rate below one percent for the rest of the year, the New Founding Fathers of America (NFFA) test a sociological theory that vents aggression for one night in one isolated community. But when the violence of oppressors meets the rage of the marginalized, the contagion will explode from the trial-city borders and spread across the nation
Fans of The Purge franchise will no doubt get a kick out of this surprisingly hard-hitting prequel entry. The action is as brutal and gruelling as the franchise should be, with some extra, albeit unintentional, comedy. As a horror though, the scares are mostly lacking, and it's only really scary if you think how close modern-day America is to this level of over-the-top, senseless violence.
Critical Hit: 5/10
Rotten Tomatoes: 55% (Rotten)
Metacritic: 54 (Mixed or Average Reviews)
The Happytime Murders
Age Restriction: 18 D L P S V
The Happytime Murders is a filthy comedy set in the seedy underbelly of Los Angeles where puppets and humans coexist. Two clashing detectives with a shared secret, one human (Melissa McCarthy) and one puppet, are forced to work together again to solve the brutal murders of the former cast of a beloved classic puppet television show.
As Sausage Party confirmed, basing a movie solely on being as profane as possible doesn't actually make a funny film. The Happytime Murders falls into this same trap, with one-note, gross-out "humour" that's crass at best, played over and over again. If you didn't laugh the first time, you won't laugh on the hundredth, either.
Rotten Tomatoes: 22% (Rotten)
Metacritic: 27 (Generally Unfavourable Reviews)
Hotel Transylvania 3: A Monster Vacation
Age Restriction: PG V
Mavis surprises Dracula with a family voyage on a luxury Monster Cruise Ship so he can take a vacation from providing everyone else's vacation at the hotel. The rest of Drac's Pack cannot resist going along and once they leave port, romance zings Drac when he meets the mysterious ship captain Ericka. Now it's Mavis' turn to play the overprotective parent, keeping her dad and Ericka apart. Little do they know that his "too good to be true" love interest is actually a descendent of Van Helsing, arch nemesis to Dracula and all monsters!
No better or worse than any of the other Hotel Transylvania films, you get exactly what you'd expect from Monster Vacation. It's fast-paced, colourful, lightweight and mostly agreeable. Perhaps this film franchise should take a vacation after this entry, though.
Rotten Tomatoes: 59% (Rotten)
Metacritic: 54 (Mixed or Average Reviews)
Looking for Love
Age Restriction: 16 D L S
Following a disastrous drunken display at her younger sister's wedding, 38-year-old Buyi has her parents worried that she's wasting her life working meaningless jobs. Her parents insist that she take her head out of the clouds and focus on finding herself a good man and settle down. Buyi is gutted. She returns from KwaZulu-Natal feeling hopeless about her love situation. Where is a heavyset black woman going to find a man in South Africa? Desperate, she reluctantly allows her sexy best friend, Lindi to help find her a man in the exclusive 'man market.' Between questionable concoctions, a quirky magician with a cat obsession, and a sex addict that can't get enough of a big butt, Buyi quickly loses hope of finding Mr. Right. A hilarious, heart-warming story of acceptance and hope.
Lewd, but not tone-deaf, local production Looking for Love "ticks all the boxes" according to the only review I could find. If you're not a fan of below-the-belt humour though, best give it a skip.
For more information about the age restrictions, click here.
Last Updated: August 31, 2018