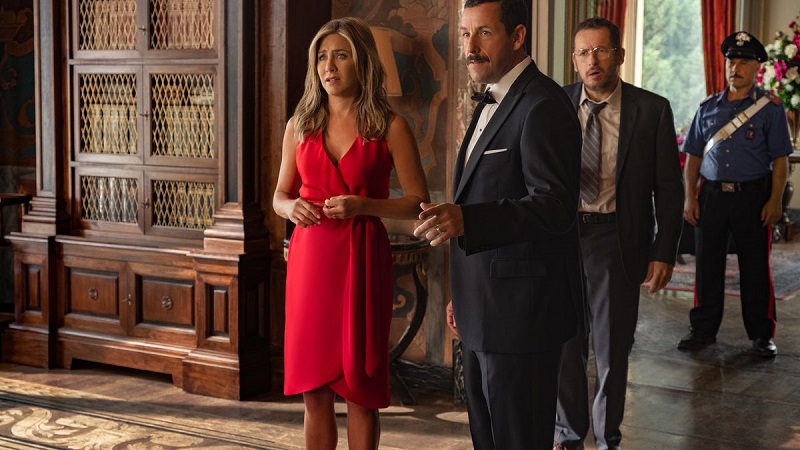 When it comes to Adam Sandler films, my expectations are very low. I don't have a high tolerance for much of his humour and don't really enjoy the often-ridiculous characters and stories he likes to portray. So, imagine my surprise when I not only got duped into watching one of his movies based on a trailer that looked decent but also enjoyed the film as well. Don't get me wrong, Adam Sandler is unlikely to make a truly great movie any time soon. Compared to his usual fare though, Netflix's Murder Mystery is a fun watching experience that for the most parts avoids much of the issues that normally affect Sandler comedies.
If you've seen the trailer for Murder Mystery, then you probably realised that the premise of the film draws heavily on Agatha Christie's Murder on the Orient Express – and this is not something which the film tries to hide as there are several direct nods to that story (moustaches included). Whereas Christie's work is a much more dramatic and tense affair, this script, written by James Vanderbilt, throws many hilarious situations into the mix and gives you plenty of moments to laugh along the way.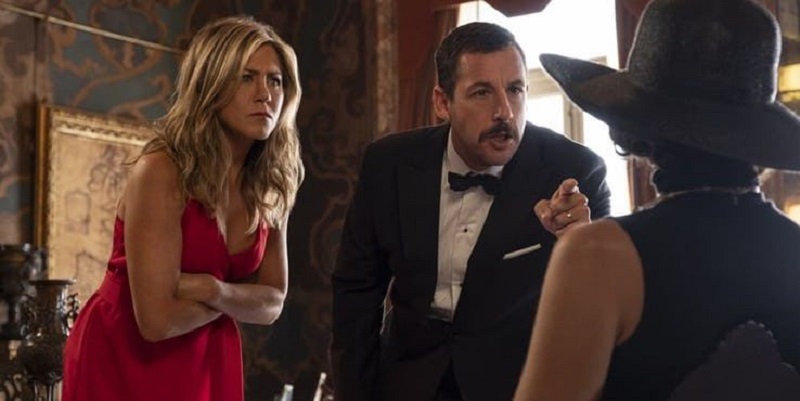 Murder Mystery follows New York police officer and wannabe detective Nick (Sandler) and his hairdresser, murder mystery novel-obsessed wife Audrey (Jennifer Aniston) Spitz. Their relationship is in a bit of a rut and so they decide to embark on a long-desired European vacation to hopefully spice things up a little. At least, that's what Audrey would like as her husband seems complete amiss with the state of his relationship and in denial about his detective abilities too. Things change though when they befriend a wealthy billionaire (Luke Evans) and their budget vacation plans are upgraded to being spoilt on-board a massive family yacht instead. However, things aren't quite as dreamy as they hoped as a spate of murders leaves them as the core suspects in the minds of inspector Laurent Delacroix (Dany Boon). The couple now must run for their lives, while trying to solve the murder mystery and prove their innocence.
The humour behind the film is pretty much what you expect from a Sandler film, as it's at times clichéd with over the top characters and cheesy dialogue. What makes this stand out though is that its a thoroughly enjoyable mystery story where suspects and characters don't always play out as you expect and it leaves you guessing the intentions of everybody. The film also features several light-action sequences which all are well executed by director Kyle Newacheck and make the most of its European setting, including a big car chase through the streets of a famous Italian town. These scenes are quite unexpected for a movie of this ilk, but also don't overshadow the film as they maintain the comedy at the same time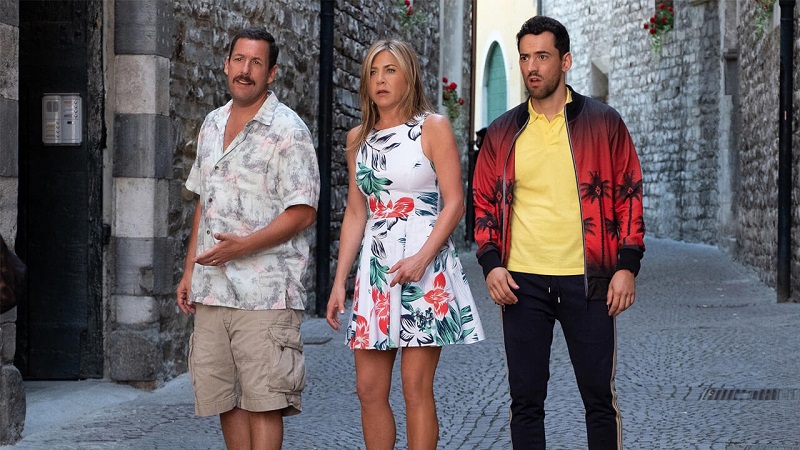 And much as their characters grow along the way, Sandler and Aniston's on-screen chemistry also develops. What appears like an awkward match at first becomes more and more natural as the movie goes on and you get to enjoy their seemingly disparate characters and what they offer. By the end of the film (much to my surprise), the couple grows on you and you become invested in their success in trying to uncover the puzzle on offer. Not all the characters in this film are as worthwhile watching though, but thankfully most don't require your attention too much as this film is firmly about Sandler and Aniston's characters.
Netflix is finding a lot of success with Sandler's produced movies and in Murder Mystery, they definitely have another potential audience pleaser on their hands. I would expect it to once again reap in a lot of views for the streaming platform. It's not the kind of movie that will change your opinion on Sandler whether you love or hate him, but it's fun, popcorn entertainment that is unlikely to disappoint if you're in the mood for something light-hearted to watch.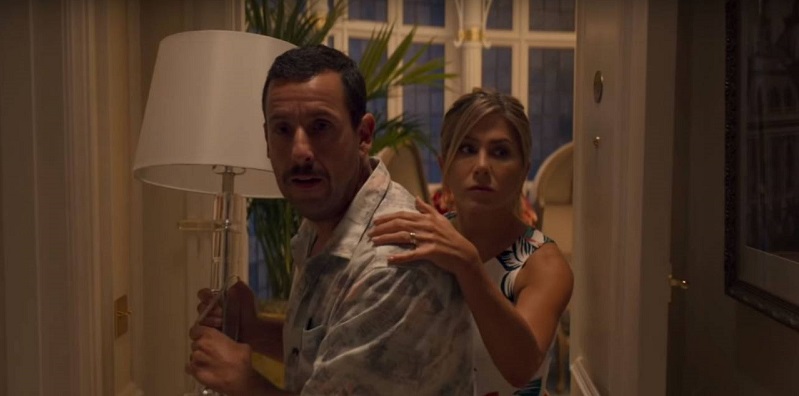 Murder Mystery is available to view on Netflix now and also stars the likes of Gemma Arterton, Terence Stamp, David Walliams, Luis Gerardo Mendez, Shiori Kutsuna, Adeel Akhtar and a particularly memorable John Kani.
Last Updated: June 18, 2019
Murder Mystery

Murder Mystery is by no means brilliant and is filled with the type of low-browed Sandler humour that will likely make you cringe, but as a crime caper, it is surprisingly fun and enjoyable to watch, keeping you guessing till the very end.