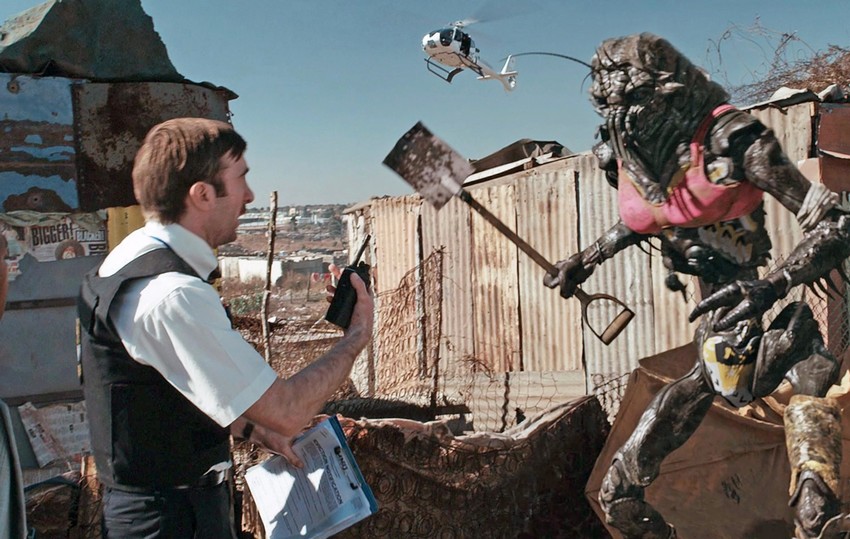 Get ready for some more "fookin' prawns" as a District 9 sequel is officially on the way. Writer-director Neill Blomkamp took to Twitter over the weekend to announce that he was currently penning a script with his wife/original co-writer Terri Tatchell, and original star Sharlto Copley.
Released in 2009, District 9 was a feature film adaptation of Alive in Joburg, a documentary-style short film Blomkamp created in 2006. In District 9, the South African-born Canadian filmmaker used a sci-fi story set in a modern South Africa that has had an alien spaceship hovering over Johannesburg since 1982. The alien inhabitants have settled among the human population, but are treated terribly and discriminated against, especially by the film's bumbling protagonist Wikus (Copley), a low-level bureaucrat trying to track down an alien named Christopher. Through the story, Blomkamp explored hugely pertinent themes of racism, segregation, and xenophobia. The film was a gigantic success, launching the careers of Blomkamp and Copley. It also earned a massive $210.8 million off just a $30 million budget and was nominated for four Oscars, namely Best Picture, Best Adapted Screenplay, Best Editing, and Best Visual Effects.
With how the film ended – which I won't spoil for the two of you who haven't seen it yet – fans have been clamoring for a follow-up for years. Back in 2017, while doing a Reddit AMA, Blomkamp revealed that he had plans for a sequel titled District 10. However, he indicated that while "I want to go back to that world and tell the rest of the story with Wikus and Christopher," there had been a few things holding him back.
The issue right now is that I have many other projects and ideas that I also want to work on and complete….. and most importantly, the exact right REASON to make district 10 needs be very clear. The first film was based so explicitly on real themes and topics from South Africa that affected me greatly growing up there, that we need to make sure the next film does not forget that.
Well, it would seem that Blomkamp has found that reason (the current social-political climate in South Africa and the rest of the world certainly would provide substantial creative fodder) as well as a schedule clear enough to finally make District 10 happen. After District 9, the filmmaker's works have all been severely flawed in place, mostly due to either heavy-handed scripting (Elysium) or terrible characterization (Chappie). He could still direct R-rated sci-fi action that seamlessly blends practical and digital effects better than just about anybody else out there though. Hopefully, with District 10, Blomkamp will find that perfect balance of story and visuals again as he did at the start of his career.
Last Updated: March 2, 2021