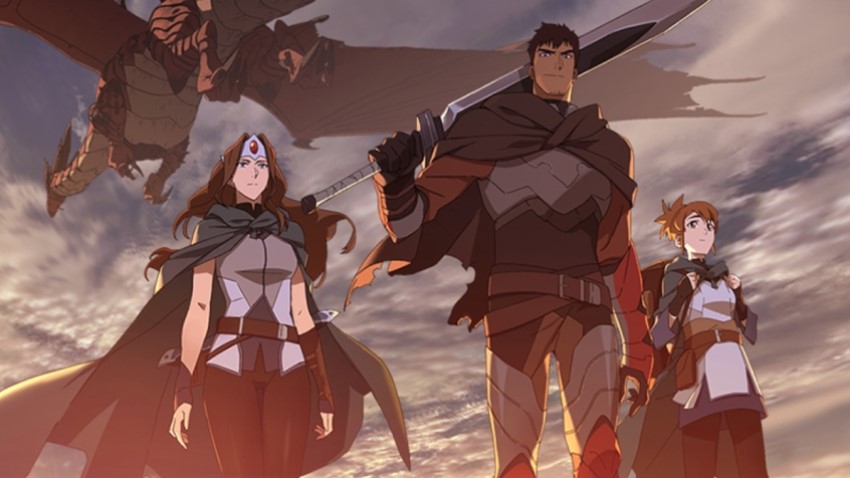 Netflix struck gold with their superb Castlevania animated series, and its positive reception has paved the way for more animated series based on video game properties (notorious for their poor live-action feature adaptions) such as the recent Dragon's Dogma and the upcoming Resident Evil: Infinite Darkness.
Normally these adaptions are announced well in advance, but last night Netflix and Valve just ganked the lot of us when they revealed the existence of DOTA: Dragon's Blood, an animated series based on Valve's incredibly popular MOBA Dota 2. And not only that, but the eight-episode-long series is coming next month, on 25 March to be exact.
The show's synopsis is as follows:
The sweeping fantasy series tells the story of Davion, a renowned Dragon Knight devoted to wiping the scourge from the face of the world. Following encounters with a powerful, ancient eldwurm as well as the noble Princess Mirana on a secret mission of her own, Davion becomes embroiled in events much larger than he could have ever imagined.
Showrunner Ashley Edward Miller (who's previously worked on shows like Terminator: The Sarah Chronicles, Fringe, and Black Sails and had a hand in the screenplays for Thor and X-Men: First Class) had this to say about the upcoming series:
"Fans will love how we've imagined the DOTA 2 universe and woven together an epic, emotional, and adult-oriented story about some of their favorite characters. The cinematic animation, acting and music are simply next level and I'm grateful to Valve for supporting our creative ambitions."
If you're wondering just who's bringing the series to life, then wonder no more. It's none other than the highly-regarded South Korean animation studio Studio Mir, who've given us shows like The Legend of Korra and Voltron: Legendary Defender. There are no details on the voice cast as yet.
I'm not going to pretend to know anything about Dota or that I care about the game – it's one of only two games I've hidden in my Steam library after all – but I'm down to give a series based on it a shot, so let's take a look at the teaser:
We don't really see much, but that was enough to whet my appetite. What do you think?
Last Updated: February 17, 2021