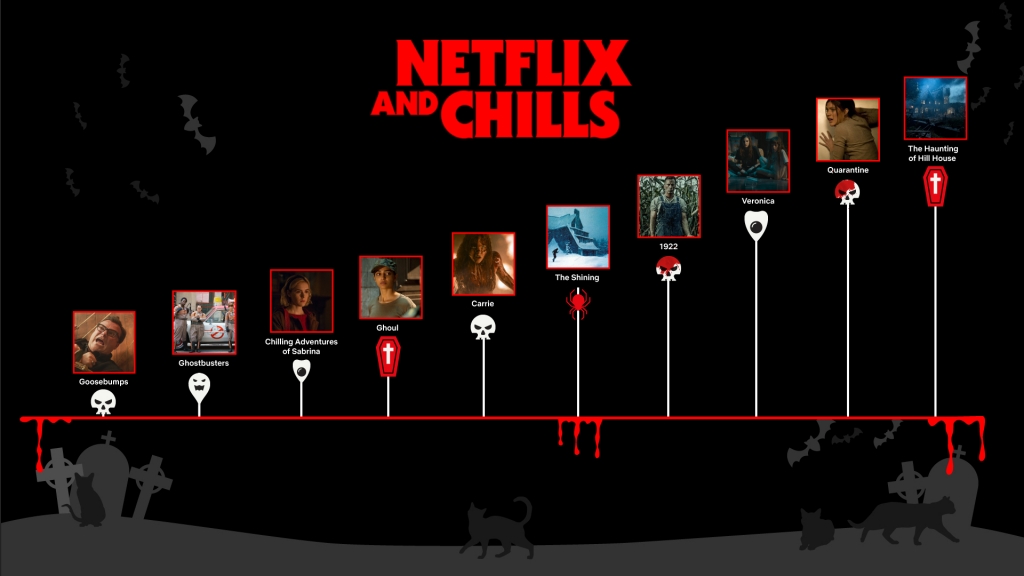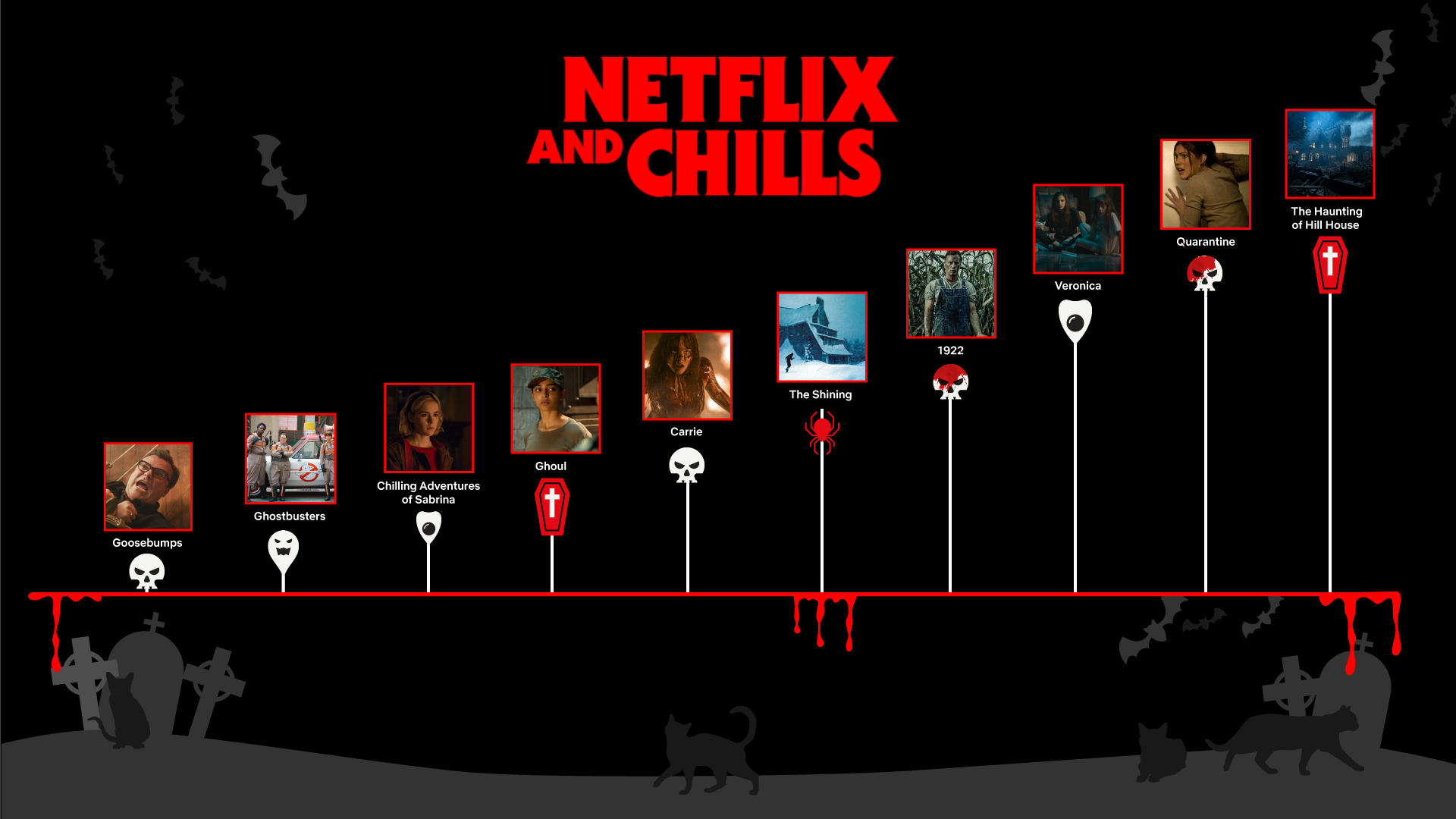 Whether you're looking for a really good scare or just looking to get into the Halloween mood, Netflix has you covered this month. From the kid-friendly to the "only let your kids watch this if you want to scar them for the rest of their lives", here are Netflix's top recommendations for the rest of October, in order of spookiness.
Goosebumps
A teenager teams up with the daughter of young adult horror author R. L. Stine after the writer's imaginary demons are set free on the town of Madison, Delaware.
Ages: 7+
Ghostbusters
Following a ghost invasion of Manhattan, paranormal enthusiasts Erin Gilbert and Abby Yates, nuclear engineer Jillian Holtzmann, and subway worker Patty Tolan band together to stop the otherworldly threat.
Ages: 13+
Chilling Adventures of Sabrina
Netflix Original Series – Chilling Adventures of Sabrina imagines the origin and adventures of Sabrina the Teenage Witch as a dark coming-of-age story that traffics in horror, the occult and, of course, witchcraft. Tonally in the vein of Rosemary's Baby and The Exorcist, this adaptation finds Sabrina wrestling to reconcile her dual nature — half-witch, half-mortal — while standing against the evil forces that threaten her, her family and the daylight world humans inhabit.
The Chilling Adventures of Sabrina premieres on Netflix on October 26, 2018.
Ghoul
Netflix Original Series – From the makers of Insidious, Get Out and Udta Punjab – Ghoul is a chilling series about a prisoner who arrives at a remote military interrogation centre and turns the tables on his interrogators, exposing their most shameful secrets. You can fight the demons of this world but what about the ones that aren't?
Ages: 16+
Carrie
A shy girl, outcasted by her peers and sheltered by her religious mother, unleashes telekinetic terror on her small town after being pushed too far at her senior prom.
Ages: 16+
The Shining
A family heads to an isolated hotel for the winter where an evil spiritual presence influences the father into violence, while his psychic son sees horrific forebodings from the past and of the future.
Ages: 16+
1922
Netflix Original Film – Life is rarely fair. 1922 is based on Stephen King's 131-page novella of a man's confession of his wife's murder. The tale is told from from the perspective of Wilfred James, the story's unreliable narrator who admits to killing his wife, Arlette, with his son in Nebraska. But after he buries her body, he finds himself terrorized by rats and, as his life begins to unravel, becomes convinced his wife is haunting him.
Ages: 16+
Veronica
Madrid in the 1990s: When a couple of teenage girlfriends, including the eponymous Veronica (Sandra Escacena), try to summon spirits in a round of Ouija, they awaken supernatural demonic forces that threaten their families.
Ages: 16+
Quarantine
When a news crew decides to trail a brave fire-fighting team, they never suspect that the first call for help they respond to that night may be their last. Now they're trapped in an apartment complex sealed off by the government. With no way of escape, they find themselves surrounded by frightened residents who are infected with a deadly mutant virus. What happens next is only known because of the footage they left behind.
Ages: 16+
The Haunting of Hill House
Netflix Original Series – This horror drama series is a modern reimagining of Shirley Jackson's classic 1959 novel. A smash hit for Netflix, The Haunting of Hill House has been gathering some rave reviews. If this one isn't on your to-watch list, it should be!
Ages: 16+
Last Updated: October 22, 2018