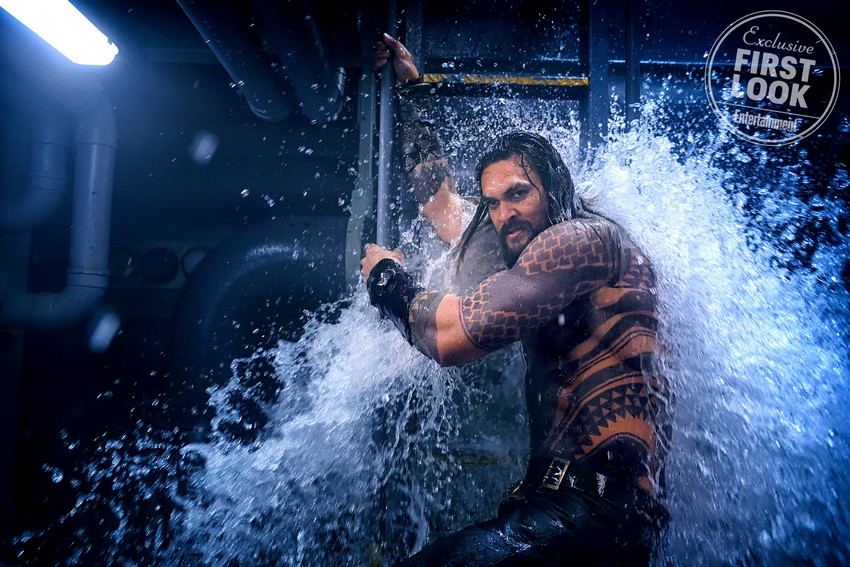 CineEurope is taking place in Barcelona right now, offering an expo for big studios to show off their upcoming slates of films to cinema chains, exhibitors and select press behind closed doors. And earlier this week, it was Warner Bros with the DCEU movie Aquaman that made a big splash as they debuted the first trailer for the James Wan-directed superhero movie. By all accounts, the footage was a blast – second-hand accounts though, as nothing was made public. However, some reports suggested that we would not have to wait long to get our eyeballs on the film as the trailer would actually be getting a wide release before the end of the week.
Well, here we are and still no trailer meaning the only real look we've had so far of Aquaman is star Jason Momoa's turn in Justice League and we'd rather not dwell on that movie too long. Luckily though, Entertainment Weekly has swum to our rescue with a flood of new images for the film. Besides for Momoa, the only other person in the cast we've seen before was Amber Heard as Mera (also in Justice League), but these pics also include our very first looks at Patrick Wilson as Orm aka Ocean King, Yahya Abdul-Mateen II as David Kane aka Black Manta, Nicole Kidman as Queen Atlanna, and new looks at Momoa and Heard as well.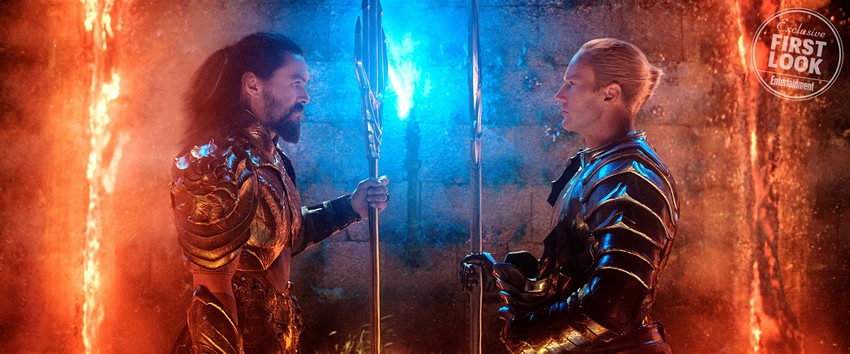 First up us Wilson as Orm, Aquaman's half-brother and the primary villain in the movie (only a bad guy would have a hairstyle like that). CineEurope footage reportedly had Aquaman – whose new armour we also get a look at here – challenging Orm to a duel in some kind of arena and this pic appears to be part of that scene.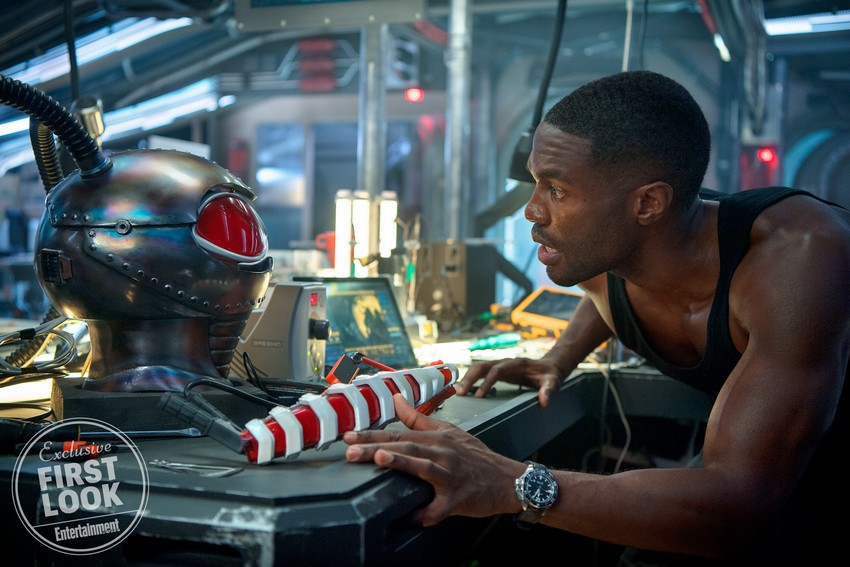 Next, we see Abdul-Mateen II's David Kane aka Black Manta, another Aquaman villain who will seemingly take a secondary antagonist role to Orm here and be built up over a few movies. Here we see him busy working on his iconic comics-accurate helmet. Whether those red eyes shoot lasers like they do in the comics is unknown right now.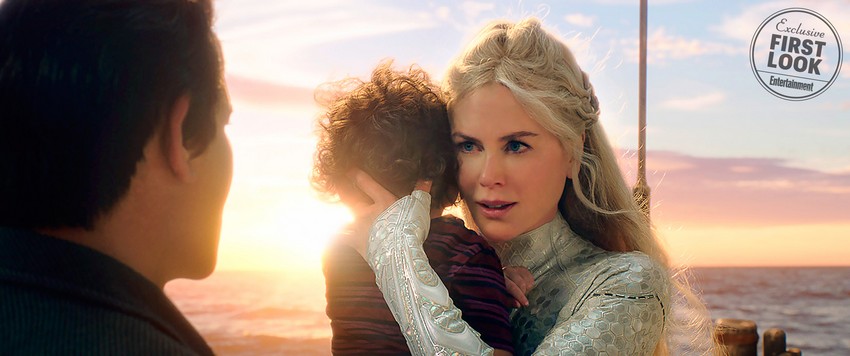 Here's our first look at Kidman as Atlanna, Queen of Atlantis, the mother of Aquaman aka Arthur Curry. This appears to be a flashback with a young Arthur in Atlanna's arms with the man in the front of the shot more than likely being Aquaman's human father Thomas Curry, played by Temuera Morrison. Got to love that fish scale-like detailing on Atlanna's costume.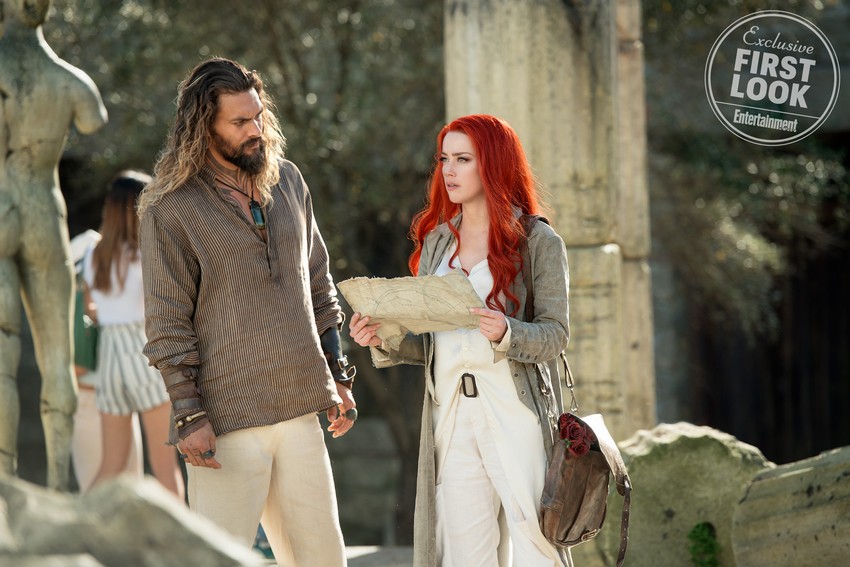 We got a new shot of Heard's Mera, outside of her usual green costume, as she and a similarly civilian-garbed Momoa appear to be looking for something. We've heard lots of comparisons of Wan's Aquaman to Indiana Jones, so for all we know they could be looking for buried treasure.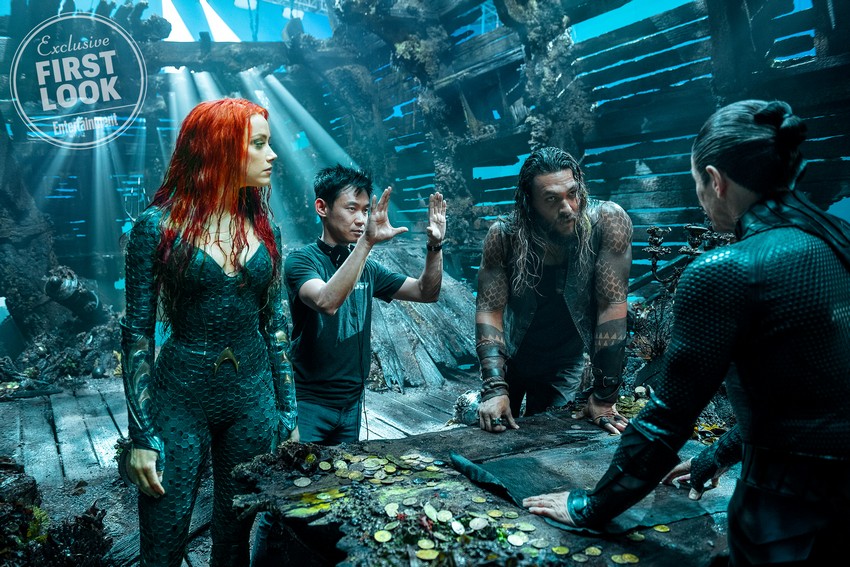 Here's another look at Aquaman and Mera, with none other than the man himself, director James Wan, guiding affairs. And is that an underwater shipwreck with gold coins? I may be onto something with my treasure guess. On top of that, even though we can't confirm it, we believe the back of the head seen on the right belongs to Willem Dafoe's Vulko. Dafoe was supposed to make his big screen debut as the Atlantean advisor in Justice League, but when Joss Whedon and the WB execs decided to chop up previous director Zack Snyder's efforts, Vulko's scenes ended on the editing room floor.
Finally, we have two EW covers (well, and that pic way up top of this article) which gives us more looks at Momoa, Kidman and Heard as Aquaman, Atlanna, and Mera respectively. You can see more of that fish scale detailing, even on Momoa's arm tattoo. His hair also looks far blonder here – which matches his comic book counterpart – than we've seen it before.
Besides for the pics, EW also boasted an interview with Wan. As mentioned yesterday, WB is pivoting hard to get their upcoming DCEU movies away from the stink that was left around the first wave of films (the acclaimed Wonder Woman being the exception) and Wan spoke a bit about how creating the underwater world of Atlantis allows him to do this as well.
The water world my movie takes place in is so separate and so far apart from previous DC movies it's like I'm making my own sci-fi fantasy film. This is a whole new underwater world nobody has seen before in live action.
Sci-fi fantasy indeed as it's been confirmed that the movie will see "Atlanteans riding great white sharks, giant octopi, seven different underwater kingdoms, trench-dwelling cannibals, and even sea dragons (Wan's fearsome take on the oft-mocked image of Aquaman riding a seahorse in the Super Friends cartoons)". That's pretty cool.
What was not cool was one of the most derided scenes in Justice League was when Aquaman returned to Atlantis and briefly spoke with Mera. To have the conversation, Mera had to use her water-manipulating powers to open a giant air bubble underwater for them to speak to each other. Fans pointed out the silliness of this as an underwater race like the Atlanteans should definitely just be able to communicate in their natural habitat.
Well, as Wan told EW, "People are overthinking it. They're just gonna talk!". According to EW's description, "characters underwater speak normally in the film despite being underwater. Wan then adds a tad bit of a visual effect as Atlanteans speak, suggesting sound waves, but that's all. It's a rather brilliantly simple and naturalistic-looking solution to a problem that isn't wasn't actually that big of a problem in the first place."
I actually like that low-key and simple approach, as that's exactly what the comics have done. I do hope though that they also introduce the fact that Atlanteans naturally speak much softer since sound waves travel easier underwater. It would be a nice scientifically plausible touch. Not that this movie is very scientifically plausible, and I'm all for that.
We'll be able to dive into Aquaman's world when it releases on 21 December.
Last Updated: June 15, 2018