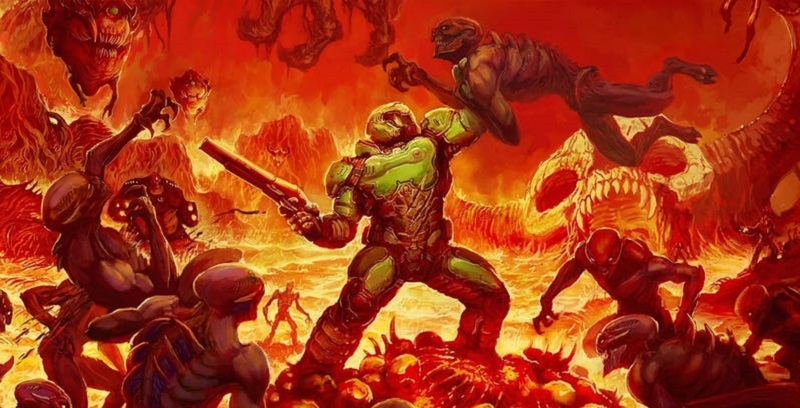 Despite being one of the most iconic and popular video game franchises of all time, Doom did not quite have the same success when it was first adapted into a movie. Despite starring the likes of Dwayne Johnson, Karl Urban, and Rosamund Pike, the film failed to live up to expectations thanks to a disappointing script and ended up being a box office and critical failure.
If at first you don't succeed though try again, which is what Hollywood is trying to do again with yet another attempt at adapting the popular game for film.  This time round though, the film is at least destined to not be a box office dud likes its predecessor because it's not going to even be making it to the big screen and will instead be released straight to the home market. Perhaps a sign for fans that even the producers of the movie are not intending for this film to be a big success.
However every cloud has a silver lining and a recent tweet from the movie set with stars Amy Manson and Luke Allan Gale have announced that they will be releasing frequent updates of how filming is progressing on the film's social media accounts, so if you are a fan you can at least stay along for the journey.  They also go on to reveal that they are playing the roles of Bennett Stone and  Joan Dark respectively. Not that those names tell us anything new about the movie.
The newest #DoomMovie starring @AmyMansonLondon and @LukeAllenGale is now in production. Follow us @DoomMovie on Facebook & Instagram for more behind the scenes content. pic.twitter.com/shCYqNIn9B

— Doom Movie (@DoomMovie) June 26, 2018
They are probably not going to be the biggest stars of the film though, as an audition tape from Akie Kotabe has revealed that the game's most iconic weapon, the BFG will be making an appearance in the movie. It wouldn't be a true Doom adaptation without the BFG making an appearance and its at least comforting to know that one aspect of the game is been kept intact. In fact, its about the only thing probably worth looking forward to based on what we've heard from the movie so far, but hopefully they at least make a better stab at it this time around.
Last Updated: June 28, 2018