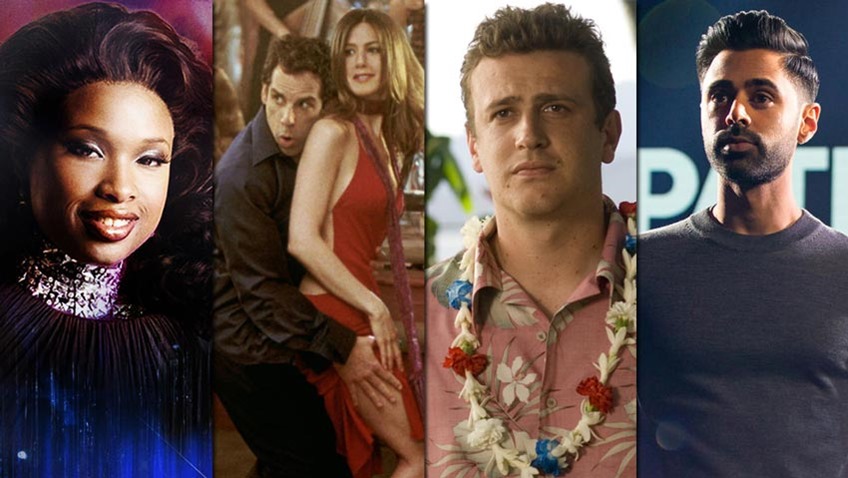 The power of professional wrasslin'! A deep dive into anime! And what looks like the best season of Iron Fist yet, only it has nothing to do with that Marvel turd and instead features far better acting and action. Yes I am keen for Wu Assassins and a whole bunch of other content hitting Netflix this month. Spoiler: It's a lot.
1 August
Dreamgirls
Detroit, the early 1960s. Curtis Taylor, Jr., a car salesman, breaks into the music business with big dreams. He signs a trio of young women, the Dreamettes, gets them a job backing an R&B performer, James "Thunder" Early, establishes his own record label and starts wheeling and dealing. When Early flames out, Curtis makes the Dreamettes into headliners as the Dreams, but not before demoting their hefty big-voiced lead singer, Effie White, and putting the softer-voiced looker, Deena Jones, in front.
Soon after, he fires Effie, sends her into a life of proud poverty, and takes Deena and the Dreams to the top. How long can Curtis stay there, and will Effie ever get her due?
50 First Dates
Henry Roth is a man afraid of commitment up until he meets the beautiful Lucy. They hit it off and Henry think he's finally found the girl of his dreams, until he discovers she has short-term memory loss and forgets him the next day.
2 August
Dear White People: Volume 3
As the students of Winchester embrace new creative challenges and romantic possibilities, a charismatic professor shakes up life on campus.
Basketball or Nothing
Follow the Chinle High basketball team in Arizona's Navajo Nation on a quest to win a state championship and bring pride to their isolated community.
Derry Girls: Season 2
Change may finally be coming to Northern Ireland. But the high school hardships of Erin and her friends show no signs of letting up.
Otherhood
Feeling forgotten on Mother's Day, three best friends leave the suburbs and drive to New York City to surprise their adult sons.
Enter the Anime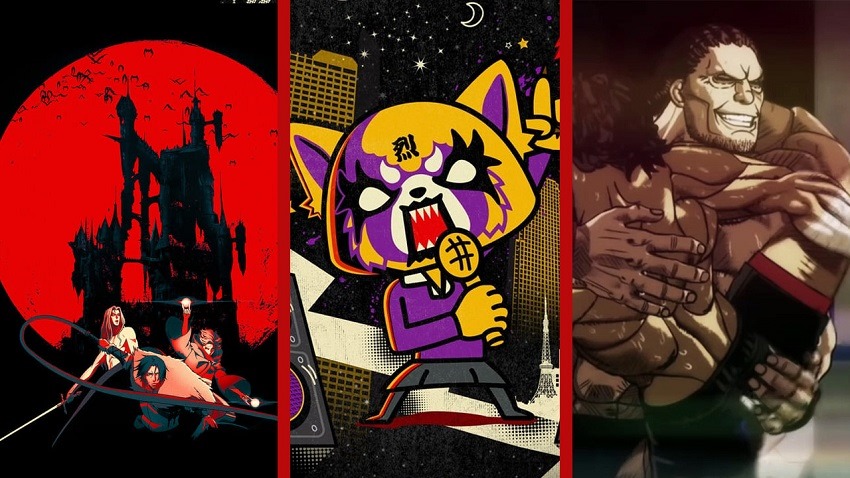 Seeking to understand anime, Tania Nolan interviews filmmakers behind notable productions from "Castlevania" to "Aggretsuko," "Kengan Ashura" and more.
Ask the StoryBots: Season 3
The StoryBots are standing by to field more questions from curious kids — from "Why do people look different?" to "Where does chocolate come from?"
She-Ra and the Princesses of Power: Season 3
Catra and Adora journey to the Crimson Waste, looking for redemption and answers, while Hordak's portal research puts Etheria's very reality at risk.
4 August
Patriot Act with Hasan Minhaj: Volume 4
Every Sunday, Hasan Minhaj brings an incisive and nuanced perspective to global news, politics and culture in his unique comedy series.
5 August
No Good Nick: Part 2
Steps away from being exposed as an impostor, Nick works harder, faster and smarter to right the Thompsons' wrongs and spring her father out of jail.
8 August
The Naked Director (FKA The Emperor of Porn)
In 1980s Japan, one determined man turned every crushing setback into opportunity. His name was Toru Muranishi, and he revolutionized his industry.
Wu Assassins
He's on a mission to save Chinatown, even if it means killing his own father. Kung Fu meets sci-fi meets Asian street food in Wu Assassins.
Whindersson Nunes: Adulto
Brazilian YouTube sensation Whindersson Nunes revisits his humble beginnings and much more in a series of playful stories and peculiar songs.
9 August
Sintonia
Three teens living in the same São Paulo favela pursue their dreams while maintaining their friendship, amid a world of music, drugs and religion.
Dollar
Grab the dollar bill, bag a million bucks. Sounds simple, but they should've known there's no such thing as easy money.
Cable Girls: Season 4
Amid social changes in 1931, the friends get tangled in a murder mystery and must work together to solve it before one of them is sentenced to death.
GLOW: Season 3
As the gang kicks off a run of shows in glamorous Las Vegas, power struggles, sexual tension and shifting priorities threaten their bond.
The Family
Investigative journalists expose The Fellowship, a Christian fundamentalist organization quietly operating in the corridors of power in Washington, D.C.
Rocko's Modern Life: Static Cling
After 20 years in space, Rocko returns to a technologically advanced O-Town and makes it his mission to get his favorite show back on the air.
Spirit Riding Free: Pony Tales
Find the fun and adventure of "Spirit Riding Free" in this quick mix of music videos and bite-sized stories featuring Lucky and all of her friends!
The InBESTigators
Four very different kids start their own detective agency and vlog about their adventures, becoming fast friends in the process.
The Book of Henry
Sometimes things are not always what they seem, especially in the small suburban town where the Carpenter family lives.
12 August
Homeland: Season 7
At the end of last season, following an assassination attempt on her life, President Keane (Elizabeth Marvel) broke her promise to Carrie by arresting 200 members of the intelligence community without bringing charges against them, including Saul Berenson. As season seven begins, Carrie has left her job in the White House and moved back to D.C. and is living with her sister Maggie (Amy Hargreaves) to take on the Keane administration and secure the release of the 200. Starring Claire Danes and Mandy Patinkin.
13 August
Tiffany Haddish Presents: They Ready
Tiffany Haddish presents six up-and-coming comedians performing half-hour stand-up sets.
14 August
Sacred Games: Season 2
As Mumbai's fate hangs in the balance, Sartaj Singh chases a connection to Ganesh Gaitonde's third father, an enigmatic guru with a catastrophic plan.
Happy Jail
More than a decade after a viral dance video brought fame, inmates at a Philippine prison try to keep their spirits up in difficult living conditions.
16 August
Better Than Us
A family on the brink of splitting up become the owners of a cutting-edge robot being sought by a corporation, homicide investigators and terrorists.
45 rpm
In 1960s Madrid, music producer Guillermo Rojas launches a rock 'n' roll label with the help of aspiring singer Robert and clever producer Maribel.
QB1: Beyond the Lights: Season 3
Three football phenoms set for stardom — Spencer Rattler, Lance LeGendre and Nik Scalzo — navigate the ultimate season of their high school careers.
Apache: La vida de Carlos Tevez
This gritty dramatization of the life of Carlos Tevez shows his rise to soccer stardom amid the harrowing conditions in Argentina's Fuerte Apache.
Hyperdrive
These aren't ordinary drivers, this isn't a normal course, and this definitely isn't a typical race. This is "Hyperdrive."
Frontera verde/ Green Frontier
When a young Bogotá-based detective gets drawn into the jungle to investigate four femicides, she uncovers magic, Nazis and her own true origins.
La Reina del Sur: Season 2
After living in hiding for nine years, Teresa is forced to confront her past and return to Mexico in order to save her kidnapped daughter, Sofía.
Victim Number 8 (La víctima número 8)
No one can be trusted after a terrorist bombing in Bilbao kills seven and destroys the lives of the suspected jihadi and everyone around him.
MINDHUNTER: Season 2
The Behavioral Science Unit's killer instincts move from theory into action when the FBI joins in a high-profile hunt for a serial child murderer.
Sextuplets
When a dad-to-be learns he's actually a sextuplet, he sets off on a wild journey to meet his long-lost family. Marlon Wayans stars as all six siblings.
The Little Switzerland
The discovery of the tomb of William Tell's son in a town in the Basque Country spurs the village's cantankerous citizens to lobby for Swiss annexation.
Diagnosis
Dr. Lisa Sanders crowdsources diagnoses for rare and mysterious medical conditions in a documentary series based on her New York Times Magazine column.
Ghosts of Sugar Land
Shocked when their friend Mark leaves to join ISIS, a group of Muslim American friends in Texas ponder his fate and why he went down an extremist path.
Lunatics
This mockumentary series follows the peculiar lives of six eccentric — and sometimes obscene — misfits who march to their own beat.
Super Monsters Back to School
Vida's starting school in Pitchfork Pines, and the Super Monsters are helping their friend adjust to everything that's new and different.
Cannon Busters
A robot, a renegade and a sensational pink Cadillac join the infectiously upbeat friendship droid S.A.M. on her quest to find her missing best friend.
Along Came Polly
Directed by John Hamburg and starring Bryan Brown, Ben Stiller, Ben Stiller, Bob Dishy, Michele Lee. Reuben Feffer (Ben Stiller) is a guy who's spent his entire life playing it safe. Polly Prince (Jennifer Aniston) is irresistible as a free-spirit who lives for the thrill of the moment. When these two comically mismatched souls collide, Reuben's world is turned upside down, as he makes an uproarious attempt to change his life from middle-of-the-road to totally-out-there!
American Pie Presents: Beta House
It's pledge time, and as fraternity row becomes rife with eager young freshman looking to make an impression on campus, the stage is set for Greek rivalry so fierce it will resurrect a competition that was previously banned by the administration. Great Falls high school graduates Erik and Cooze are about to become college freshmen, and once they do, the campus of a modest Michigan college will never be the same.
Forgetting Sarah Marshall
When Sarah Marshall dumps aspiring musician Peter Bretter for rock star Aldous Snow, Peter's world comes crashing down. His best friend suggests that Peter should get away from everything and to fly off to Hawaii to escape all his problems. After arriving in Hawaii and meeting the beautiful Rachel Jansen, Peter is shocked to see not only Aldous Snow in Hawaii, but also Sarah Marshall.
20 August
Simon Amstell: Set Free
He's looking for validation. He's settling for something close. Say hello to the humor and humanity of Simon Amstell.
21 August
Designated Survivor: 60 days
When the National Assembly suffers a catastrophic attack, Minister of Environment Park Mu-jin must find a way to lead Korea through the ensuing chaos.
American Factory
In post-industrial Ohio, a Chinese billionaire opens a new factory in the husk of an abandoned General Motors plant. Early days of hope and optimism give way to setbacks as high-tech China clashes with working-class America.
22 August
Love Alarm
In a world where an app alerts people if someone in the vicinity likes them, Kim Jojo experiences young love while coping with personal adversities.
23 August
Rust Valley Restorers
Old-school auto enthusiast Mike Hall, his pal Avery and son Connor go the extra mile to restore retro cars — and hopefully turn a profit.
Sarah Geronimo: This 15 Me
El Pepe: Una vida suprema
This documentary follows José "Pepe" Mujica, former political prisoner turned Uruguayan president, as he talks about his life, ideals and the future.
HERO MASK: Part II
A former LIVE scientist's daughter may hold the key to exposing its crimes, if James can keep her alive and the SSC can fend off their new director.
27 August
Million Pound Menu: Season 2
Next-gen restaurateurs get the chance to open their own pop-up eateries to impress the paying public — and a panel of discerning U.K. investors.
Orange Is the New Black: Season 6
In the wake of the riot, some of the women are sent to Litchfield Max, where a deadly rivalry between cellblocks has raged for decades.
TERRACE HOUSE: TOKYO 2019-2020: Part 2
The only things provided are the house, the cars and the housemates. And for the first time, they're living the big city life.
Trolls: The Beat Goes On!: Season 7
The party keeps on going for Poppy, Branch and the others from DreamWorks Animation's hit Trolls (2016).
29 August
Workin' Moms: Season 3
Maternity leave is over and it's time for these four moms to return to work while navigating kids, bosses, love and life in modern-day Toronto.
Falling Inn Love
Romance and remodeling collide when a corporate exec (Christina Milian) wins a New Zealand inn that lacks curb appeal. Enter a handsome contractor …
Kardec
Tells the story of Allan Kardec, from his days as an educator to his contribution to the spiritist codification.
30 August
13 Commandments
Amid a growing media frenzy, two Belgian detectives pursue a serial killer who's inspired by the Ten Commandments and intent on creating a spectacle.
Last Updated: July 31, 2019