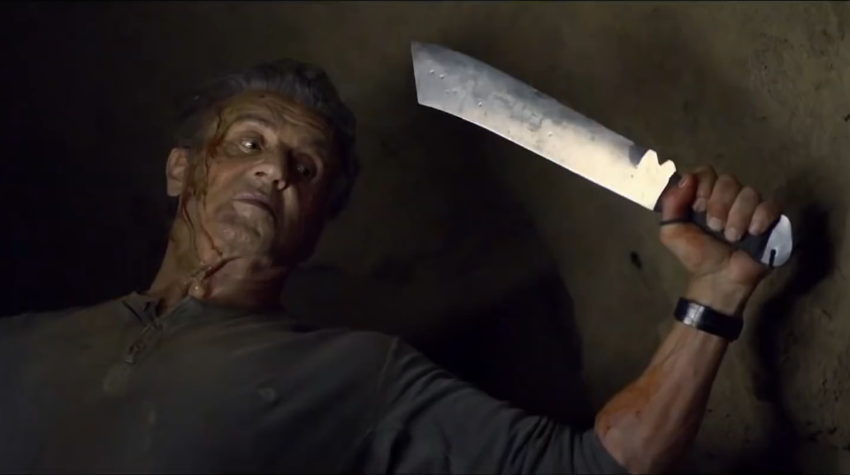 By pure channel-hopping happenstance, I rewatched First Blood this weekend past (I also rewatched Demolition Man for a mini Stallone marathon) and man, it still holds up incredibly well as a true classic of the genre. Just what that genre is, is a bit more complicated. While Sylvester Stallone's John Rambo would eventually become a musclebound, one-liner spewing death machine action hero in the subsequent bombastic sequels, 1982's First Blood is a much more contemplative affair as it tackles the issue of PTSD. It's more a drama than an action movie, with John Rambo going out of his way to avoid violent confrontation throughout. Heck, only one person actually dies in the entire movie, and it's basically by accident.
The franchise has come a long way since then though. A long, very bloody way. And that's never more clear than in this new trailer for the upcoming Rambo: Last Blood. And by trailer, I actually just mean a minute-long montage of Stallone brutally massacring one enemy combatant after another. It doesn't even attempt to set up the story of this, the final chapter in the series, as it's just gory kill after gory kill with an assortment of weapons. If that's your thing, then check out the trailer below (and maybe also seek some professional medical help).
When the daughter of one of his friends is kidnapped, Rambo (Stallone) — who has been working on a ranch — crosses the U.S.-Mexico border and quickly finds himself up against the full might of one of Mexico's most violent cartels.
Rambo: Last Blood also stars Adriana Barraza, Yvette Monreal, Sergio Peris-Mencheta, Óscar Jaenad, Paz Vega, and Joaquin Cosio. It is scheduled for release in theatres tomorrow, 20 September!
Last Updated: September 19, 2019