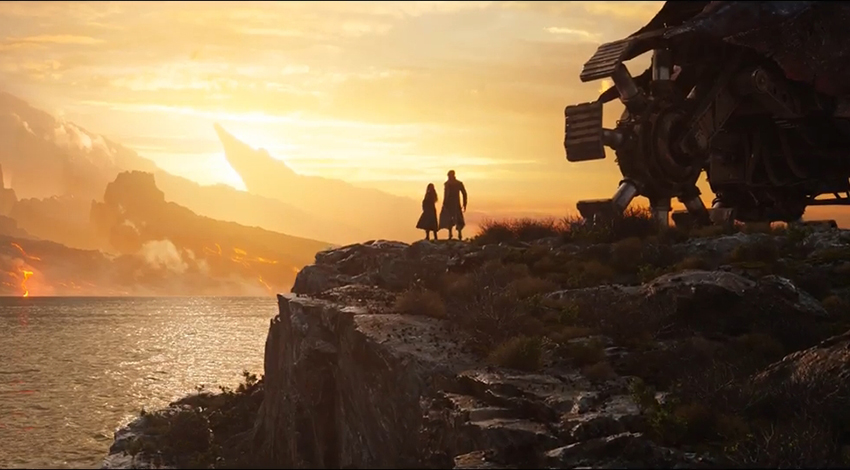 I have to admit, I haven't really been feeling any hype for Mortal Engines. I think it's safe to blame my lack of excitement on me being completely done with YA stories with increasingly ridiculous world setups, and Mortal Engines definitely is ridiculous. Based on Phillip Reeves' quartet of books, this upcoming feature film adaptation is set in a post-apocalyptic steampunk future where something known as the "Sixty Minute War" left Earth in a state of geological cataclysm. To escape the upheaval and survive, somebody then stuck wheels and engines on the City of London so that it could roam around eating other cities which soon followed suit with this "Municipal Darwinism". Like I said, ridiculous.
However, the person bringing this bit of ridiculousness to the screen is none other Peter Jackson of Lord of the Rings fame. Jackson is producing and also co-wrote the screenplay with his LOTR collaborators Fran Walsh and Phillippa Boyens and has tapped VFX and artistic whiz Christian Rivers – who has worked on every single one of Jackson's films since Braindead – to direct. And based on this new trailer released for New York Comic Con, they've somehow managed to make this whole absurd affair look enticing. It could just be that there's something about Icelandic newcomer Hera Hilmar's portrayal our revenge-seeking heroine Hester Shaw that is appealing to me or the fact that I can't ever say no to Hugo Weaving playing a villain – in this case, Thaddeus Valentine, the target of Hester's vengeance. Either way, I'm suddenly finding myself hopeful that this may just be good. But in a ridiculous way, of course. Check out the trailer below.
Hundreds of years after civilization was destroyed by a cataclysmic event, a mysterious young woman, Hester Shaw (Hera Hilmar), emerges as the only one who can stop London — now a giant, predator city on wheels — from devouring everything in its path. Feral, and fiercely driven by the memory of her mother, Hester joins forces with Tom Natsworthy (Robert Sheehan), an outcast from London, along with Anna Fang (Jihae), a dangerous outlaw with a bounty on her head.
Along with the new trailer, the last few days has also seen a bunch of special character featurettes unveiled. These focus on the aforementioned Hilmar's heroic Hester and Weaving's villainous Thaddeus, as well as Robert Sheehan's apprentice turned adventurer Tom Natsworthy, and South Korean singer-songwriter/actress Jihae as the badass Anna Fang.
Mortal Engines is scheduled for release on 14 December 2018.
Last Updated: October 7, 2018