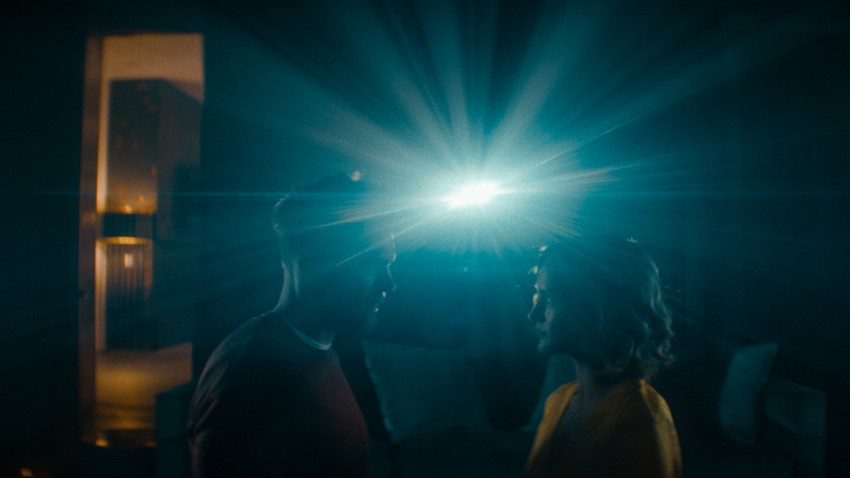 Happily is the upcoming feature debut of writer/director BenDavid Grabinski, who might be better known as one of the writers and producers of Nickelodeon's recent 'Are You Afraid of the Dark?' reboot, and is a dark comedy thriller starring Joel McHale (Community) and Kerry Bishé (Argo).
The pair play a very happily married couple whose relationship is almost too perfect, much to the annoyance of their other married friends. In fact it is too perfect and people have complained, as they're shockingly informed by a mysterious stranger (Stephen Root – Barry) who arrives at their home unannounced one day, and who promises to fix this and make them as unhappy as everyone else around them.
The plot synopsis is as follows:
Tom (Joel McHale) and Janet (Kerry Bishé) play a couple who has been together for 14 years. Still as in love as the day they met, their honeymoon phase never ended. When they discover that all their friends are resentful of their constant public displays of affection, this charismatic couple start to question the loyalty of everyone around them. Then, a visit from a mysterious stranger (Stephen Root) thrusts them into an existential crisis, leading to a dead body, a lot of questions, and a very tense couples' vacation with a group of friends who may not actually be friends at all.
Let's take a look:
That was wonderfully dark, twisted, and funny. I love the surreal vibe of the movie, there's definitely something more going on beneath the surface and I'm keen to find out what that is. Happily also looks well directed, the strong cast are putting in good performances, and they've got some snappy writing to work with – definitely don't sleep on this.
What do you think?
Happily is due for release in the US on 19 March. It also stars Natalie Zea, Paul Scheer, Al Madrigal, Natalie Morales, Jon Daly, Kirby Howell-Baptiste, Shannon Woodward, Charlyne Yi, and Breckin Meyer.
Last Updated: February 10, 2021