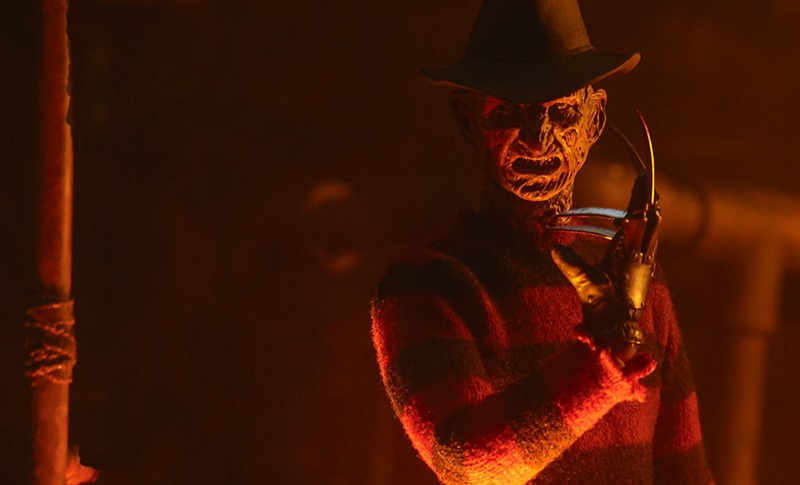 Earlier this year, I got to live a nightmare of my own: Standing inside the Dome during rAge, slowly drowning in a pool of my own sweat as my silicone Freddy Krueger mask sealed my body juices in a little too well. Still, it was an awesome experience and one that I'm done with now. But I'm certainly not done with my love of the franchise and the iconic movie maniac that is Freddy Krueger.
I'd be more than happy to have my shelf filled with some Elm Street memorabilia, like a knife-glove or even a few licensed action figures. There are plenty of various Freddy Krueger toys that have been kicking around for years now, with NECA having produced some Springwood Slasher variants over the years. But Sideshow might just have the best version so far of the Dream Demon:
Sweet dreams.

Having haunted our dreams (nightmares)  for well over three decades, it only made sense that the next classic horror villain to be realized as a Sideshow Sixth Scale Figure would be Freddy Krueger.

The Freddy Krueger Sixth Scale Figure is an amazingly accurate and detailed recreation of the monster's look from A Nightmare on Elm Street 3: Dream Warriors.  Beneath his trademark fedora is Krueger's burned scowling visage and a fully-detailed cloth costume, including his iconic weathered striped sweater.

To offer collectors the opportunity to pose Freddy in unique ways, Sideshow is including two different takes on the character's bladed glove hand – one open, one gesturing.  The piece also includes three ungloved hands – open, fist, and pointing.

The Sideshow Exclusive variation will also include an alternate pointing gloved hand.

If you think that you can avoid sleep while having him in your collection, then be sure to pick up the Freddy Krueger Sixth Scale Figure before he crawls back into hell.
I like it! It's not based on any one particular incarnation of Freddy (Freddy V Jason: Dawn of Jugular has my favourite overall look for the slasher), but rather an amalgamation of his various movie and TV appearances over the years. And his little jersey is totes adorable. Totes I say. Just make certain to keep it away from any popsicle houses on your shelf. Sideshow says that you'll have to wait a bit for this figure to be released, as it's only scheduled for a very late 2017/early 2018 debut on shelves.
Freddy's plastic nightmare, will set you back $199 when he does arrive.
Last Updated: January 4, 2017