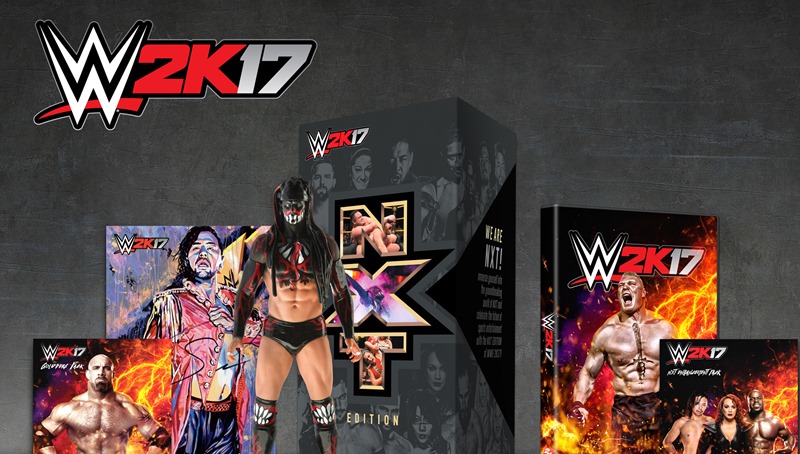 Which WWE show is the best right now? RAW or Smackdown? The answer is…neither actually. Because it's NXT that has grown to showcase the very best of the WWE and all the talent that hits the ring as numerous superstars work their way through developmental to reach for the gold. WWE NXT is where legends are born, and a big part of 2K's WWE games as of late.
It's where digital careers begin, before superstars in training get called up to the big league. And it looks like the NXT brand is taking over WWE 2K17, as that game will be hitting retail with an NXT-branded collector's edition that includes the following goodies: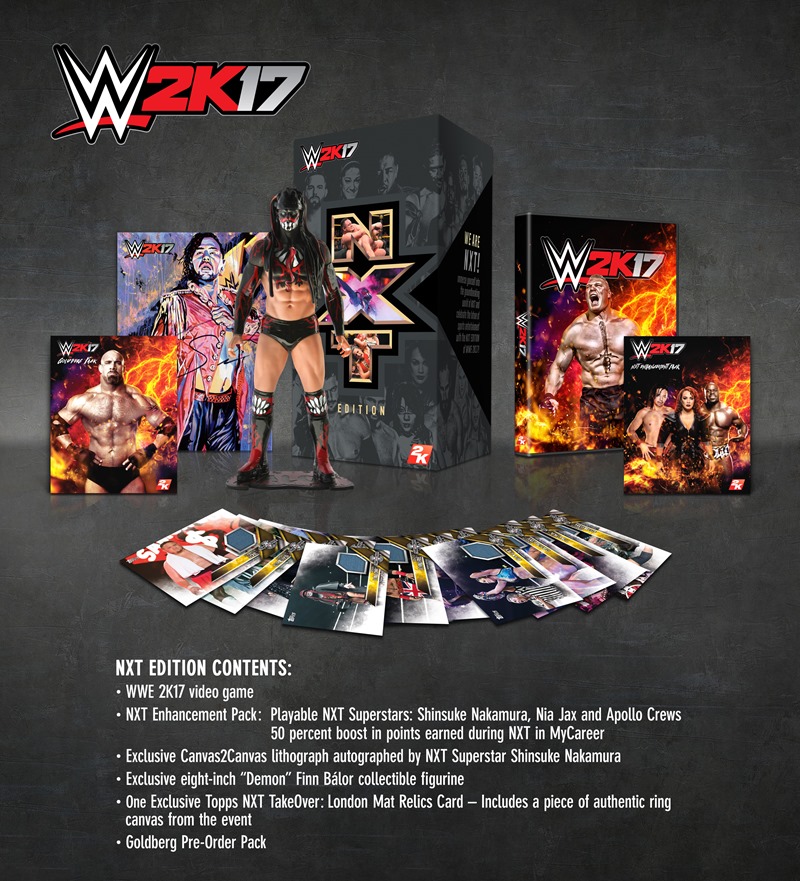 NXT Enhancement pack – Shinsuke Nakamura,Nia Jax and Apollo Crews and a 50% boost in points earned during MyCareer
Signed lithography from Shinsuke Nakamura
Eight inch tall Finn Balor figurine
A piece of the ring canvas from NXT: Takeover London
The Bill Goldberg pre-order pack
WWE 2K17 the game (well duh)
I'm not a big fan of paywalls for wrestlers, but otherwise that's not a bad package overall. The WWE 2K17 collector's edition will set you back a grand total of $100 when it goes up for pre-orders later today, and hopefully some stock will filter on down locally as well. But back to NXT. Why is this part of the WWE brand taking over not only WWE 2K17 but the flagship shows as well? "To me, it's about as in-depth to NXT as you can get," Paul 'Triple H' Levesque said to GameSpot.
For our hardcore fan base, our most passionate fans, that's what they want. They want the ability to replicate the superstar's career paths, as themselves or as that character. I think you're going to see NXT become more and more a part of [the WWE 2K series] over the years.
WWE 2K17 is out October 11 for PlayStation 4, Xbox One and last-gen systems. Pre-order my collector's edition and I'll take you on a personal tour to Suplex City when I don my blue wig and become Bad News Bonthuys again. Oh yeeeeeeeaaaaaaah!
Last Updated: July 14, 2016