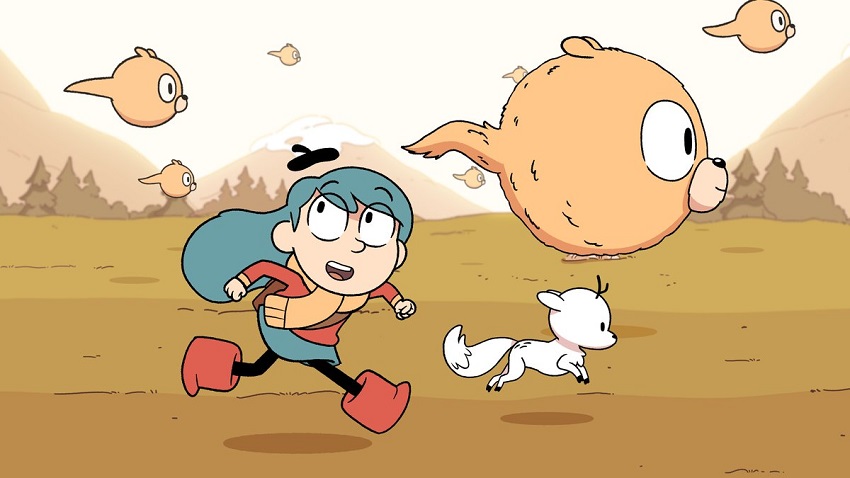 Hilda is the upcoming Netflix animated series that's based on the popular British children's graphic novel series that's written and illustrated by Luke Pearson. It features the voice of Bella Ramsey (Lyanna Mormont on Game of Thrones) as the titular Hilda, and is directed by Andy Coyle (Atomic Puppet).
Set in a fantasy world that resembles late 20th century Scandinavia and draws inspiration from Scandinavian folklore, the story follows the adventures of a young girl named Hilda who, together with her mother, moves from the countryside to the big city. There she encounters new friends and strange creatures as she explores her new world and dives headlong into all sorts of adventures.
The show's official synopsis is as follows:
Hilda follows the adventures of a fearless blue-haired girl as she travels from her home in a vast magical wilderness full of elves and giants, to the bustling city of Trollberg, where she meets new friends and mysterious creatures who are stranger – and more dangerous – than she ever expected.
Let's take a look:
That looks incredibly charming, without the saccharine sweetness that so much children's animation oozes – what it does exude is hope, innocence, and the joy of exploration. I also get the impression that the show won't shy away from touching (lightly) on some darker topics, but it's definitely a series that's more about wonder and optimism. The art style is unique and fluid, and Ramsey's voice work sounds good.
Younger viewers should definitely enjoy this, and I wouldn't be surprised to hear that adults do as well. I can imagine a lot of people coming home from a long, hard day at work and just wanting to sit back for a few minutes and watch something that reminds them of simpler times.
What do you think?
Hilda will premiere its 13-episode-long first season on Netflix on 21 September. It also features the voices of Daisy Haggard, Ameerah Falzon-Ojo, Oliver Nelson, Ilan Galkoff, and Rasmus Hardiker.
Last Updated: September 13, 2018