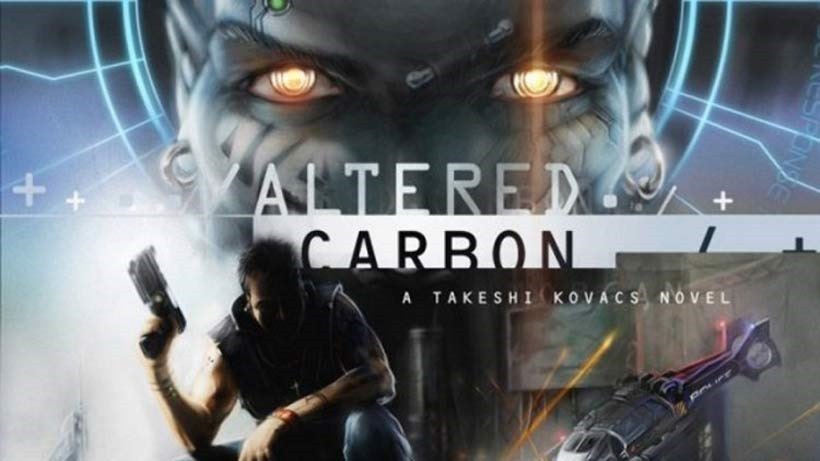 Drama, horror, comedy and superheroes are what we've gotten from Netflix's Original-branded series to date, and as they look to expand their roster of in-house content, they've gone full science fiction with the announcement (via Variety) that they've picked up the highly-regarded 2002 cyberpunk noir-detective novel by Richard Morgan – 'Altered Carbon' – for a 10-episode series.
Writer/producer Laeta Kalogridis, best known for Shutter Island and Terminator Genisys (and the highly-underrated Birds of Prey, Kervyn.), will head up the production as show runner. David H. Goodman (Once Upon A Time, Fringe) will assist with the writing duties and Brad Fisher (White House Down, Black Swan) and James Vanderbilt (Basic,Zodiac) with production duties. That looks a strong team with previous experience in all the areas the work touches on.
For those of you unfamiliar with the novel, which won the 2003 Philip K. Dick Award for Best Novel, 'Altered Carbon' is (courtesy of imdb):
…set in a future where consciousness is digitized and stored in cortical stacks implanted in the spine, allowing humans to survive physical death by having their memories and consciousness "re-sleeved" into new bodies.

The story follows specially trained "Envoy" soldier Takeshi Kovacs, who is downloaded from an off-world prison and into the body of a disgraced cop at the behest of Laurens Bancroft, a highly influential aristocrat. Bancroft was killed, and the last automatic backup of his stack was made hours before his death, leaving him with no memory of who killed him and why.

While police ruled it a suicide, Bancroft is convinced he was murdered and wants Kovacs to find out the truth.
What follows is a thrilling, action-packed ride as Kovacs (who is essentially a wry, world-weary mixture of The Punisher's action skills and Sherlock's detective skills) pulls apart the threads of a global conspiracy with all the subtlety of half-brick to the head.
However that's not all it is as the novel also addresses how people perceive their sense of self when able to inhabit a different body, and doesn't shy away from social commentary on issues like wealth inequality, equality before the law, and the value of life when death is taken off the table.
As Morgan, never one to mince words, said in an interview, one of the novel's take aways was that:
Society is, always has been and always will be a structure for the exploitation and oppression of the majority through systems of political force dictated by an elite, enforced by thugs, uniformed or not, and upheld by a wilful (sic) ignorance and stupidity on the part of the very majority whom the system oppresses.
I doubt he imagined it would only take a decade or so for Donald Trump of all people to prove his point.
The streaming giant has dabbled its toes in the sci-fi genre previously with last year's Sense8, but that was more of a character study on human relationships with a sci-fi twist, than traditional science fiction; and given their overwhelming success of their Marvel adaptions, I'm very excited to see what comes of this. Particularly since there are a further two sequels, 'Broken Angels' and 'Woken Furies', for future seasons. How about you?
The correct answer is: "Yes, me too!"
Last Updated: January 21, 2016