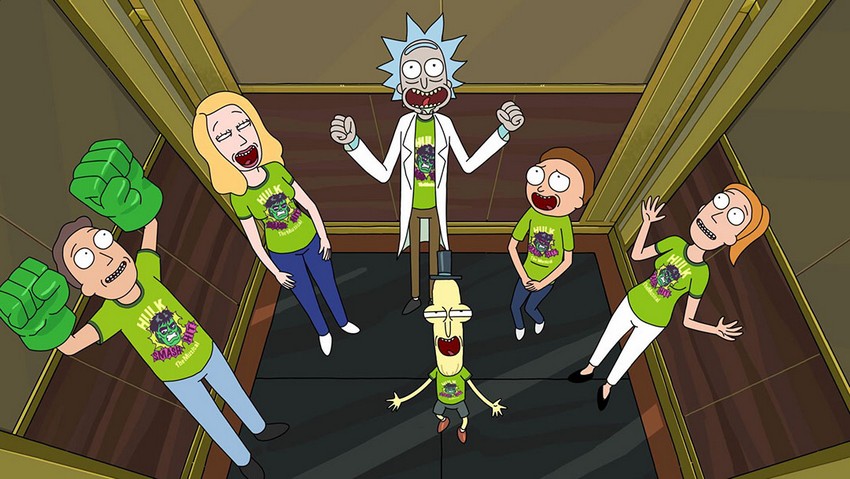 People, I need help. I'm beset on all sides by folks in the Critical Hit office who seem to somehow be of the opinion that Ricky and Morty is overrated at best or even trash at worst. How can so many people be so wrong?! As all us schwifty people know, the animated adventures of neurotic teen Morty and his hard-drinking, sorta-kinda-psychotic mad scientist grandfather Rick is critically acclaimed for a reason. Creators Dan Harmon and Justin Roiland haven't just created deep and layered characters but use some crazy imaginative sci-fi storytelling and absurd comedy hijinks to often dive deep into issues many cartoons (or even live-action shows) just don't touch on.
I will admit that Ricky and Morty has one gigantic problem. Well, two gigantic problems if you also include the fact that the most vocal proponent of its fanbase is comprised mostly of disgustingly toxic assholes. The other problem with Rick and Morty though is that there just isn't enough of it. After the show's brilliant first two seasons ended in 2015 – on a huge cliffhanger, I might add! – we had to wait until 2017 to get another 10-episode season. Now we're already in 2019 and we still don't have anything to follow up on those!
We will soon though as it was announced yesterday that the long-awaited fourth season of Rick and Morty will finally be debuting on Adult Swim this coming November. The announcement was made via a video message from the titular show leads that was shown off at WarnerMedia's 2019 upfront press tour.
Well, wubba lubba dub dub! Almost exactly a year ago, Adult Swim renewed the show for not just a fourth season, but indicated that there would be 70 new episodes in total. As Roiland told Polygon soon after that announcement, "We're super excited that, for the first time ever, we're locked in, we know what the future is, we have job security."
Harmon is in great spirits, we have a great writer's room. We want the episodes to stay good, but we do also want to try to turn them around a little quicker now that we have this big order, I think it gives us the ability to be faster. We're not going to do these long breaks, these chasms in between seasons anymore. We're going to schedule vacation time and just keep the machine going. It's going to be really cool.
Let's hope the creative team can actually stick to that goal, and cue new seasons even faster after this new one drops in a couple of months. That way I can always have new episodes handy to show these naysayers around me just how wrong their opinion of this show is.
Last Updated: May 16, 2019