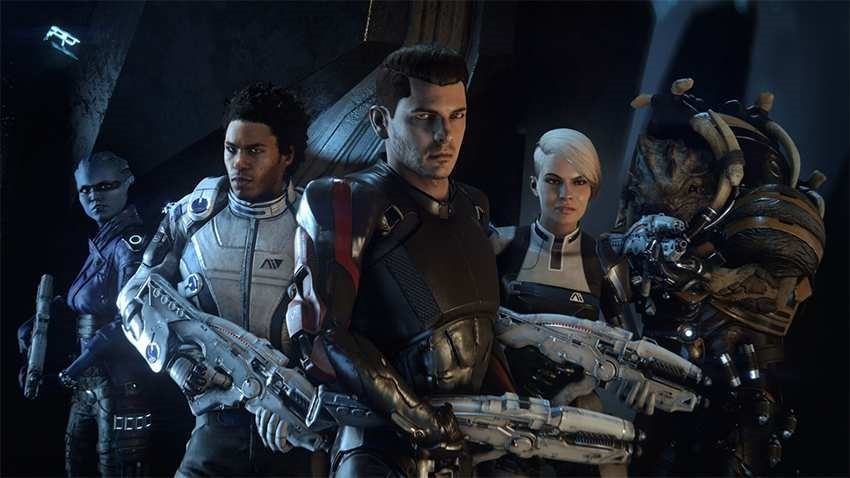 I think it's fair to say that Mass Effect: Andromeda did not have the impact anyone had hoped. The divisive space opera RPG was not as well received by critics or fans of the series as previous games. It's put a great big question mark over the future of a once great franchise. It looks like there may be more bad news for fans on the horizon.
You've probably never heard of Sinclair Networks. They're an Austrian company (who may or may not actually exist) that provides services to game developers in their time of need, helping with polish, networking or patching when there's a shortage of hands. Here's what they say in their about section, for clarity:
"Providing games developers with high-quality support at a moment's notice. Developing servers and networks as well as bug fixes and patches from some of the world's leading game developers."
They were apparently brought on to polish up Mass Effect: Andromeda post release, working to make the game a little shinier after it was lambasted. That's not all they were hired to do though. According to them (a reminder that this is just hearsay) they were hired to produce three sets of story-based DLC for the game. It's plausible, considering the team that made Mass Effect Andromeda has been significantly downsized. That DLC has, however, apparently been cancelled.
In an apparently now-deleted post on their Facebook, Sinclair Networks let loose the news that Andromeda's DLC or at least the DLC they were working on) has been binned.
Here's what the post said, captured for posterity on the Bioware Social Network: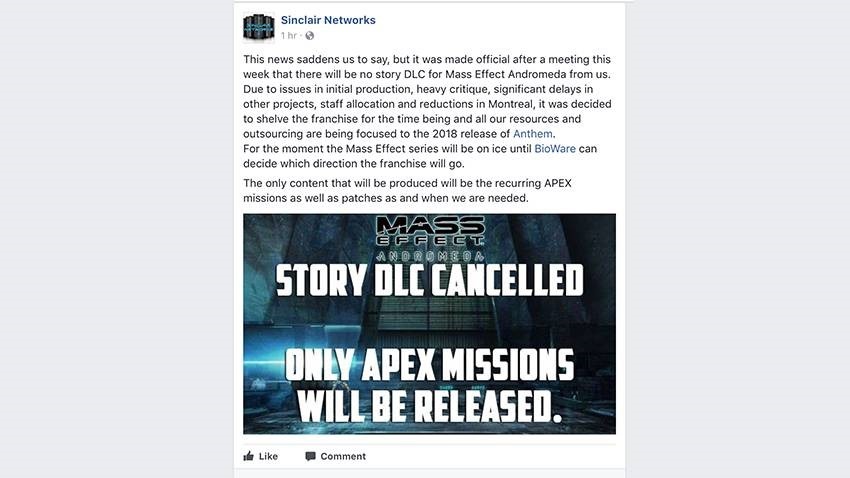 "This news saddens us to say, but it was made official after a meeting this week that there will be no story DLC for Mass Effect Andromeda. Due to issues in initial production, heavy critique, significant delays in other projects it was decided to shelve the franchise for the time being and all resources and outsourcing are being focused to the 2018 release of Anthem.

For the moment the Mass Effect series will be on ice until BioWare can decide which direction the franchise will go.

The only content that will be produced will be the recurring APEX missions as well as patches as and when needed"
In the deleted thread, somebody on Sinclair's staff was very vocal about the cancellation – pointing a few fingers at BioWare.
"Our boss said the game needs DLC to keep interest and also reduce the stigma that will be created with Anthem. But the bigwigs at BioWare didn't listen as they do not see the community."
It's possible that BioWare themselves may make DLC for Andromeda, or they may outsource the job to somebody else. It doesn't, however, seem that they'll be working with Sinclair again.
Last Updated: June 30, 2017