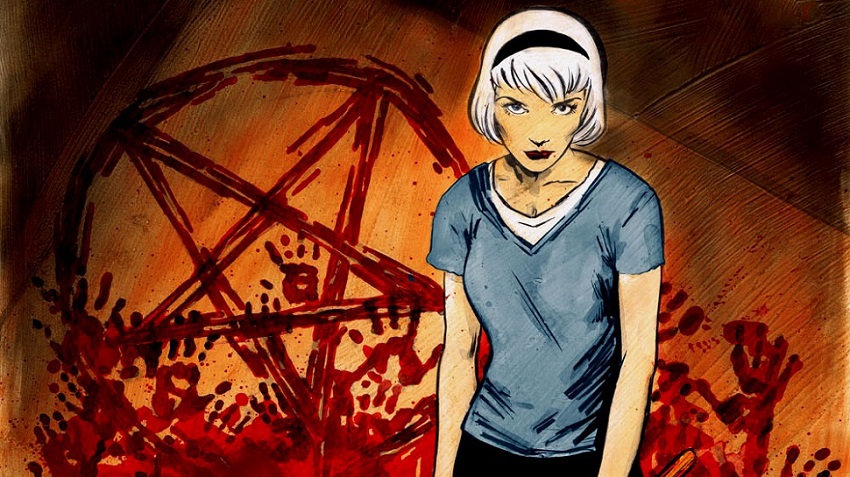 In what can only be described as a surprising turn, Archie Comics' Sabrina the Teenage Witch is heading to series on Netflix and bringing some teen-based horror along with her.
Originally slated to appear on The CW alongside their dark-lite Archie adaption Riverdale, with casting already underway, the streaming giant has seemingly swooped in with an offer that's too good to refuse – giving the series an upfront order for two seasons totaling twenty episodes. The character has been adapted for both the big and small screens before, with the most well-known being Sabrina the Teenage Witch (and starring Melissa Joan Hart) which ran for seven seasons between 1996 and 2003.
The show will be based on the Archie Horror comic book series 'Chilling Adventures of Sabrina' that was first published in 2014. Written by Roberto Aguirre-Sacasa (Archie Comics' chief creative officer), with the artwork by Robert Hack, the comics follow the teenage Sabrina Spellman in the 1960s as she struggles with her half-witch / half-human legacy and her family.
According to Netflix, the as-yet untitled Sabrina series:
imagines the origin and adventures of Sabrina the Teenage Witch as a dark coming-of-age story that traffics in horror, the occult and, of course, witchcraft. Tonally in the vein of Rosemary's Baby and The Exorcist, this adaptation finds Sabrina wrestling to reconcile her dual nature — half-witch, half-mortal — while standing against the evil forces that threaten her, her family and the daylight world humans inhabit.
In addition to being the showrunner for Riverdale, Aguirre-Sacasa will also assume those duties for the Sabrina adaption. Greg Berlanti's Berlanti Productions, which handles all of the DC properties for The CW, will produce the series along with Archie Comics for the streaming service.
It seems like a good move for all parties involved. Netflix currently has a deal in place with The CW to air Riverdale as soon as a season ends, and its first season was very popular on Netflix. Subsequently the second season on The CW saw a 60% rise in viewership as those exposed to series via Netflix tuned in to get a weekly fix of dark teen drama. With Marvel pulling their content from Netflix in favour of their own fledgeling streaming service, this also gives Netflix access to another comic book universe in which to dip their fingers. I assume we can also expect the series to get a much higher budget than it otherwise would have if it had stayed at The CW.
I must admit I'm intrigued. While I don't watch Riverdale because I've got no interest in high school drama, I did think the pilot episode was very well put together and would expect nothing less from this given they share the same showrunner. Referencing The Exorcist, which itself has just received an excellent TV adaption, as inspiration for the upcoming series does make me curious. How about you?
Last Updated: December 4, 2017