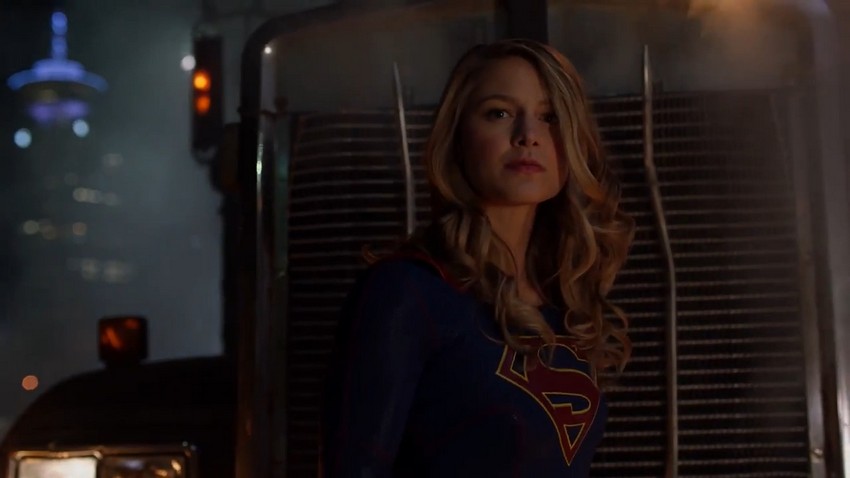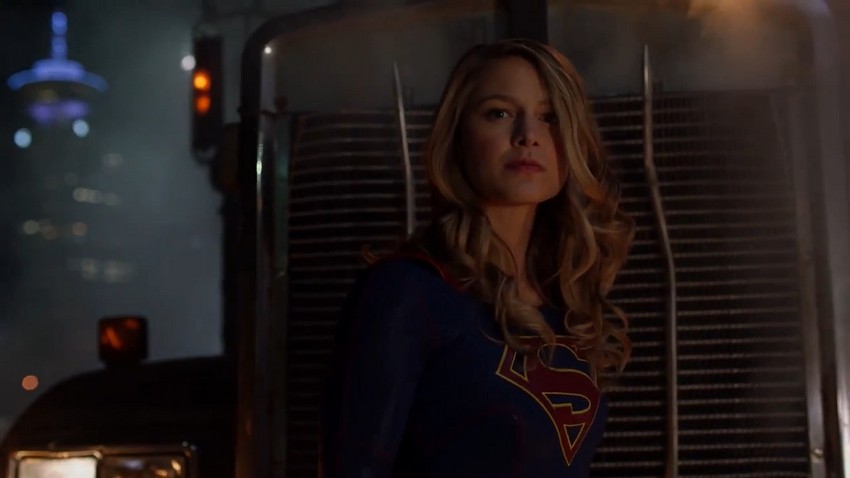 "Who is Supergirl without Kara Danvers?" That's the tagline for the upcoming third season of CW's Supergirl, as the Girl of Steel will seemingly find herself getting all angry and broody in the wake of having to send her beau into outer space. Talk about long distance relationship troubles! Yeesh!
During the show's Comic-Con panel last night, The CW unveiled the first look at the upcoming darker season of Supergirl in a trailer that… well, in a trailer that I don't actually think is very good. Let's forget about the darker tonal shift, which I don't think is a good fit for the show as Melissa Benoist's immensely lovable performance as Kara Danvers/Supergirl is such a ray of sunshine normally. No, I'm just talking about the editing of the trailer which feels rather sloppy in places, particularly in a weirdly limp little action beat and closing shot involving Chyler Leigh's Alex Danvers. Supergirl has never been the most technically amazing show on TV – it lives on the likability of its cast – so maybe I'm just being too picky here though.
The rest of the trailer does have a few noteworthy moments, including the first look at ex-Smallville alum Erica Durance who will be playing Kara's late Kryptonian mom Alura Zor-El. We also get a shot of series newcomer Adrian Pasdar who will play ruthless businessman Morgan Edge, a new rival for Katie McGrath's Lena Luthor. Am I the only one that thinks that if somebody just got busy with a razor, Pasdar could make one hell of a Lex Luthor though?
Along with the trailer, the panel also revealed some new info and casting. Joining the previously mentioned Durance and Pasdar as newcomers this season will be Carl Lumbly as M'yrnn J'onzz, the father of David Harewood's J'onn J'onzz. Turns the last green Martian is not the last after all. In a blink-and-you-miss-it shot at 1:02 in the trailer above, we also get our first look at Odette Annabelle's new primary villain Reign. She may not look it in this brief preview, but Reign has been described as a "worldkiller" with Annabelle saying that the character has "a very specific agenda. She doesn't want to just rule the Earth. She has her own reasons for dispensing her justice, which will be revealed throughout the season."
Also tackled throughout the season will be Chris Wood's Mon-El, Supergirl's Daxamite boyfriend who she sent off-planet against his will to save his life from a device that made Earth's atmosphere lethal to his race. Apparently Mon-El will eventually return, but the mystery of just how he does is something that will play out over time.
Supergirl's third season kicks off 9 October.
Last Updated: July 23, 2017