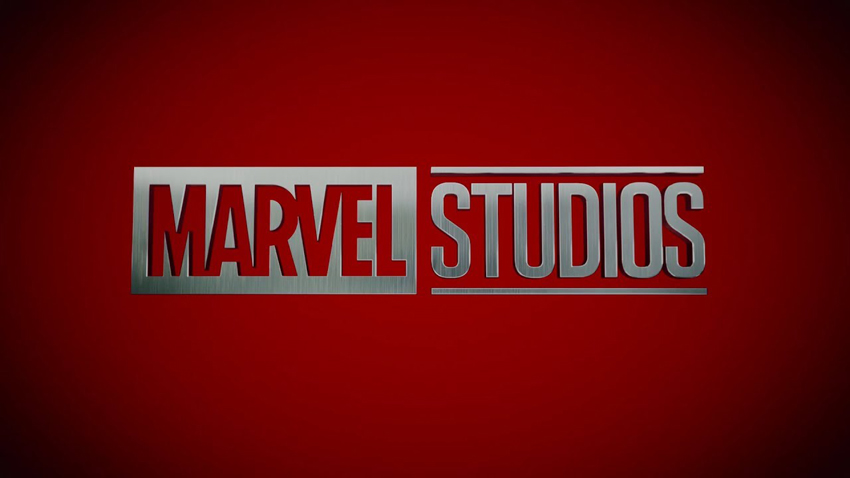 I think it's pretty safe to say that no other Hall H panel happening at Comic-Con this year was as eagerly anticipated as Marvel Studios' mysterious 90-minute presentation. I say "mysterious" because up until this point, we've officially known NOTHING about what's in store for the Marvel Cinematic Universe following the cataclysmic events of Avengers: Endgame (with Spider-Man: Far From Home also adding its coda).
Well, the panel started out by looking back as Marvel Studios boss Kevin Feige first took to the stage to debut a highlight reel that showed off all the heroes of the MCU suiting/powering up, ending with an official logo for The Infinity Saga. "The Infinity Saga is complete," Feige declares before he brought out the many behind-the-scenes "soldiers" that made the first 10 years of MCU possible in producers Julia Esposito, Victoria Alonso, Stephen Broussard, Sarah Smith, Nate Tran, Jonathan Schwarz, and more. It was a really classy touch to honour these people that don't ever really get the spotlight for their efforts.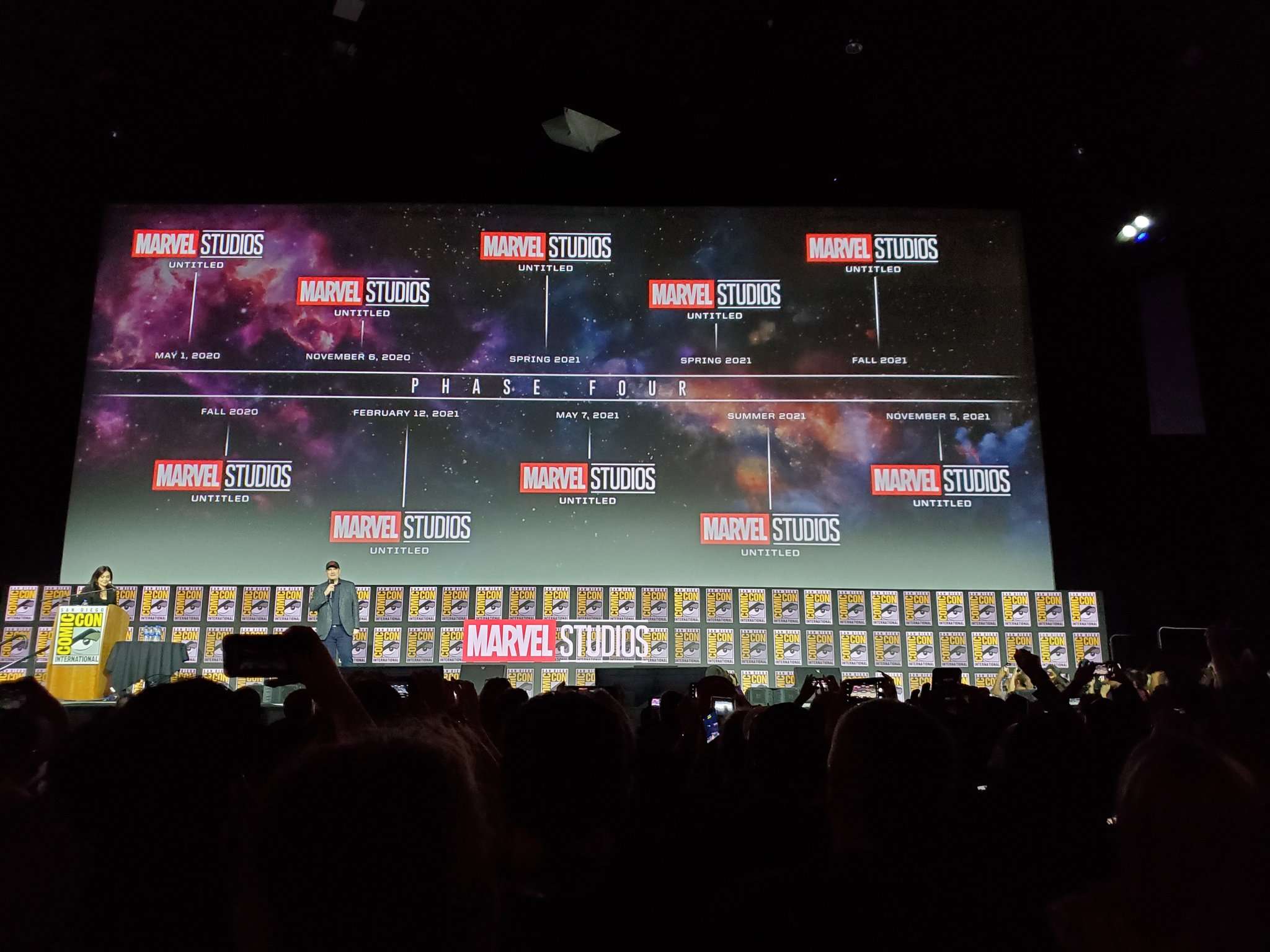 And then things got serious as a Phase 4 timeline popped up on the screen and Feige wasted very little time in starting to drop those bombs.
First up, we finally have an official announcement for The Eternals which director Chloe Zhao describes as being "full Jack Kirby." The movie also gets a release date of 6 November 2020.
We also have our cast announcements with Richard Madden as Icarus, as speculated on before, while Angelina Jolie will play Thena. Another A-list addition though is Salma Hayek as Ajak, the leader of the Eternals. The rest include Lauren Ridloff as Makkari, Bryan Tyree Henry as Phastos, Lia McHugh as Sprite, Kumail Nanjiani as Kingo, and finally Don Lee as Gilgamesh the Forgotten One.
UPDATE: I previously had Lauren Ridloff's role marked incorrectly. It should be Makkari, which has traditionally been a male character. Making Ridloff's casting even more diverse (besides for being a woman of colour) is the fact that she becomes the first deaf superhero in a mainstream Hollywood comic book movie.
Next up, Anthony Mackie and Sebastian Stan, the stars of the upcoming Disney+ series The Falcon and the Winter Soldier took to the stage. Mackie actually came out wearing the shield he had inherited from Captain America in Avengers: Endgame. He offered it to Stan on-stage only to take it back. We also got a new official logo as it was revealed that the show will debut on Disney+ plus in the US Fall season 2020 (so roughly around September here locally).
As Mackie and Stan spoke about what they want to bring to the show, Daniel Bruhl's villain Zemo from Captain America: Civil War showed up having seemingly hacked the video "just to say hello to some old friends", before pulling on a mask similar to his comic book counterpart Baron Zemo (though it was black and not purple!).
Then everybody got kung fu fighting as Shang-Chi and the Legend of the Ten Rings was finally announced officially for release on 12 February 2021. Yes, you read that correctly. Ten rings! The Mandarin… the REAL Mandarin, is indeed confirmed to be in the movie (like I suspected) and he will be played by Oscar-nominated Hong Kong veteran Tony Leung (Hard Boiled, Infernal Affairs, Hero).
This finally picks up the threads from Marvel's 2013 One-Shot, All Hail the King, which revealed that there was indeed a real Mandarin, the leader of the Ten Rings terrorist group first introduced in 2008's Iron Man, and that he was not happy that Iron Man 3 baddie Aldrich Killian had been using his name. Director Destin Daniel Creton also revealed that there are apparently Ten Rings easter eggs hidden in Ant-Man.
Back to the casting and Awkwafina will also be in the movie in an undisclosed role, but the big role of Shang Chi himself will be played by Chinese-born Canadian actor Simu Liu. The 30-year-old actor, most famous for sitcom Kim's Convenience, was reportedly just cast this past Tuesday. I'm admittedly not familiar with his work (he's also appeared in the Taken TV series, Orphan Black, and Slasher), but he certainly looks the part.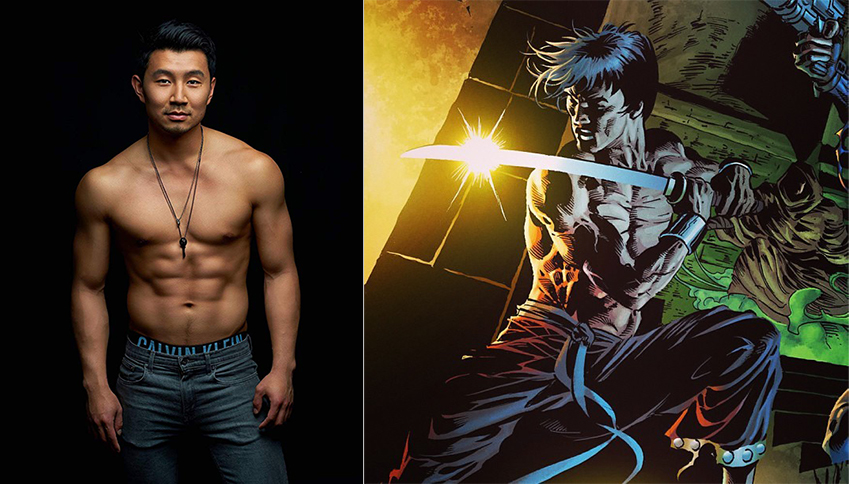 Next up was another Disney+ series in WandaVision which has now been officially dated for Spring 2021. The show will star Elizabeth Olsen's Scarlett Witch and Paul Bettany's Vision and will take place after the events of Endgame.
That, of course, begs the question of how is Vision even alive in this as he died in Avengers: Infinity War, which is something that Bettany jokingly claims he doesn't even know. That's not the only surprise though, as it was revealed that the character of Monica Rambeau (last seen as a 10-year old girl in the 1990s-set Captain Marvel) will be in this series played by actress Teyonah Parris.
Staying with Disney+, the previously announced Loki got a Spring 2021 release date and really weird new logo. It was confirmed that Tom Hiddleston will be playing the version of Loki that escapes with one of the Infinity Stones back in 2012 during the time-travelling events of Avengers: Endgame.
Hiddleston, who received massive applause as he took to the stage. recalled that the last time he was in Hall H he was demanding for Feige to kneel. He also spoke about how due to this being the Loki from the past, he is very much still a villain at this point with none of the redemption that came later. Jokingly, the last thing to happen to him is that he got Hulk smashed.
And if you were missing all the multiverse madness that we predicted for Spider-Man: Far From Home then don't worry because the Sorcerer Supreme has you covered. Officially announced for release on7 May 2021 will be Doctor Strange in the Multiverse of Madness! Ooh what a title!
According to director Scott Derrickson, this will be Marvel's first scary film – which isn't surprising given the fact that he first broke out in Hollywood in the horror genre – but he will still keep things PG-13.
As for the man himself, Benedict Cumberbatch had a nice welcome as Hall H sang happy birthday for him. Cumberbatch continued by saying that the humor is still in the movie, but "we're going back to try and destroy him a bit." Also, Olsen's Scarlet Witch is in Doctor Strange: MOM (can we start calling it that?) as well, as reportedly the events of WandaVision will tie directly into this. This matches up with Feige's statements earlier in the year that going forward, Marvel's TV offerings and feature films will be far more intrinsically linked.
Next up was the previously announced What If…? anthology show which will be Marvel's first animated effort and will debut on Disney+ in mid-2021. The series, like the comics it draws from, will explore alternate versions of characters and events from the MCU. The show will feature all the original actors providing voices where necessary but will see Jeffrey Wright debuting as the voice of the Watcher.
According to Wright, the Watcher will often be off doing his own thing, but occasionally intervenes. They can also "take it anywhere" when it comes to the potential stories of the show.
More Disney+ as the rumoured Hawkeye event series was confirmed, with a release date pegged for Fall 2021. Jeremy Renner will reprise his fan favourite role as the superhero archer, Clint Barton, but as previously reported this show will also see the introduction of Kate Bishop.
In the comics, Bishop is the second Hawkeye who Barton tutors and takes under his wing. There was no announcement of who would be playing her though as we only got a promo image showing off the characters of Barton and Bishop side by side but in silhouette. The show will reportedly show off more of Barton's time as Ronin as seen in Endgame though.
Next up, we got what will undoubtedly go down as the best superhero movie title ever as Thor: Love and Thunder was officially announced for November 2021. The dynamite Thor: Ragnarok team of Chris Hemsworth as Thor and Tessa Thompson as Valkyrie, with director Taika Waititi (who also voices Korg), will be back together again.
Thompson said that following the events of Endgame where she became "King" of Asgard, this film will see her trying to find her queen. Hopefully that means that Marvel will actually lean into the character's queer status instead of barely paying it lip service like last time.
UPDATE: Speaking to i09 after the panel, Feige has confirmed that Valkyrie will indeed be involved in an LGBTQ storyline on-screen.
The answer is yes. How that impacts the story remains to be seen with that level of representation you'll see across our films, not in just Thor 4.
However, the really big announcement was that Waititi is pulling from Jason Aaron's now iconic The Mighty Thor run which saw Jane Foster become Thor. That will apparently happen here as Natalie Portman is back to reprise her role. After coming out on stage, Waititi handed Thor's hammer Mjolnir to her, with Portman jokingly adding that she's always had a little hammer envy.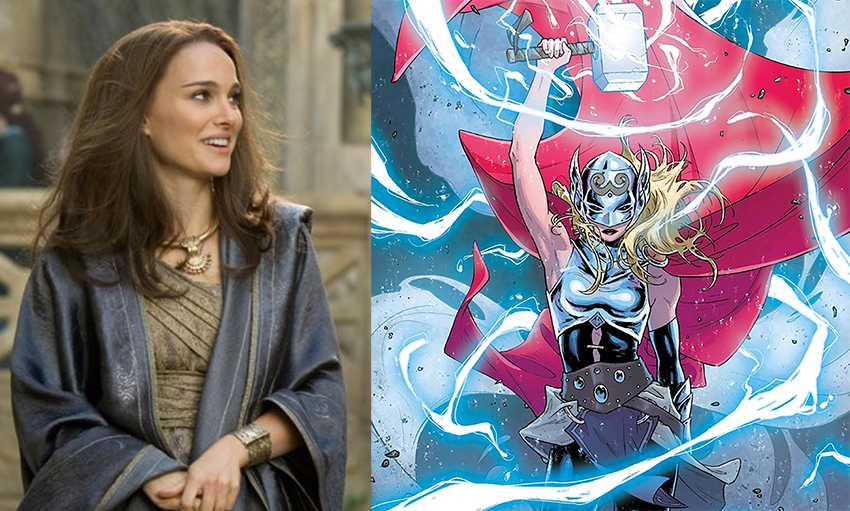 Next we got another official announcement that we already knew was coming as the Black Widow solo movie was revealed to be releasing on 1 May 2020. Along with Scarlett Johannson's Natasha Romanov, it's been confirmed that Florence Pugh plays Yelena, who in the comics was the second Black Widow.
The film will reportedly deal with the secrets of Natasha's past and will see her trying to put all the pieces of herself back together. Yelena will also portray a sister figure to Natasha. Joining them in the cast will be David Harbour as the villainous Alexi aka The Red Guardian, while O-T Fagbenle plays a fixer and former contact/romantic flame from Natasha's pre-SHIELD past. Rachel Weisz has also been cast as a character named Melina.
Although not released online, fans in attendance got to see a short trailer for Black Widow (which has been in production for a few weeks now). The trailer confirms that the film is set after the events of Civil War and sees Natasha travelling to Budapest. The footage shows her fighting against Yelena before making peace with and sharing a drink with her. The footage ends though with another surprise as the villain Taskmaster appears to engage her in a fight and he has his own shield!
That seemingly wrapped up the presentation as a Feige revealed there were more movies in development but that they couldn't speak about them yet. Movies like Black Panther 2, Guardians of the Galaxy Vol. 3, Captain Marvel 2 and… FANTASTIC FOUR! Yes, it's officially happening. He revealed nothing further though and then snarkily also added that "there's no time to talk about those mutants". Sorry, Fantastic Four and X-Men fans, we have to wait some more to see what Marvel will do with the properties now that they have them back from Fox.
But then Feige dropped possibly the biggest bomb of the night as he brought out Mahershala Ali and revealed he will be playing Blade!
Yes, the Daywalker is back! Of course, as amazing as this news is, this gets a little awkward now as the Oscar-winner previously played Cottonmouth in the first season of Luke Cage. So does this mean that the Netflix shows are not in the same timeline as the movies or are Marvel just saying "screw it" and casting Ali anyway? Honestly, I don't care as long as they got him because this is one hell of a casting!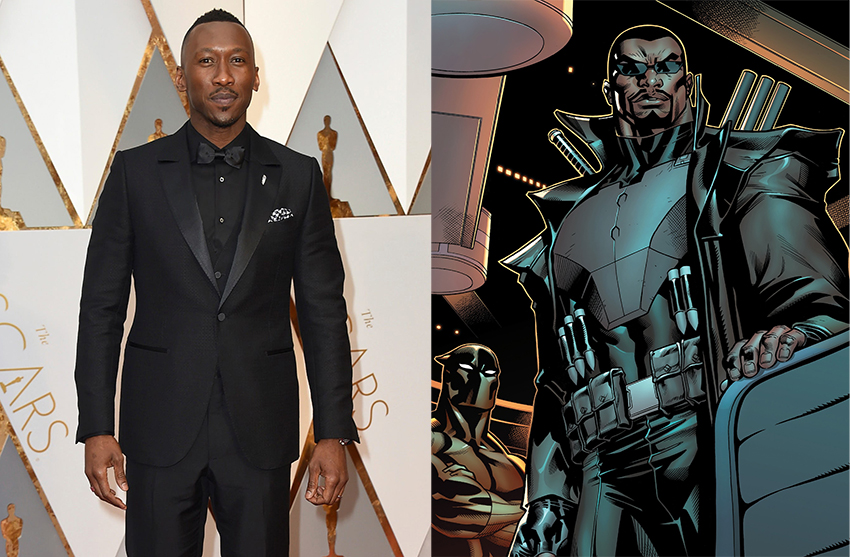 That then officially wraps up the panel for real and damn has it lived up to the hype! And remember this is only Marvel's release timeline through 2021. There's still a lot more of Phase 4 to be unveiled. I have a feeling that next month's Disney D23 Expo is going to another big one for Marvel.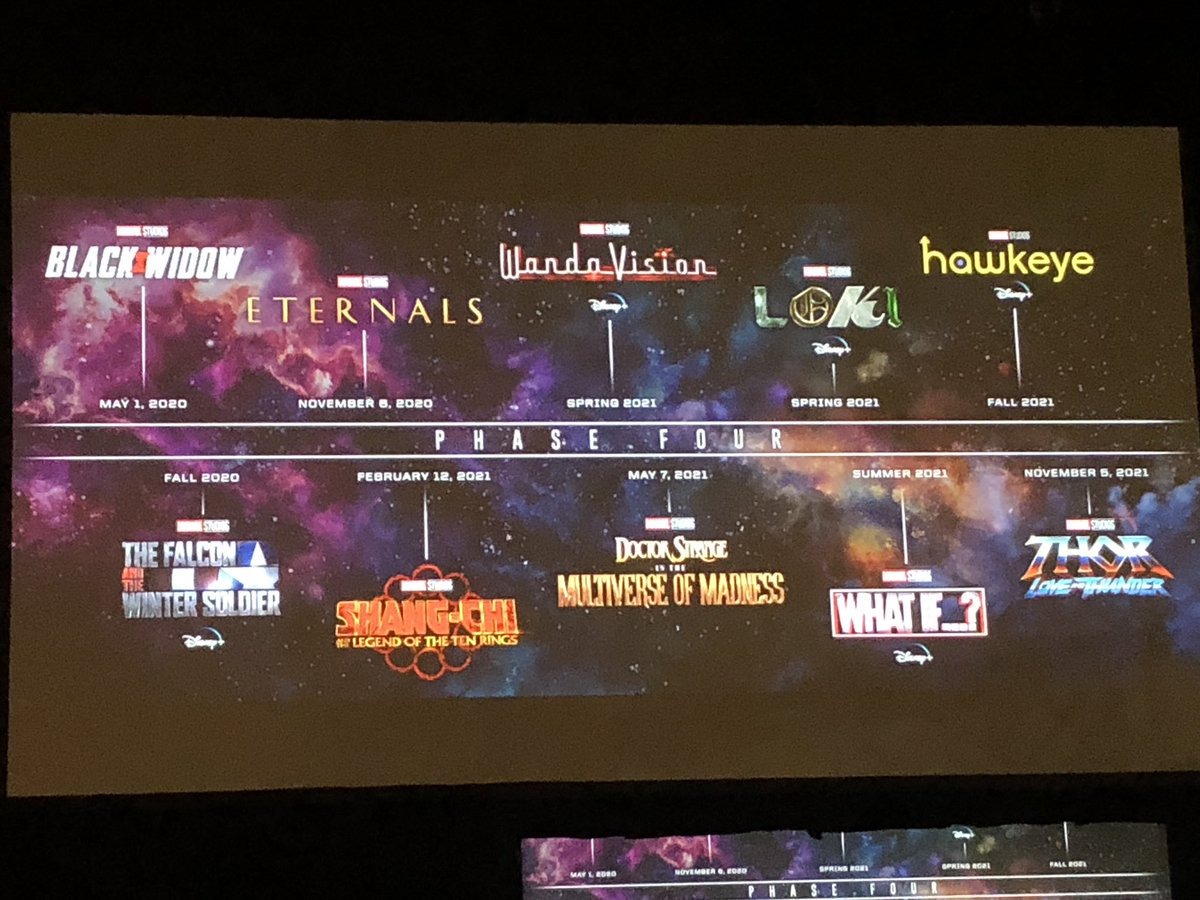 UPDATE: While we're waiting on an official release (which usually happens after a day or so), Variety has posted a video of the entire panel minus the sections where footage is shown and all electronics in Hall H have to be switched off. A warning though: This is essentially cellphone footage and audio cuts out in places, but it's all we have for now.
Last Updated: September 21, 2020