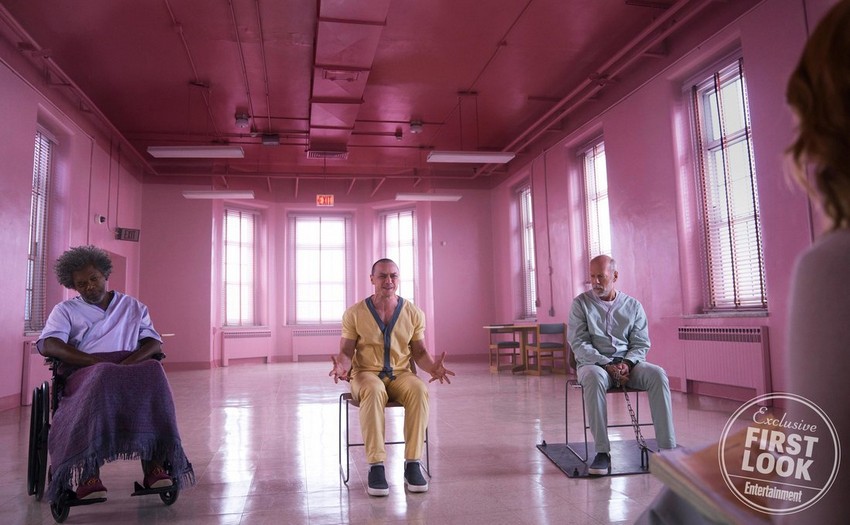 The San Diego Comic-Con panel for Glass, the most unexpected final chapter for a film trilogy since… well, I can't actually think of another threequel this surprising, was held in the early hours of this morning. A sequel to 2016 breakout success story Split (it actually being shockingly revealed to be a secret sequel to 2000's Unbreakable), we got the first look at Glass last week, which was then followed by a couple days of teaser vids respectively focusing on Bruce Willis' invulnerable hero David Dunn, Samuel L. Jackson's criminal genius Elijah Price aka Mr. Glass, and James McAvoy's split-personality monster Kevin Wendell Crumb aka The Beast.
All of these were very brief looks though, as writer/director M. Night Shyamalan kept his obviously twisty story under wraps. However, as the Sixth Sense filmmaker promised earlier in the year though, the SDCC panel has now revealed the first trailer for Glass. Check it out below!
Glass also stars Unbreakable's Spencer Treat Clark and Charlayne Woodard as Dunn's son and Price's mother respectively. It's scheduled for release on 18 January 2019. Here's the official synopsis as well as the three character teaser vids that were released daily over the last few days.
Night Shyamalan brings together the narratives of two of his standout originals—2000's Unbreakable, from Touchstone, and 2016's Split, from Universal—in one explosive, all-new comic-book thriller: Glass.

From Unbreakable, Bruce Willis returns as David Dunn as does Samuel L. Jackson as Elijah Price, known also by his pseudonym Mr. Glass.  Joining from Split are James McAvoy, reprising his role as Kevin Wendell Crumb and the multiple identities who reside within, and Anya Taylor-Joy as Casey Cooke, the only captive to survive an encounter with The Beast.

Following the conclusion of Split, Glass finds Dunn pursuing Crumb's superhuman figure of The Beast in a series of escalating encounters, while the shadowy presence of Price emerges as an orchestrator who holds secrets critical to both men.
Last Updated: July 21, 2018