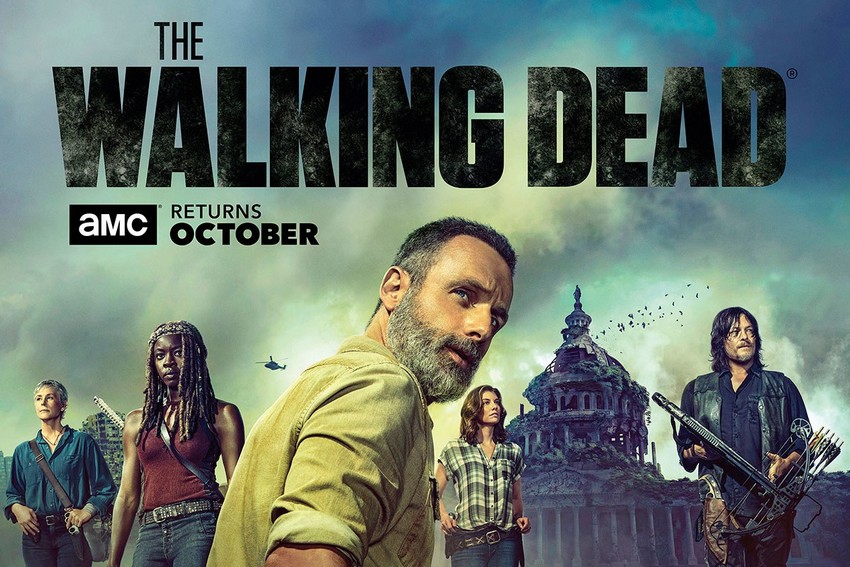 Times they are a-changing when it comes to The Walking Dead. AMC's long-running zombie drama, once the biggest TV series in the world (a title they're still claiming but which can be disputed with recent rating drops), is set to experience a big two-year time jump in its upcoming ninth season in the wake of Rick Grimes' all-out war with the sadistic Negan and his Saviours finally coming to an end. Despite the violence that led up to that point, that finale was actually a merciful affair as Rick decided to spare Negan's life, a gesture he hoped would be the start of a new future together in which the various communities scrabbling out a living in the zombie apocalypse could actually work together for a change.
As was learned during the show's San Diego Comic-Con panel though, Rick's hard-won peace may not be as firm as he had hoped. Loosely adapted from the "Brave New World" story arc from Robert Kirkman's original comics, the upcoming season finds Rick and the gang in a new world filled with lots of opportunities to prosper. But there are conflicts – some rather close to home –  bubbling under the surface that threaten to tear it all apart again.
AMC unveiled a number of teasers leading up to the panel and one full-length trailer at the end, however, the US TV network has seemingly forgotten about its international audience and only made them available in the US. Luckily, JoBlo has combined an extended version of the trailer with all the SDCC footage for a more than 6-minute long preview which you can check out below.
Of interest in that footage is the potential conflict of leadership brewing between Rick and Maggie. It's already been confirmed that actors Andrew Lincoln and Lauren Cohan will only be around for a handful of episodes this season before departing the show and handing over top billing to Norman Reedus' Daryl (who apparently wants things to go back to the lawless good ol' days). With that in mind, it's odd to see that they will seemingly be pitted against each other as we know that irrespective of who comes out on top, they won't be around for much longer after that.
This trailer also gives us our first look at a bunch of new faces – and I'm not just talking about Rick's silvery beard – as Father Gabriel welcomes in a new group of survivors, which includes the likes of Josh Gad (Beauty and the Beast) and Nadia Hilker (The 100). In the comics, this group is led by a woman named Magna which could be who Hilker's playing. On top of that, we learn that not only is Negan still around in a jail cell giving Rick some lip, his former-Saviours – now part of the Sanctuary settlement – may still be causing trouble if a little bit of graffiti is to be believed. Maybe Danai Gurira's Michonne, who sounds like she's become a stickler for enforcing new rules, may have to do something about that. Possibly while wielding an infamous barbed-wire covered baseball bat?
The Walking Dead season 9 is set to debut on 9 October in the US, and will follow shortly thereafter locally.
Last Updated: July 21, 2018