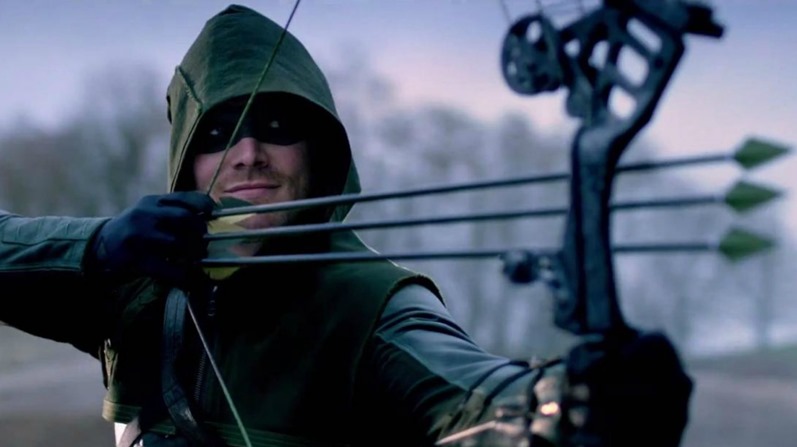 After that magnificent second season of Arrow which featured the mother of all showdowns between Ollie and Slade Wilson while Starling City burned, I'm proper amped for the third season return of the Emerald Archer. I mean, those two other seasons that appeared? Clearly pranks that went way too far, as Ollie faced the dread of suburban life and the main villain was a charismatic cult leader whose special power was hand-wavy magic.
Clearly that was a joke featuring actors who looked and sounded just like the real deal. For the love of Grodd please tell me that the last two years of my life were a hallucination brought on by huffing Sriracha sauce again.
Anyway, season "five" of Arrow is still on track, in a manner that hopefully remembers that it's an action show and not a daytime soapie. And maybe it has, as Arrow star Stephen Amell revealed on Facebook via TV Line that the series is going back to the streets with a new tone, upgraded costume and the return of a character that hasn't been seen in two years.
"If [the premiere] is any indication, Arrow is going to be f–king mean this year," Amell said, adding that the premiere episode which is directed by fight choreographer James Bradford has given the cast "the opportunity for us to have the most vicious, violent one-shot in the history of network television". Something along those lines was done in season 4, as Arrow pulled a Daredevil and doubled down on a handful of fight sequences which certainly felt very, very different.
As for that mystery return? I'd put my money not on Slade Wilson, but rather on Russian Mafia leader Anatoly Knyazev being the man that Amell is hinting at. Hey, someone needs to explain how Ollie became a high-ranking member of the Bratva. More street-level action, a helmet for John Diggle that doesn't look like a Magneto rip-off and far fewer episodes starring Felicity's mom please.
Hopefully the recent shenanigans by the Flash will mess around with the Arrow timeline a bit as well before season 5 begins.
Last Updated: June 28, 2016