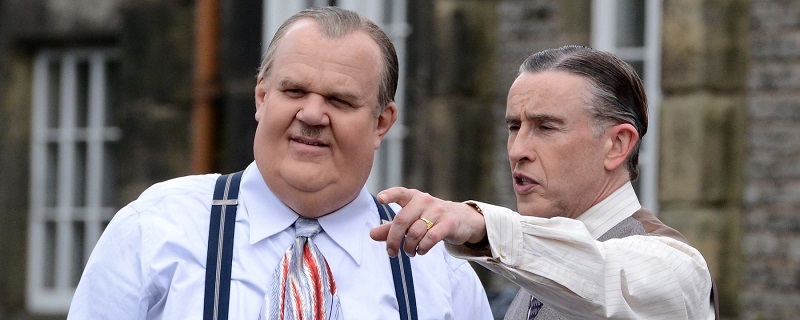 Stan Laurel and Oliver Hardy might have stopped performing in the 50s, but 60 years later and their comedic effect on the world still reTheir. There brand of slapstick comedy continues to be popular to this day and even if most of the world doesn't know who they are – they've likely laughed at something inspired by these two very funny men. However, as is so often the case with comedians, their personal lives were not always filled with the happiness and laughter of their comedy routines.
This new movie from Filth director Jon S Baird, titled Stan & Ollie, takes us deeper into the personal lives of this famous duo played by Steve Coogan and John C. Reilly. The story, written by Jeff Pope (Philomena) follows the pair as they embark on a tour of Britain and Ireland in the early 1950s, which ends up putting a strain on their relationship as personal issues combined with waning popularity for the pair's slapstick antics takes its toll on their friendship. The movie also stars Nina Arianda and Shirley Henderson as the wives of these two men who have to both inspire and put up with their offstage drama.
The film appears to certainly focus more on the dramatic side of their lives and what potentially led to the break-up of the popular duo. There is enough humour thrown in though here that suggests the final movie won't just be all tears and heart, but a good balance of laughter to – a fitting tribute to the pair.
Coogan and Reilly are excellent casting choices to play the pair and they both appear to truly embody the characters of these former legends. Reilly, who wears a body suit and prosthetics here, stands out in portraying the suffering Hardy whose weight and poor health gets the best of him.
Surprisingly for a period piece like this which looks to feature great art direction, make-up and acting performances, this is probably not a movie that will be up for any awards next year because the movie is only planning to release in the UK on January 11, 2019, with no US release or other foreign dates planned just yet.
If the movie is as good as this trailer suggests though I wouldn't be surprised if it makes a special appearance in a few theatres in the US to just be eligible for awards before they plan a wide release. Or perhaps they're hoping the likes of Netflix and amazon will come along and scoop it up for a decent sum. It's entirely possible in these days of streaming giants.
Last Updated: September 21, 2018