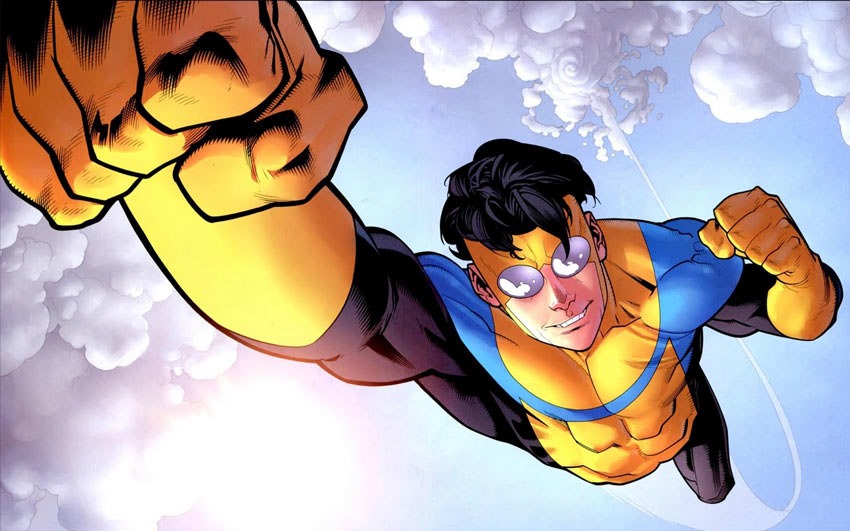 For years now I've been ranting about how Invincible is the best damn superhero comic book on shelves. Imagine a superhero who is tonally similar to Spider-Man but with the lucky-packet powers of super-strength, speed, durability and flight. A hero by the name of Mark Grayson who finds himself facing problems both minor and major, that range from the challenges of life to having to fend off an invasion of extra-dimensional aliens every Tuesday.
Sounds a bit clichéd right? Typical spandex and capes action, just under a different publisher. Where Invincible differs from the usual tropes however, is that this is a character who actually learnt and matured from his continuing adventures. A hero who realised that ideas and ethics need to be compromised to get a job done, that even when you win you lose and that truth and justice can only take you so far.
Yet even with a healthy dose of cynicism, Invincible remains one of the very best comic books ever produced, a run that is coming to an end as writer Robert Kirkman and artist Ryan Ottley (And don't forget artist Cory Walker either!) work on the last issues of the long-running series. While Invincible may be drawing to a close on the printed page, it's about to kick off a new adventure on the big screen.
Fresh off of their work on Preacher, comes news from The Hollywood Reporter that Seth Rogen and Evan Goldberg will turn their attention towards Invincible and help crank out a full movie for Universal Studios. Kirkman himself had some comments to share from the piece:
Invincible's surprising, edgy, shocking, and oftentimes blood-soaked story couldn't be in more capable hands
For nearly a decade I've had to endure the 'what about Invincible?' question as fans have watched The Walking Dead grow into the multi-media monstrosity it has become over the years. The answer was always that we were waiting for the right team to partner with. That team has arrived! The esteemed misters Goldberg and Rogen have proven themselves to be top-notch directors with a keen collective eye for stunning visuals after slumming it by writing hit after juggernaut hit.

Invincible's surprising, edgy, shocking, and oftentimes blood-soaked story couldn't be in more capable hands. With the team of Rogen, Goldberg and Universal, I'm very confident this will be another superhero movie, in a long line of superhero movies that continues to prove that it's a viable, thrilling genre that will keep people coming to the cinema for years to come.
Too say that I'm a bit excited for this news, would be an understatement. Here's the exchange that I had with Al earlier regarding the story: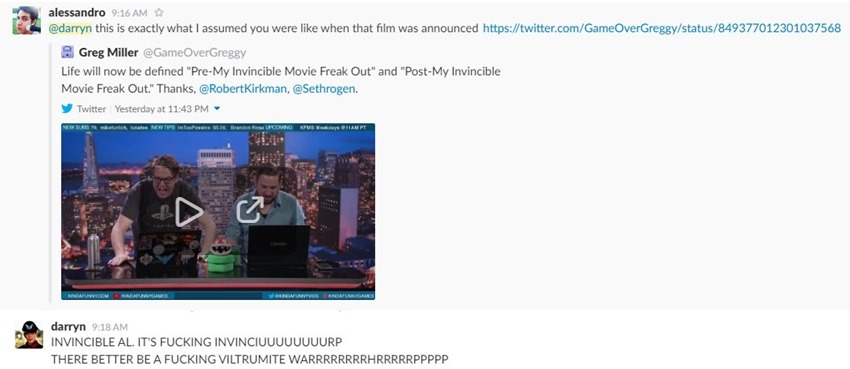 Invincible has it all when you think about: High stakes, action that shakes the world and a third act twist which is worthy of an M Night Shymalan nod if you've never read the source material. That's just in the first few issues alone. Rogen and Goldberg proved that Preacher can work on TV. I'd love to see that magic used for a bigger and more ambitious comic book project for when the cameras finally start rolling on Invincible.
Last Updated: April 5, 2017