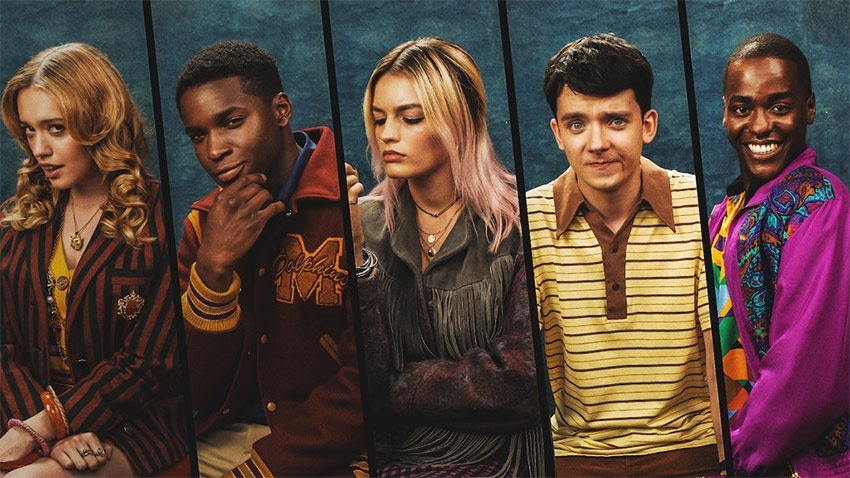 Netflix's coming-of-age dramedy Sex Education is one of those shows I hadn't remotely expected to like but ended up falling completely in love with. That's largely thanks to an eclectic cast of characters – especially main character Otis' incredibly gay best friend Eric, played to perfection by Ncuti Gatwa.
In the first series, Otis Milburn, a sexually-repressed and socially awkward teen who lives with his sex therapist mother (Gillian Anderson) and his friend Maeve, a misunderstood bad girl, set up a sex clinic at school when they discover his latent talent for dispensing sex advice. On paper, it sounds like the sort of Young Adult or tweeny nonsense that floods our screens, but it was a well written, poignant, incredibly touching, and surprisingly funny look at high school teenagers and sexuality. Look past its premise, and you'll find one of the best shows on Netflix.
I'm delighted that it'll be back for a second season next year. According to Netflix, here's what you can expect from Season 2 – though there may be some mild spoilers.
"In season 2, as a late bloomer Otis must master his newly discovered sexual urges in order to progress with his girlfriend Ola whilst also dealing with his now strained relationship with Maeve. Meanwhile, Moordale Secondary is in the throes of a Chlamydia outbreak, highlighting the need for better sex education at the school and new kids come to town who will challenge the status quo."
It'll be back on Netflix next year, with an eight-episode run – and honestly, I can't wait.
The series stars Asa Butterfield (Ender's Game, Hugo), Gillian Anderson (The Crown, The Fall), Emma Mackey (The Winter Lake, Eiffel, Death on the Nile), Ncuti Gatwa (Stonemouth, The Last Letter From My Lover), Connor Swindells (The Vanishing, VS), Aimee-Lou Wood (Louis Wane), Kedar Williams-Stirling (Will, Roots, Wolfblood), Chaneil Kular (Informer), Simone Ashley (Broadchurch), Mimi Keene (Tolkien, Close), Tanya Reynolds (Emma, Delicious), Mikael Persbrandt (Invisible Heroes, The Girl in the Spider's Web, The Hobbit, King Arthur), Patricia Allison (Les Miserables, Moving On), Jim Howick (Broadchurch), Rakhee Thakrar (Four Weddings and a Funeral), Samantha Spiro (Game of Thrones, Tracey Ullman's Show, Babs, Doctor Who) and Alistair Petrie (Deep State, Rogue One, Night Manager).
Last Updated: November 12, 2019