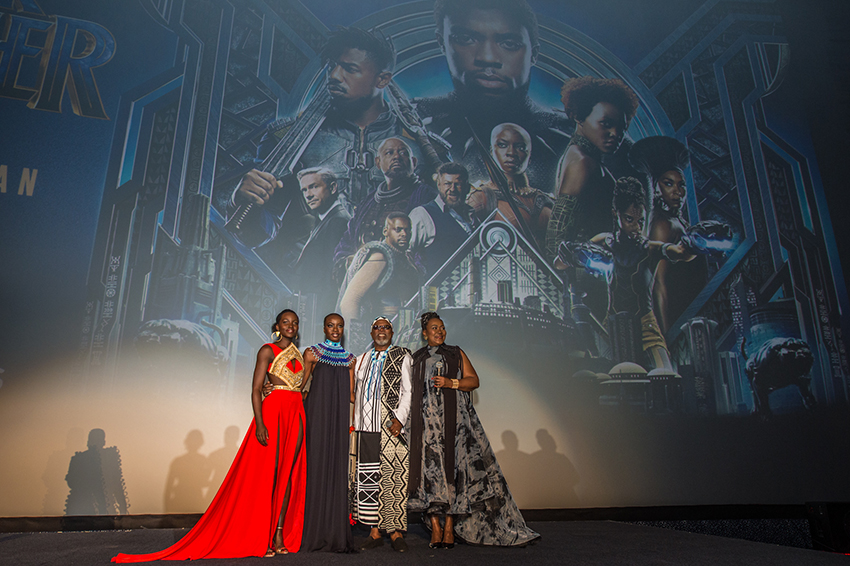 Movie premieres aren't a common occurrence in South Africa. Movie premieres on the scale of Black Panther's local event are as rare as super blue blood moon eclipses. Then again, as we've already established, the latest Marvel Cinematic Universe entry is hugely special – and important – for Africans and people of African descent.
So a special effort was made to celebrate Black Panther's release locally, with a red carpet event held at Johannesburg's Montecasino cinemas on Friday, 16 February. The dress code was Afro-chic, and many of the local stars in attendance – from TV personalities to radio presenters and music artists – wore sophisticated designs that highlighted the colourful cultural stylings of Africa, and South Africa in particular.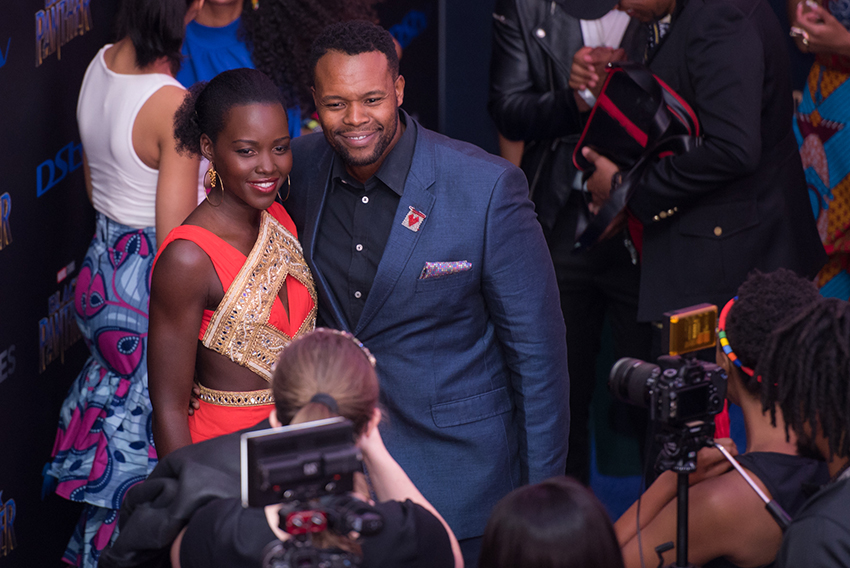 Some of the standout-looking celebs in attendance included Thembisa Mdoda, Masechaba Ndlovu, Dineo Ranaka and Babes Wodumo. The latter features with several other South African musicians, like Saudi, Reason and Sjava, on the Black Panther soundtrack. Wodumo is also responsible for Wololo, the award-winning track that continually blasts in Shuri's lab during the movie (expect chuckles in local cinemas when it plays).
Also on display at the premiere was a striking Black Panther-inspired painting from local artist Loyiso Mkize.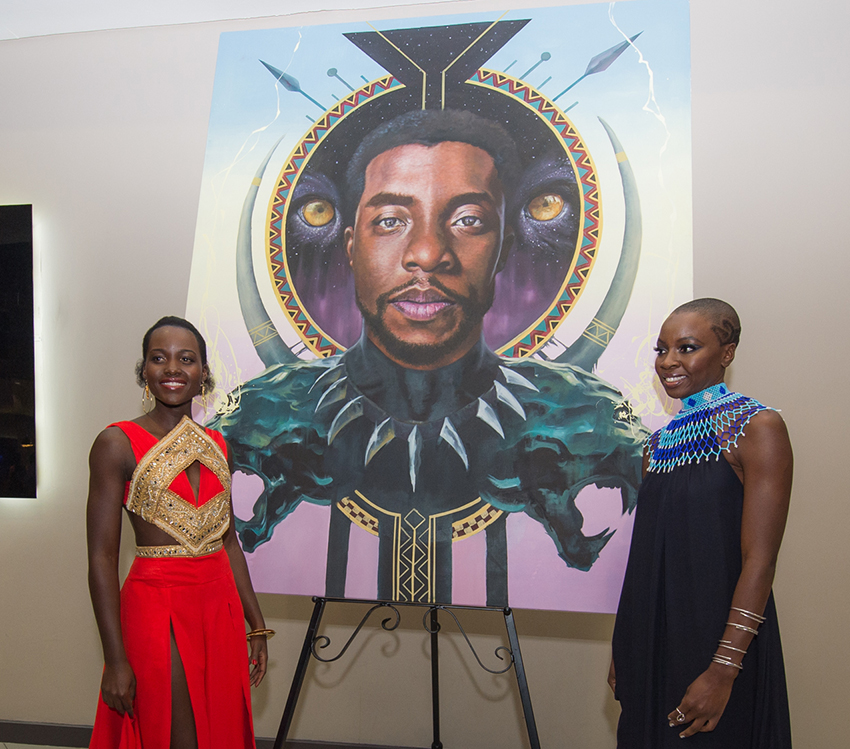 Anyway, what was extra-special about the Black Panther premiere, though, was that four of the movie's stars actually attended.
Reprising his role from Captain America: Civil War, local acting legend Dr. John Kani plays T'Chaka, the former king of Wakanda (and the father of Black Panther's main character, T'Challa). Meanwhile, beloved Rhythm City star Connie Chiume appears in the movie as the elder representing Wakanda's powerful Mining Tribe. "Mama Connie" happily ululated on the red carpet, while Kani spoke of the immense privilege of being a part of something that portrays Africa in such a positive, celebratory way.
Also present at Black Panther's premiere were Oscar-winning Kenyan actress Lupita Nyong'o, who plays Nakia (T'Challa's ex, and a Wakandan spy), and Danai Gurira, who portrays General Okoye – Wakanda's fiercest warrior and head of the Dora Milaje, the nation's all-female royal guard. Gurira (most famous as The Walking Dead's Michonne) may be American born, but grew up in Zimbabwe, and had a special shout-out at the event for the Zimbabweans "who are everywhere."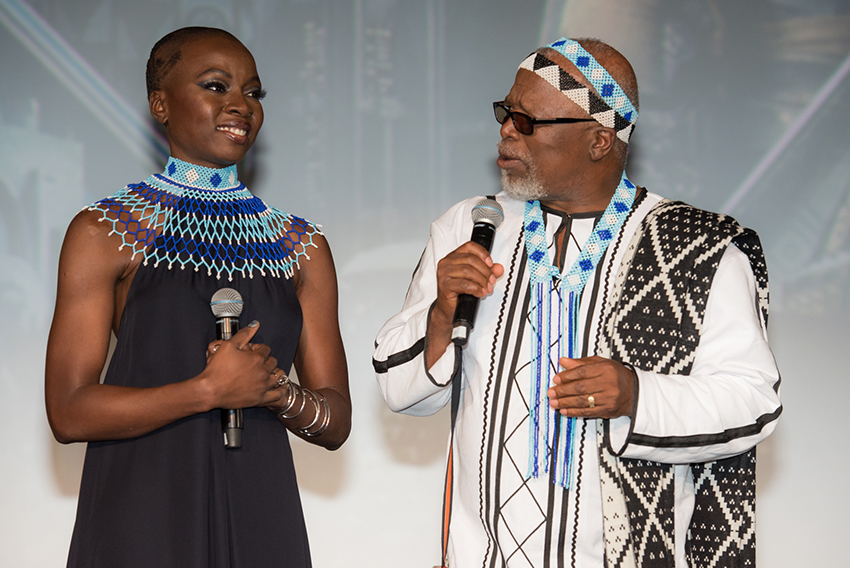 Black Panther, himself, Chadwick Boseman, and the film's director, Ryan Coogler, couldn't make it to the premiere, but provided a video message which was played before the film screening. They cited the vast contribution of South Africa to the movie, from its cultural influences to the Wakandan language (which is based on isiXhosa), and Boseman's South African dialect coach.
Kani, Chiume, Nyong'o and Gurira were interviewed on-stage before the screening and spoke universally about the collaborative pleasure of making the movie. Coogler was consistently praised for his humility, and Gurira explained how the cast was encouraged to challenge, more so than on any other project she's worked on.
Kani also shared an anecdote about how isiXhosa came to be the big screen stand-in for the Wakandan language. While filming Captain America: Civil War, he asked the directors why Africans T'Chaka and T'Challa would speak English when alone together. The Russo Brothers responded by asking what Kani would say, and he translated the line into isiXhosa. He was shocked when Chadwick Boseman replied immediately… in isiXhosa. It turned out that the American actor had spent time in Cape Town, where he picked up some of the local dialect.
Speaking of isiXhosa, a particularly memorable moment of premiere night was when the entire cinema sang Happy Birthday to Danai Gurira in "Wakandan." It was special, although probably not quite as special as getting to watch the movie surrounded by cheerful South Africans buoyed by the experience of seeing their world, their culture and their issues at the core of a blockbuster superhero movie – and an exceptional one at that.
Last Updated: February 19, 2018