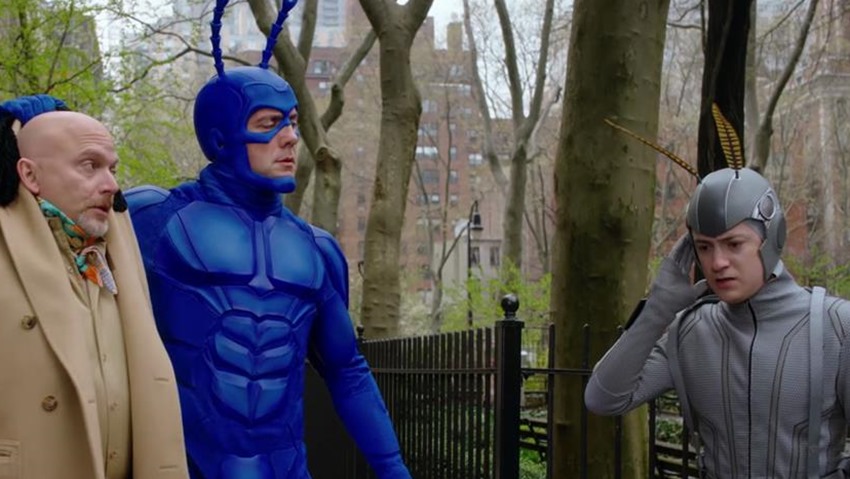 In a world where super-crime is out of control, you'd think that anyone who dressed up as a gigantic blue parasite to fight back against a new wave of villainy would be downright insane. Wrong. Such a person isn't going crazy. They're going sane in a crazy world with the only logical response. Like a great blue salmon of justice, the mighty Tick courses upstream to the very spawning ground of evil!
When Amazon first announced that it'd be slapping actor Peter Serafinowicz into the nigh-invulnerable spandex of the Tick, the initial pilot was…weird. Even for The Tick, seeing a slightly nightmarish bio-organic armoured version of the character leaping around as a figment of long-suffering sidekick Arthur's imagination seemed a bit off-kilter.
Still, there was some potential for a better series to emerge from that rough pilot. Amazon could see a future for Serafinowicz as the big blue idiot of justice, as the show was retooled into something more faithful to the source material. A more traditional costume that sported a brighter shade of blue and a few script rewrites later, and the Tick is back. Destiny is calling, and the Tick is ready to accept a collect call:
Well, that looks fun. There's a lot going on in that trailer that I'm absolutely loving. The improved Tick costume with expressive antennae, Arthur's own costume being more than just a white zentai suit with wings and those sneaky glimpses of Jackie Earle Haley as the ancient Terror for starters. More than that, it's the boundless enthusiasm that the Tick has for stopping crime, that has me grinning. I'm hoping that there'll be at least one episode with the Evil Midnight Bomber What Bombs At Midnight in the series. YEAH BABY! I'M COOKING WITH GAS NOW!
In addition to Serafinowicz, The Tick also stars Griffin Newman, Valorie Curry, Jackie Earle Haley, Yara Martinez, Brendan Hines, Scott Speiser and Michael Cerveris. Six episodes kick off the series on August 25 on Amazon's streaming channel, with another six in 2018. Spoon!
Last Updated: July 13, 2017