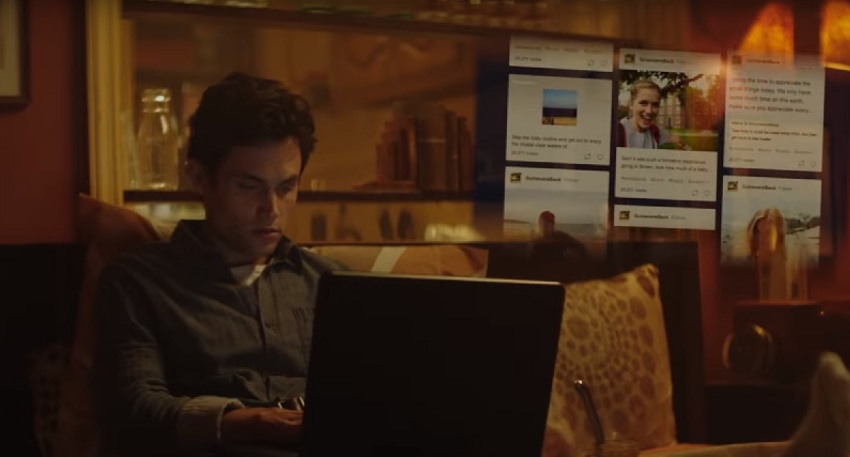 "You" is the upcoming psychological thriller / drama TV series from one of the busiest people in the business, Greg Berlanti (all the CW DC-based shows, Riverdale), and Sera Gamble (Supernatural, The Magicians) and is based on the 2014 novel of the same name by author Caroline Kepnes. The show will air on the Lifetime network in the US later this year, but in a deal similar to the one it has with CBS' Star Trek: Discovery, Netflix have nabbed the rights for international distribution for the rest of us.
Penn Badgley (Margin Call, Gossip Girl) stars as Joe, who after a chance encounter with Beck (Elizabeth Lail – Once Upon a Time) at the bookstore where he works, becomes obsessed with becoming her boyfriend. By trawling through her social media he begins to insert himself into all aspects of her life, orchestrating seemingly random encounters and behaving just as she wishes her ideal man would in order to manipulate her affections. However her best friend (Shay Mitchell – Pretty Little Liars) isn't sold on what seems to be Beck's perfect man – a man who'll stop at nothing to get what he wants.
The official plot synopsis is as follows:
YOU, a Netflix Original Series, is the riveting and hypnotic story of Joe Goldberg (Penn Badgley), an obsessive yet brilliant New Yorker, who exploits today's technology to win the heart of Beck (Elizabeth Lail) amid the growing suspicions of her best friend Peach (Shay Mitchell). Joe transforms himself from stalker to boyfriend while doing whatever it takes to eliminate all obstacles standing in his way — even if it means murder.  Set in today's 24/7 hyper-connected world, YOU explores how vulnerable we all are to stalking and manipulation online and in real life.
So basically he's like Nick, but successful. Let's take a look:
This is definitely twisted and creepy, and I really like that they haven't tried to sugar coat the creep factor. Clearly there aren't many lengths Joe won't go to in his pursuit of Beck. The entertainment in this series will be from watching that pursuit play out while knowing the truth yourself and, inevitably, what happens when she discovers the horrible truth.
What do you think?
You is due to premiere its ten-episode-long first season on Lifetime on 9 September in the US, and on Netflix internationally a day later.
Last Updated: May 14, 2018