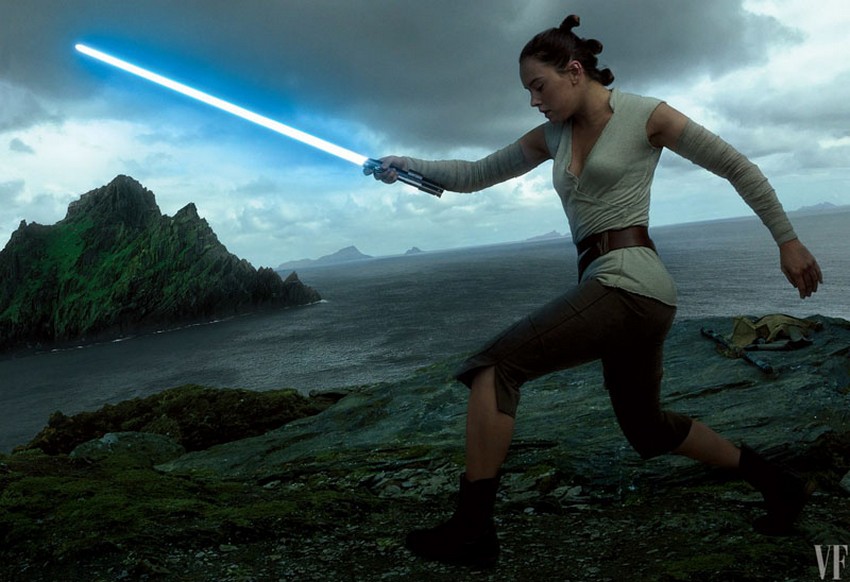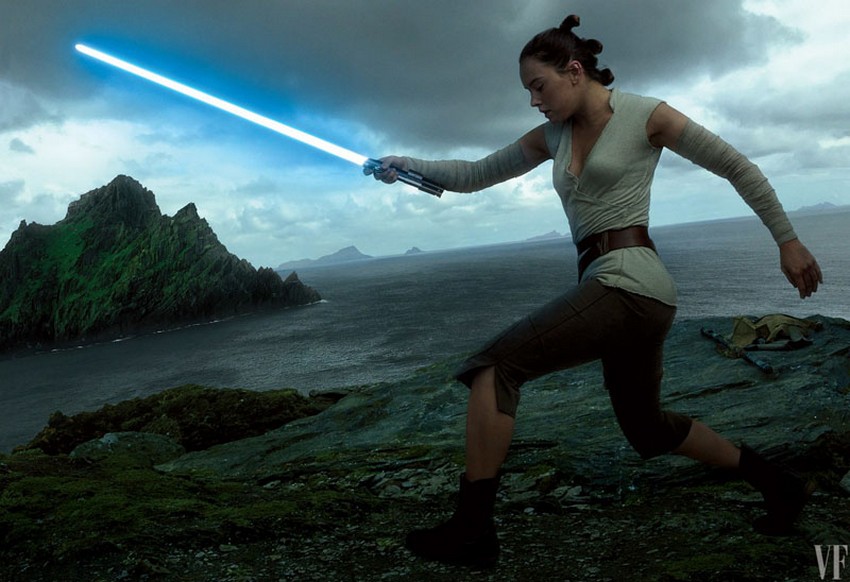 Five more months and we'll all be sitting pretty in a cinema munching away on overpriced stale popcorn that's just one unpopped kernel away from sending us to the dentist. Almost fully armed and operational, Star Wars: The Last Jedi is heating up ahead of its upcoming release with a new marketing blitz in our corner of a galaxy not so far away.
EW revealed a stack of new images, including a casino on the planet Canto Bight where Finn pops up and has a gander at the more luxurious side of the Star Wars universe. There's also a stunning new look at Kylo Ren's latest homage to Darth Vader, the TIE Silencer and you can bet your Republic Credits that Disney is going to have a few variations of this bad boy interstellar fighter up for sale in December. Take a look at the new images below:
Wondering who those fellas in red are? That's the new Praetorian Guard, bodyguards to the First Order's big scarred cheese Supreme Leader Snoke. That armour that they're wearing isn't just ceremonial, but rather an extension of their extremely deadly fighting skills as Star Wars: The Last Jedi director Rian Johnson explained to EW: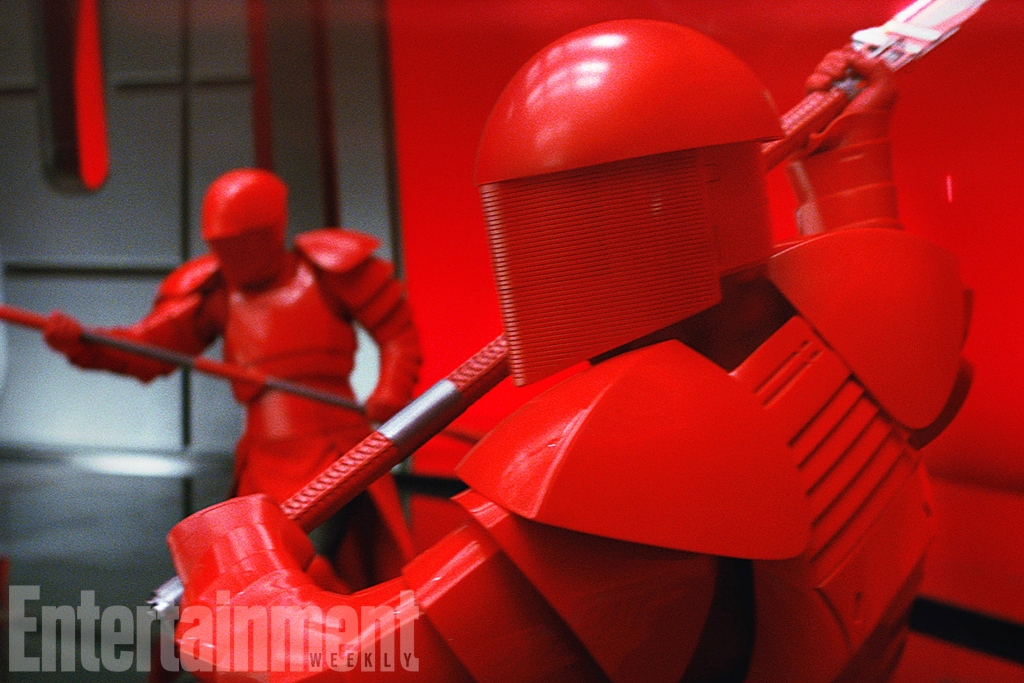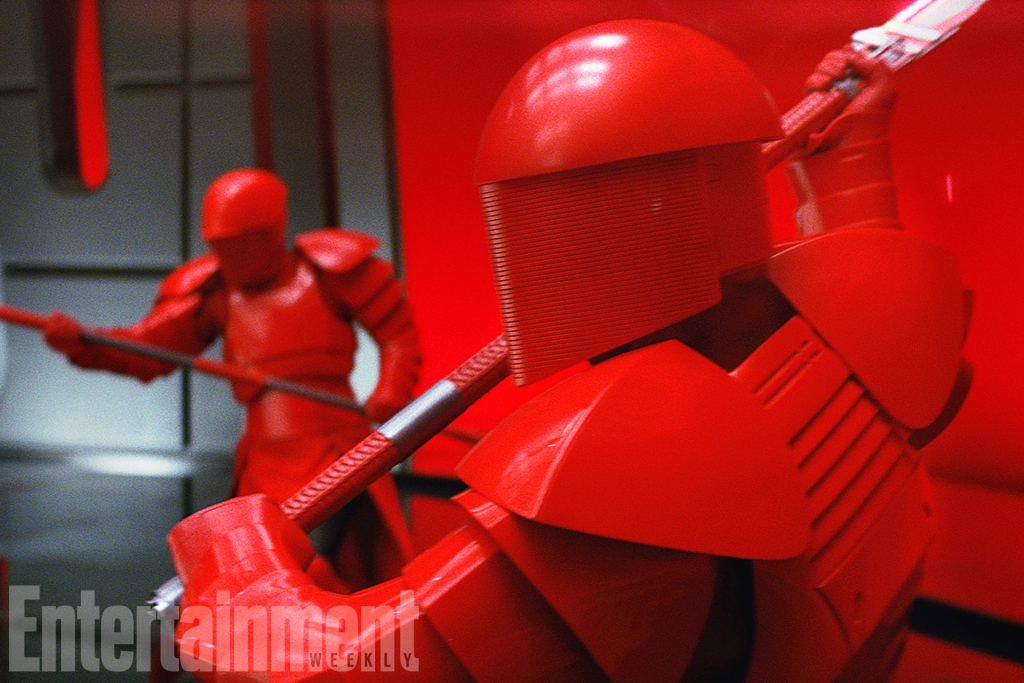 The Emperor's guards were very formal, and you always got the sense that they could fight, but they didn't. They looked like they were more ceremonial, and you never really saw them in action. The Praetorians, my brief to [costume designer] Michael Kaplan was that those guys have to be more like samurai. They have to be built to move, and you have to believe that they could step forward and engage if they have to. They have to seem dangerous.
The Praetorians were influenced by the elite guard that kept Roman emperors safe in ye olden times, with their role now expanded to safeguarding Snoke. Sort of like the original Emperor's Guards then, but without a helmet that would break your neck if you did a quick double-take. Is Snoke a bit more frail than Star Wars big bad Emperor Palpatine? It would apparently seem so, but don't expect to learn too much about the First Order supreme leader in The Last Jedi according to Johnson:
Similar to Rey's parentage, Snoke is here to serve a function in the story. And a story is not a Wikipedia page. For example, in the original trilogy, we didn't know anything about the Emperor except what Luke knew about him, that he's the evil guy behind Vader. Then in the prequels, you knew everything about Palpatine because his rise to power was the story.We'll learn exactly as much about Snoke as we need to.
Star Wars: The Last Jedi is out on December 15 and stars John Boyega, Daisy Ridley, Oscar Isaac, Adam Driver, Lupita Nyong'o, Gwendoline Christie, Dohmnall Gleeson, Mark Hamill, Andy Serkis and the late great Carrie Fisher. I'm really hoping that the film starts with Rey meeting Luke and saying "Oh hi Mark".
Last Updated: August 10, 2017