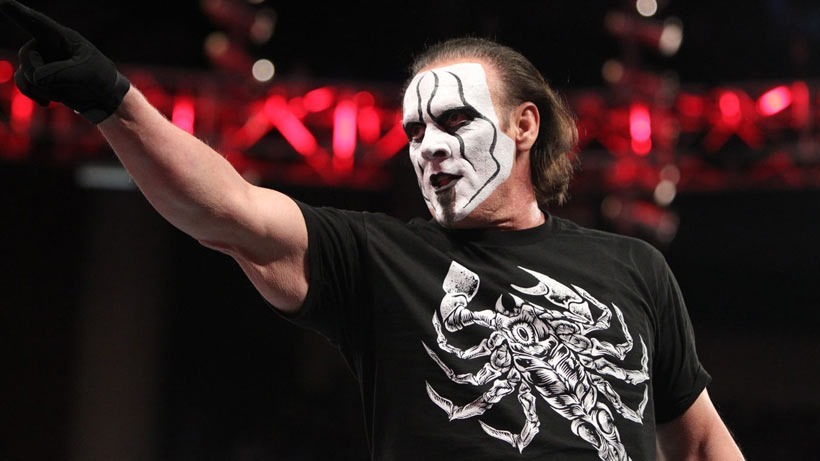 Say what you like about wrestling, but its the kind of entertainment that can take a devastating toll on its superstars. Injuries are commonplace in a spectacle where mountains of muscles and meat hurl themselves at one another, with broken noses, torn quads and broken necks being a terrible reality of going beyond the mat.
The last couple of months have seen a record number of injuries recorded. Cesaro, Seth Rollins and John Cena have all been pushed to the limit, reaching that breaking point of just what a human body is capable of. Add Sting to that list, as the legendary hardcore champion and baseball bat fanatic is finished with the wrestling industry.
According to TMZ, Sting's match with Seth Rollin;s back at WWE Night of Champions in September, resulted in a messed up neck. Having consulted several doctors over the nagging injury, the 56 year-old performer was diagnosed with cervical spinal stenosis, effectively ending his in-ring career. It's the same injury that ended Edge's career back in 2011, and symptoms usually include chronic pain to an extreme degree.
Sting has yet to officially announce his retirement, but the TMZ report says that he will do so at next month's WWE Hall of Fame ceremony in Texas before Wrestlemania when he is inducted into it by Ric Flair.
And what a shame it is to see Sting go out in this fashion. He rose to superstar heights as the face of WCW in the 1980s and 1990s, reinventing himself as a grim in-ring vigilante who wore a coat of face-paint that was eerily reminiscent of cult comic book hero the Crow, with fans clamouring for the legend to make a Wrestlemania appearance to battle the Undertaker, a fantasy match that just never materialised in this reality.
Oh well, at least he'll always have Robocop on his side.
Last Updated: March 17, 2016