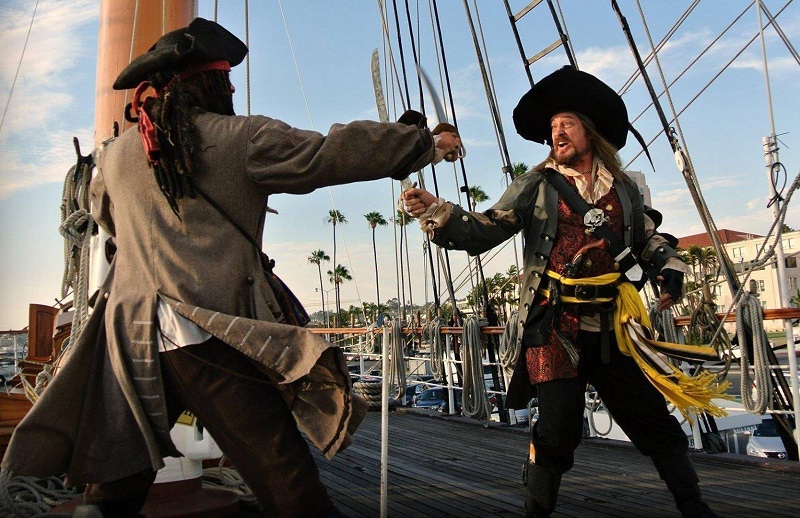 Aar, pirates. Who doesn't like fighting 'em pirates? Welcome aboard savvies and come join us in fighting 'em, evil pirates… Ooh, sorry, I'm talking like a pirate again when they're supposed to be our enemies.  That's right – our enemies – aar…. Am I doing this right?
While pirates may look like they're having all the fun, the truth is that real piracy is a big problem that is ruining the entertainment industry and not just affecting big companies and their profits, but the livelihoods and careers of many thousands of people that work for them. The problem is so big in fact that it has become too difficult for companies to fight alone, which is the reason why yesterday, over 30 companies including Disney, Warner Bros, Sony, Netflix, HBO and NBCUniversal joined forces in the effort to fight online piracy.
This newly formed group called the Alliance for Creativity and Entertainment (ACE) is designed to help content creators pool resources together and work more closely with law enforcement to find and stop pirates from stealing movies and TV shows. The details, as revealed by The Verge, don't really go into the specifics on how they intend to reduce piracy through this initiative, but that is probably by design because if you do give pirates any clues on what you're doing, they will likely try to circumvent your efforts.
The aim of ACE though is not just to focus on the problem from a US perspective, but at a global level and they are hoping a larger funding pool can be used to fund investigation efforts across the US and Europe that they are hoping will uncover large-scale piracy operations and allow them to collectively file litigation against these criminal parties.
ACE reports that as many as 5.4 Billion downloads of pirated films and TV shows took place last year, which could even be a conservative estimate given that the numbers behind piracy are a little hard to track. CBS executive VP Jonathan Anschell provided the following statement about the formation of ACE:
In this golden age of content, it's more important than ever that we remain vigilant about copyright protection. For the creative community to truly flourish, it must know that its work will be safe from theft.
I personally hope their efforts prove to be successful in not just catching the pirates, but finding successful ways to prevent it from happening in the first place. This is only scratching the surface of the problem, as piracy is an even bigger business if you include the gaming and music industries in as well. They probably have a big fight on their hands, but unlike in the movies where I love to support those swashbuckling pirates, this time I'll be rooting for the good guys
The full list of ACE partners includes: Amazon, AMC Networks, BBC Worldwide, Bell Canada and Bell Media, Canal+ Group, CBS Corporation, Constantin Film, Foxtel, Grupo Globo, HBO, Hulu, Lionsgate, Metro-Goldwyn-Mayer (MGM), Millennium Media, NBCUniversal, Netflix, Paramount Pictures, SF Studios, Sky, Sony Pictures Entertainment, Star India, Studio Babelsberg, STX Entertainment, Telemundo, Televisa, Twentieth Century Fox, Univision Communications Inc., Village Roadshow, The Walt Disney Company, and Warner Bros. Entertainment Inc.
Last Updated: June 14, 2017