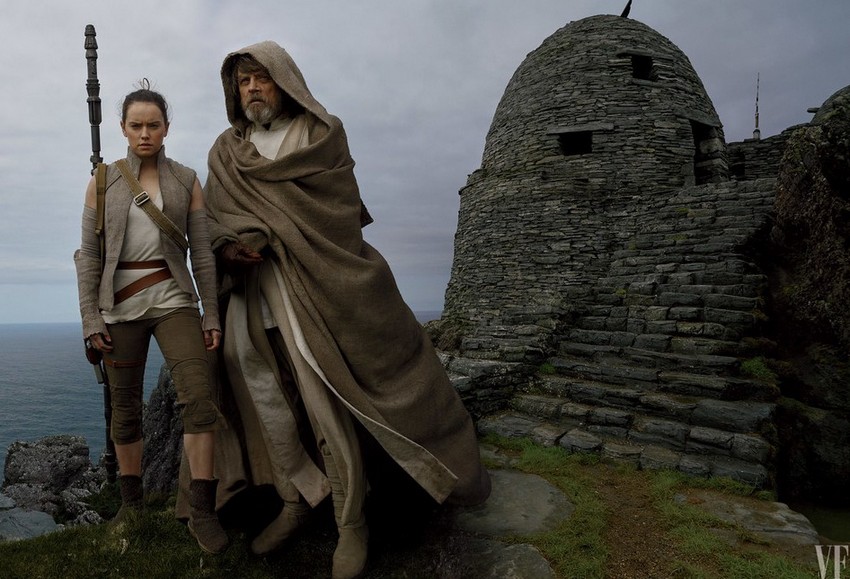 I know it's awfully cliché, but if you had to ask me what my most anticipated movie of the year is, I would answer in a heartbeat: Star Wars: The Last Jedi. My borderline inappropriate obsession with the Star Wars franchise is well documented around these parts and I've completely loved what Lucasfilm and Disney have been doing since its return to screen in 2015 with The Force Awakens.
That film, of course, left us with our fair share of mysteries – which has also prompted me to go into kooky theory mode (See, mom! And you said all those years spent reading Star Wars comics and books would be a waste of time!). As has always been the case though with Star Wars, those mysteries are being guarded closer than the spell used to reanimate Donald Trump's hairpiece, and a recent exclusive photoshoot of the cast of The Last Jedi by Annie Leibovitz for Vanity Fair will not be divulging any of those secrets.
What these pics will do though is give us several extremely stunning looks at both the heroes and villains of the upcoming movie, which includes our first look at Benecio Del Toro's mysterious character DJ, Gwendoline Christie's "chrome trooper" Captain Phasma unmasked, Laura Dern as Vice Admiral Amilyn Holdo, and newcomer Kelly Marie Tran as Rose Tico, a Resistance maintenance worker that somehow features in the story. There are also several pics of the late Carrie Fisher in what will be her final role as General Leia, including shots of her and real life daughter Billie Lourde who plays Lieutenant Connix in the Resistance.
Other returning members of the cast featured are Daisy Ridley as Rey, Mark Hamill as Luke Skywalker, Adam Driver as Kylo ReJohn Boyega as Finn, Oscar Isaac as Poe Dameron, Domhnall Gleeson as General Hux, and Anthony Daniels as C-3PO.
Along with the pics, Lucasfilm and Disney have also released a new behind-the-scenes featurette of the photoshoot that gives us further looks at the characters and the film sets.
Star Wars: The Last Jedi is written and directed by Rian Johnson (Looper, Brick) and is scheduled for release on December 15, 2017.
Last Updated: May 25, 2017