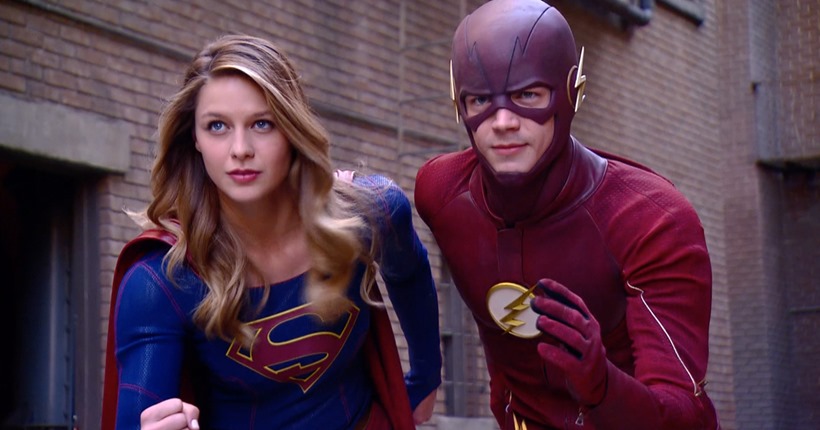 Marvel may be crushing cinemas right now with comic book movies that are firing on all cylinders, but their Distinguished Competition has always had an edge when it comes to television. Specifically the CW, which has managed to carve a small empire on TV with superheroic action that features way too many scenes of heroes needing to learn a lesson while the sad piano music plays in the background.
The Flash, Legends of Tomorrow and Green Arrow have been big hits for that network, cheesy yet somehow stupidly good fun that has found an audience and created crossover events which have now become an annual tradition. And those crossovers are going to get a little bit bigger, as the recent acquisition of the last lady of Krypton is resulting in a mega-event that will most likely have an 80% chance of punching involved.
Yup, with Supergirl moving from the CBS network to the CW, that gives the channel a new star for their shared universe. Speaking at a CW presentation via EW, CW chief Mark Pedowitz discussed the addition of Supergirl to their line-up and plans for Christmas featuring their four big properties:
Just imagine what our superhero crossover episode is going to look like come December.
Damn son, that's going to be huge. Here's the thing: While Supergirl follows a predictable pattern much like Arrow, Flash and Legends of Tomorrow does, it's also an example of perfect casting. In a world where DC's big onscreen heroes are these flawed gods who hardly ever crack a smile on their grumpy faces, seeing Melissa Benoit's Supergirl on the small screen is a constant delight. In many, many ways, she's a better Superman than the Man of Steel himself.
And I can't wait to see that optimism fly into Star City, where all those heroes and villains will have to face their greatest enemy yet: A severely stretched special effects budget. RUN BERRY RUN!
Last Updated: May 20, 2016