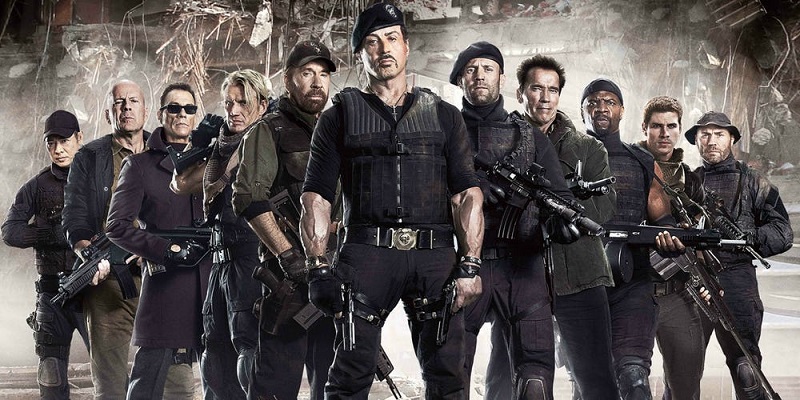 In today's world of big high action blockbusters that tend to flounder more than they do succeed, it's reassuring to know that there is still an ensemble of heroes that we can look forward to, to save the day, both theatrically and metaphorically. I am though, not talking about the upcoming Avengers, who no doubt will be the biggest movie of 2018, but rather the Expendables, that group of ageing action heroes who simply don't know when to retire.
Whereas Marvel and DC superheroes all rely on collective superpowers to overcome their different villains, these guys do it the old-fashioned way. Big guns, big explosions and a bunch of bad guys who can't seem to shoot straight. I'm pretty sure collagen and cringe-worthy one-liners have something to do with it too. The best part though is that much like The Avengers, they are getting a fourth movie too.
Now, well you could argue that Expendables 3 was a movie that gravely missed the mark for the team of heroes led by Sylvester Stallone and including the who's who of action movies like Arnold Schwarzenegger, Bruce Willis, Jason Statham, Jet Li, Wesley Snipes, Jean-Claude Van Damme, Chuck Norris, Dolph Lundgren and Mel Gibson.  When a line-up like this teases nothing but dumb action though, you can't really be too disappointed when it delivers exactly that. Yes, the first one had a little more drama and gravitas and the second one was just all out fun and jokes, both of which were missing in the third instalment, but I would still be willing to watch more of that insane action even if just for a laugh.
Stallone dropped the news of Expendables 4 being in development through the following set pictures on his Instagram page:
We don't know yet exactly when we will be getting the next Expendable movie or exactly which one of the many action heroes will be starring in it (apart from Stallone himself and Statham based on the pictures), but I'm sure we will be finding out soon. With Stallone no longer directing the next Creed movie, it will be interesting if the actor will be looking to direct this fourth film himself (he directed the first Expendables instalment) or hand it over to yet another director to put their own spin on this massive team-up.
It's inevitable though that whoever is at the helm of this film, we will likely see lots of guns, lots of explosions, lots of one-liners and yes, you guessed it, lots of bad guys who don't know how to use a gun. At least you get what you pay for.
Last Updated: January 16, 2018