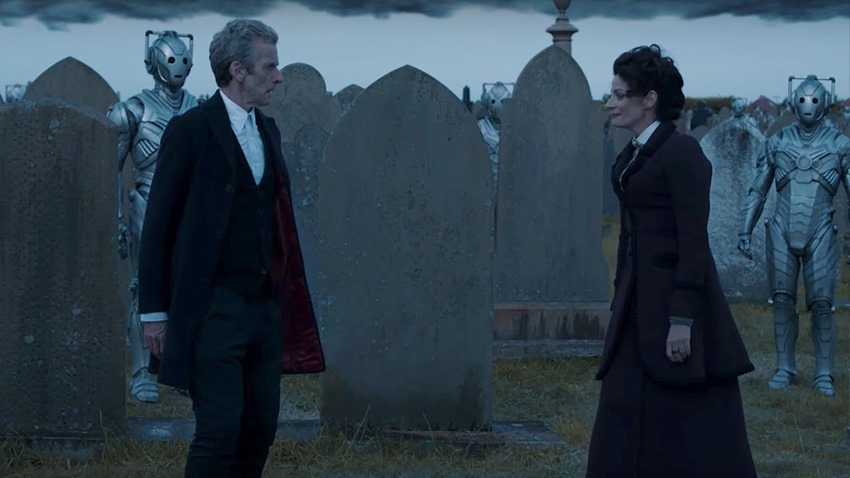 With only a Christmas special left in his schedule, Peter Capaldi's time as the enigmatic Time Lord known as the Doctor is pretty much finished. While his run may have been uneven, there's no denying that even the worst scripts and episodes from his tenure benefited from one of the greatest acting performances ever committed to the long-running series.
Capaldi's Doctor and his attack-eyebrows will go down in history as one of the finest actors to ever be cast in the lead role, with many an episode up for debate on a list of the ten best. What about ten specific scenes then? Ten scenes that show the talent behind this performance and the impact that it had on the mythos of the series? That's most likely also going to spark plenty of discussion, but we think we've got a plenty solid list organised, from dozens upon dozens of standout performances from the grumpy granddad Doctor. Warning, I've saved the most spoilery for last.
No sir, all thirteen! – The Day Of The Doctor
Gallifrey on fire, the entire combined forces of the Dalek armada firing on the planet and all hope seemed to have been extinguished. Good thing the Daleks didn't count on a baker's dozen of Time Lords thwarting their plans at the eleventh hour, as the then current Doctor Matt Smith led all of his previous incarnations into battle in a last-ditch attempt to save his homeworld.
It's an absolute treat from the spectacular Day Of The Doctor special to see so many Doctors briefly on the screen, but it was Capaldi who stole the show. On screen for only a few silent seconds, all viewers saw were a glimpse of eyebrows set to attack mode and a glare that could freeze hell itself over, as the once and future Doctor made his presence known.
Hello hello, rubbish robots from the dawn of time – Deep Breath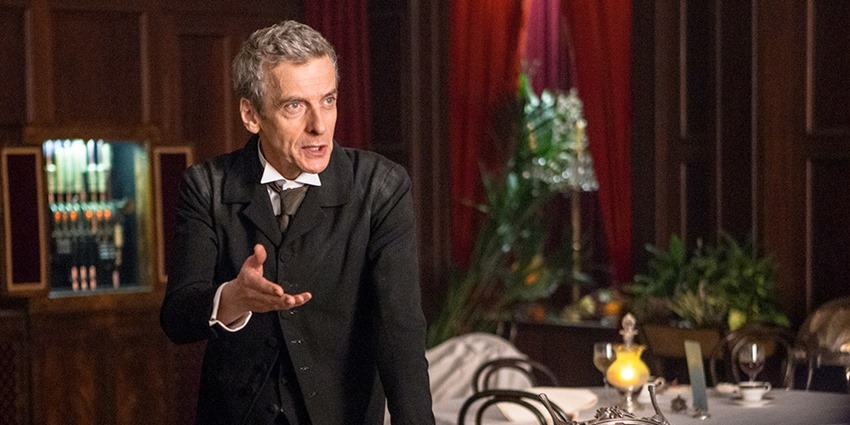 Capaldi's first proper stint as the Doctor was somewhat slower than previous episodes featuring new actors as the Time Lord. First Breath was an episode that was a slow burn, an adventure that was boiling on the pot with Victorian London as a backdrop. A runaway T-Rex, killer robots using organic matter for spare parts and Capaldi's angry new persona all eventually collided in a scene that established the new direction of the Doctor as he faced off against malfunction automatons that had been running a rampant murder streak in London.
Darker, ruthless and more dangerous, this version of the Doctor had one simple scene after his triumphant return that really hammered home the idea that Matt Smith's manic pixie dream version of the TARDIS resident had regenerated into a more lethal hero who wasn't big on second chances. Confronted by the flesh and steel of the Half-Faced Man, Doctor number 12 calmly sat at a table and offered his enemy a drink. "I'm afraid that I might have to kill you", a threat that wasn't empty as this Doctor only had so much mercy to spare for his enemies.
Who frowned me this face? – The Girl Who Died
Long before he was a resident in the TARDIS, Peter Capaldi had shown his face inside the Whoverse. Torchwood and Doctor Who had seen him pop up in various roles, but viewers still wanted to know why the current incarnation of the Doctor happened to resemble an ancient Roman businessman. Believing that he was unable to save a single life in "The Girl Who Died", the Doctor soon remembered why he chose the face of Lobus Caecilius.
To keep a promise. While the Doctor may fail, he'll never stop trying no matter how many odds are against him as he vowed once again that so long as he had the power to do so that nobody would die when he saved the day. A promise he may not have always been able to keep, but a promise that reinvigorated his sense of self for future adventures, the rules of time travel be damned.
Everything ends – The Return of Doctor Mysterio
"The Return of Doctor Mysterio" may have been a lukewarm Christmas special even by Doctor Who standards, but it's still an episode with one moment that further revealed the character of the Doctor. Loss and sadness may be inevitable aspects of our lives, but as the Doctor explained, finding a new beginning and happiness is all that really matters.
It's a brief scene, but an important one that really drives home what's important in life.
Sit down…AND TALK! – The Zygon Inversion
You give Capaldi a stage, and you'll get one hell of a performance no matter the role. Capaldi's Doctor will be remembered for his speeches in his run on Doctor Who, but it's this one scene that'll be quoted the most. A commentary on refugees and the damage of war, the Doctor finds himself once again looking to avert a war between the Zygons and humanity, having brought the two sides together in a last-ditch effort to avoid the two starting a conflict that neither side can win.
It's the one scene where you truly understand the Doctor's hatred for war and guns, his unrelenting mission to always talk his way out of a fight and never throw a punch. Words win a war, not bombs or guns as the Doctor deftly illustrates yet again.
Just…listen… – Listen
Capaldi's Doctor was at his eery best when he was left to his own devices inside the TARDIS. His mind racing, his thoughts burning a creativity hole in his brain-pants, this Doctor was prone to fourth-wall breaking monologues that regularly set the viewer up for some strange ideas. The bootstrap paradox and the nature of death made for some interesting lectures, but it was the Doctor believing that an ultimate predator had managed to evolve and stalk anything with a pulse on Earth that showed that this Doctor truly did have some dark thoughts rattling around in his head.
If you just listened that is.
I'm the man that stops the monsters! – Flatline
His TARDIS energy supply running on fumes, the spaceship shrunk to a comically tiny size and his allies on the verge of death at the hands of strange travellers from the second dimension, the Doctor found himself not only out of hope but also options. Presented with an enemy who refused to listen to reason, the wrath of the Doctor was firing on all cylinders once he'd managed to find a way out of yet another tight situation.
It's the Doctor at his most heroic and brutal, saving the day and sending the newly-christened Boneless back to their own limited dimension once and for all, remarking that even a few of the homicidal creatures might survive the trip back as a warning that Earth was and always will be under his protection.
How many seconds in eternity? – Heaven Sent
I'm cheating a bit here, but Heaven Sent truly is the defining episode of Capaldi's entire run. Trapped within a castle that seemingly has no escape while a nightmare constantly stalks him, the Doctor finds himself backed into a corner. A corner which eventually succeeds in doing what the Daleks, Cybermen or even the Master failed to do: Kill the Doctor.
Death is not the end, but merely the beginning as the Doctor instead finds himself living, dying and repeating this process for over two and a half billion years. Each death brings him closer to freedom, as he chisels his way through a tunnel of unbreakable diamond with his bare hands, dying and repeating the process for the first second of eternity.
It's the Doctor at his best and worst. The rage and cleverness of a Time Lord hellbent on saving just one life, even at the cost of his own in an episode that's a tour de force of emotion.
I…am an idiot! – Death In Heaven
If Capaldi's first season of Doctor Who established his new persona as that of a cold and distant version of the Time Lord, then "Death In Heaven" is where the Doctor realised that he was capable of being the man he originally wanted to be when he first stole a TARDIS over 2000 years ago. With the afterlife revealed to be a sham, the Master (Missy) back and an army of Cybermen raised from the dead of Earth, the Doctor found himself in an impossible position: Leave Missy with the resources to conquer galaxies or find himself potentially corrupted by absolute power.
It's that very moment, where the Doctor discovers who he truly is: An idiot with a blue box. Not a general leading an army of cyber-zombies or the last known survivor of an ancient race who had a severe case of PTSD from the Last Great Time War, but merely a stranger offering a helping hand wherever he was needed.
Death In Heaven marked the start of a longer journey for the Doctor as his performance bounced brilliantly off of the manic talents of Michelle Gomez, one that eventually culminated in The Fall of the Doctor as the Time Lord searched for his original identity, saving the Earth once again by allowing the newly risen Cybermen army to burn in the skies above.
Where I stand, is where I fall – The Doctor Falls
If Death In Heaven marked the start of a new direction for the Doctor, then "The Doctor Falls" marked the end of that journey. Once again facing an army of Cybermen on a titanic-sized spaceship that was feeling the full brunt of time dilation thanks to a nearby black hole, the Doctor pleaded with Missy and the Master to help him.
Not for reward or for redemption, but because it was the right thing to do. The kind thing. That's all that the Doctor ever wanted to do, to just help people. Never cruel or cowardly, Capaldi's Doctor had evolved from an abrasive alien into a determined Samaritan, a man who was ready to sacrifice himself for others no matter where he was. It's a heart-breaking speech, made even sadder by the Master's cold indifference to his former friend as the Doctor finally did fall in battle a few minutes later.
Bonus addition: SHUT UP! – Assorted episodes
Honestly, just hearing Capaldi's Doctor tell random pudding-brains to zip it is a highlight of any episode. And that's our list! Agree? Disagree? Tell our pudding-brains what you think in the comments below.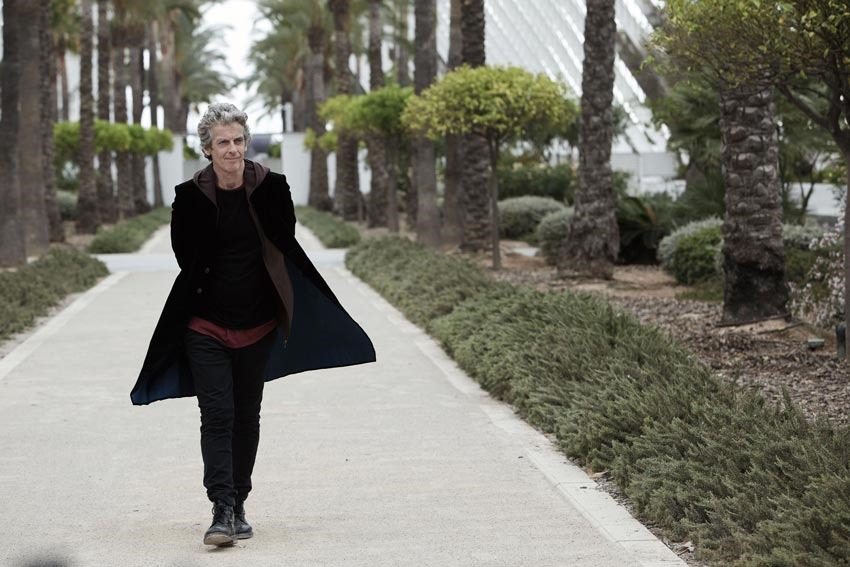 Last Updated: July 4, 2017