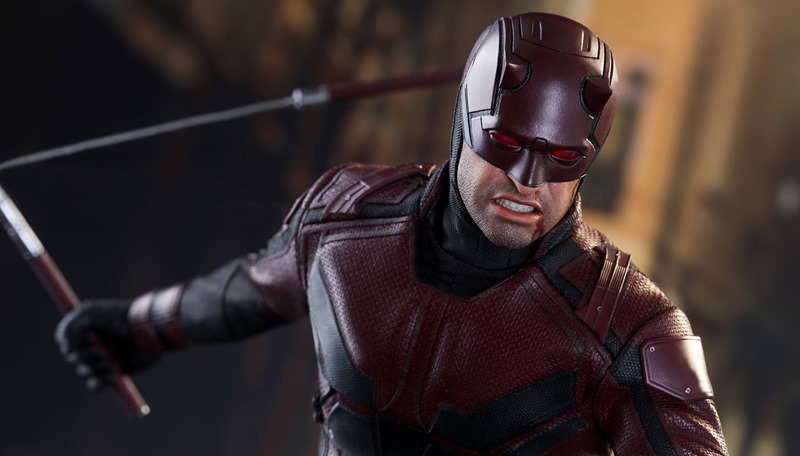 There's something odd about Daredevil's costume in his recent Netflix suit. I don't hate it, nor do I particularly like it either. But I do appreciate it. On a technical level, it looks like a work of art. A street-level tactical outfit, and one that looks rather comfy to wear, actor Charlie Cox may gotten the most functional suit to wear on set between scenes of drama and kicking the hell out of secret ninjas in New York City.
And it does look better than crimson leather that has moulded muscles inside of it. Not that there's anything wrong with leather of course. Leather rules yo. Anyway, Netflix Daredevil was originally teased earlier this year at the San Diego Comic Con. And even if the costume hasn't grown on me, it's hard to deny that this sixth-scale replica looks a f****ing awesome avocado at law.
Daredevil, the first of a wave of planned Netflix shows based on Marvel Comics characters, has raised the bar high for superhero adaptations on television. The dark, gritty drama has been a triumph with audiences and critics alike, thanks in no small part to its more down-to-earth portrayal of its protagonist, Matt Murdock, a blind man who fights crime as a lawyer by day and a masked vigilante by night.
Armed with little more than his heightened senses and superb martial arts skills, the Man Without Fear is as vulnerable as he is awesome in his daring endeavors to uphold justice in the notorious Hell's Kitchen neighborhood of New York City.
WHAT'S IN THE BOX?
The Daredevil Sixth Scale Collectible Figure's special features:
An authentic and detailed likeness of Charlie Cox as Daredevil in Marvel's Daredevil season 2
One (1) Daredevil helmeted head sculpt with two (2) interchangeable lower part of faces capturing Charlie Cox's facial expressions (neutral and angry expression)
Screen accurate facial expression with detailed wrinkles and skin texture
Body with over 30 points of articulation
Approximately 30 cm tall
Six (6) pieces of interchangeable gloved hands including:
– One (1) pair of fists
– One (1) pair of hands for holding Billy Club
– One (1) pair of open hands
Each head sculpt is specially hand-painted
Costume:
One (1) meticulously tailored Daredevil suit with detailed patterns and layers
One (1) thigh holster for Billy Club
One (1) pair of black boots
Weapons:
One (1) pair of Billy Clubs
One (1) Billy Club in extended mode
One (1) Billy Club in nunchaku mode
Accessory:
Specially designed diorama figure base with backdrop Daredevil nameplate
One (1) Daredevil-themed backdrop
Sideshow says that their Daredevil will be available between July and September of next year. For a devilish price tag of $229.99.
Last Updated: September 27, 2016