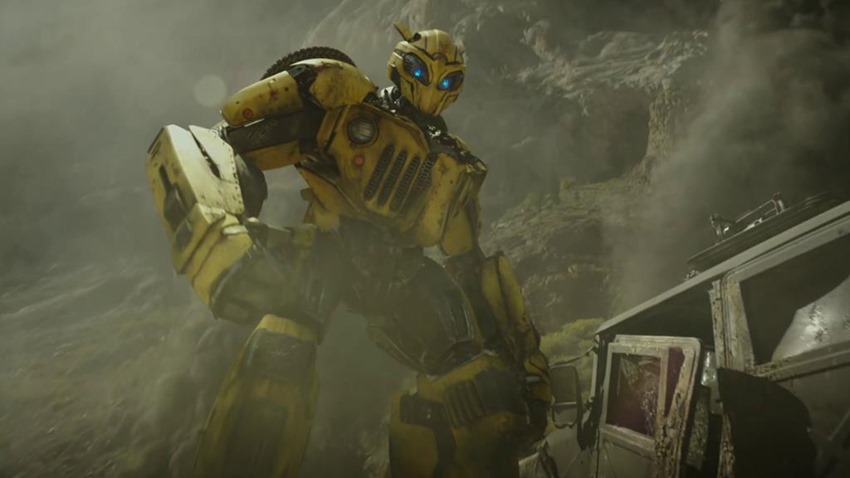 You never ever forget your first vehicle. That glorious day, when you're handed the keys to four wheels of freedom and allowed to venture out on your own. Maybe for some of you, that first car was a VW Golf with go-faster stripes on it. Maybe for others, it was a trusty Renault hatchback or a zippy Chevrolet Spark. Or maybe, it was an ancient VW Beetle that just so happened to be an Autobot refugee in disguise.
Wait what? Well, that would explain the trailer then for the first Transformers spin-off, starring none other than everybody's favourite hard-hitting rookie in yellow, Bumblebee:
On the run in the year 1987, Bumblebee finds refuge in a junkyard in a small Californian beach town. Charlie (Hailee Steinfeld), on the cusp of turning 18 and trying to find her place in the world, discovers Bumblebee, battle-scarred and broken. When Charlie revives him, she quickly learns this is no ordinary, yellow VW bug.
Finally, a decent Herbie movie. Bumblebee is essentially the usual Transformers film but on a smaller and more heartfelt scale and honestly? I kinda like the whole Iron Giant vibe that it has going in this early look. Bumblebee stars Hailee Steinfeld, Pamela Adlon and John Cena, although I didn;t see him in this trailer. HEYOH WWE JOKES! Stephen Schneider, Jorge Lendeborg Jr., Jason Ian Drucker, Kenneth Choi, Ricardo Hoyos, Abby Quinn, Rachel Crow and Grace Dzienny round out the cast, with animation veteran Travis Knight calling the shots as director.
Last Updated: June 5, 2018