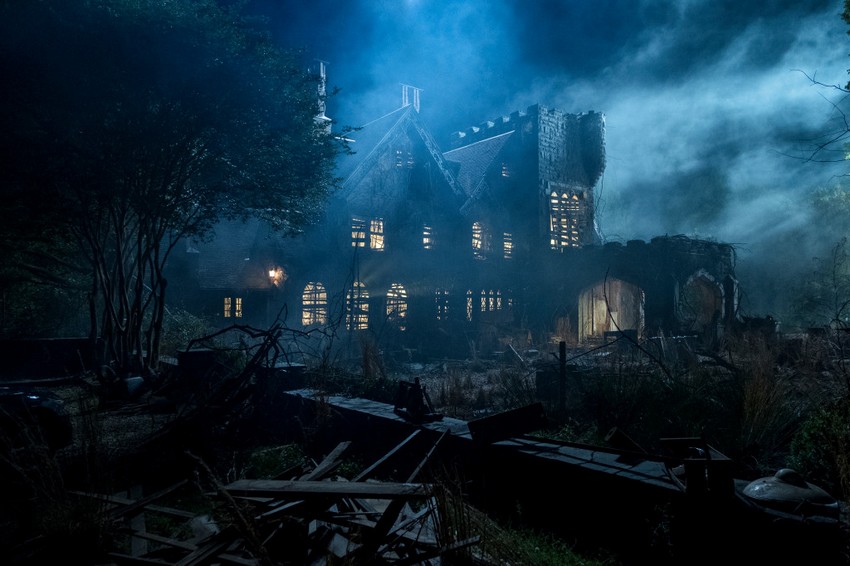 It took me quite a while to start watching and finish The Haunting of Hill House, Netflix's breakout horror-drama series from late last year. This wasn't because the dual-timeline spanning tale of the Crane family and their spooky old home was slow or dragged. Not at freaking all. Rather, my wife, who was watching it with me, insisted we can only watch the episodes while the sun was out. Anything after night has fallen and she was just too terrified by what director Mike Flanagan had concocted. Hopefully, she'll have better fortitude for the show's second season which was just announced last night!
If you've seen the show (and you really, really should), you may be wondering how there could even be a second series. Based on a re-imagining of Shirley Jackson's novel of the same name, Flanagan pretty much wrapped up the story of the Crain brood. There's no more story to tell about Hill House. So they won't.
As revealed in a pair of tweets, the upcoming second season will be titled The Haunting of Bly Manor and will be the first follow-up in what Netflix is hoping will be a long-running anthology series. This means totally new characters and story for each season which in this case will be an adaptation of Henry James' 1898 novella The Turn of The Screw. The gothic ghost story followed a governess who, caring for two children at a remote estate, becomes convinced that the grounds are haunted. Since its release more than a century ago, The Turn of the Screw has been adapted numerous times in radio drama, film, stage, and television, including a 1950 Broadway play, and the 1961 film The Innocents. It also served as a broad influence for the 2001 Nicole Kidman horror film The Others. Here's the novel's official synopsis:
A very young woman's first job: governess for two weirdly beautiful, strangely distant, oddly silent children, Miles and Flora, at a forlorn estate… An estate haunted by a beckoning evil.

Half-seen figures who glare from dark towers and dusty windows- silent, foul phantoms who, day by day, night by night, come closer, ever closer. With growing horror, the helpless governess realizes the fiendish creatures want the children, seeking to corrupt their bodies, possess their minds, own their souls…

But worse – much worse – the governess discovers that Miles and Flora have no terror of the lurking evil.

For they want the walking dead as badly as the dead want them.
It's uncertain if Flanagan, who directed the entirety of the 10-episode first season (and directed the absolute hell out of it, I may add!) will be returning to helm the second as well, or whether he will just act as producer. It's also not clear if Netflix will be copying other acclaimed horror anthology American Horror Story in having the same cast playing different characters for each season of what is now being referred to as the Haunting Anthology. The cast of Hill House, as fantastic as they were, don't quite match up with the story of The Turning of the Screw though, but I wouldn't be surprised if at least a few of them return.
Last Updated: February 22, 2019