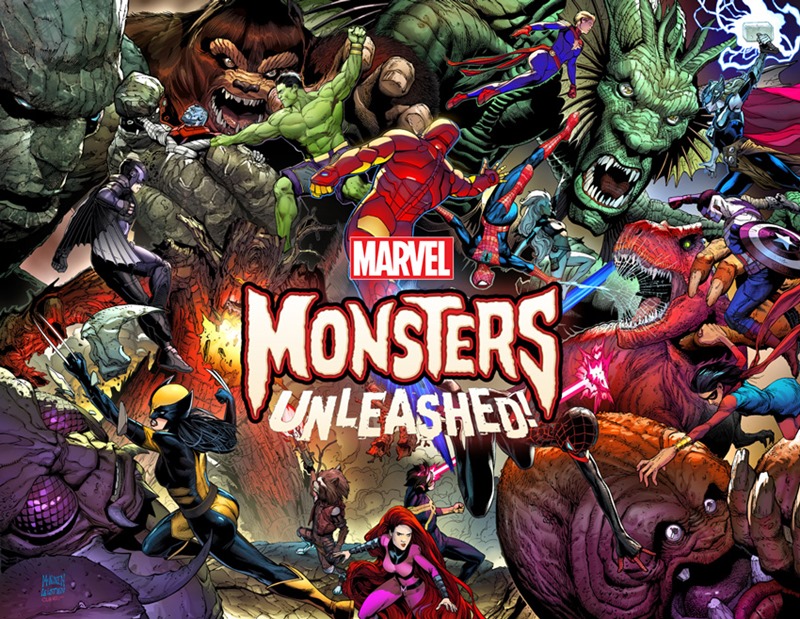 When you think of Marvel comics, your mind probably thinks immediately of their biggest hits: Spider-Man, Iron Man and the rest of the superheroes. And that's funny, because the house of ideas wasn't always the house of tights. When Marvel first arrived on the scene many decades ago, they'd publish stories across several other genres.
Horror, romance and weird science just to name a few. One of their more popular genres however? Monsters. I'm talking about the kind of monsters that'd you'd need an army of Jaegers to keep back. Monsters like Fin Fang Foom, the giant dragon in teensy purple underwear. But for their next big event, Marvel is planning on reuniting their fractured community of heroes to tackle a Kaiju-sized threat in Monsters Unleashed.
"If there ever were a monster who stood 10 stories high or taller and created mayhem in the Marvel Universe over last several decades, they're gonna be in the story," Marvel editor-in-chief Axel Alonso said to EW. "Our goal is to cram as many mammoth monsters of Marvel into Monsters Unleashed as will fit on the page," editor Mark Paniccia added.
If you've got a personal favourite, chances are very good you'll see them causing some mayhem in this series. And if you're worried we'll forget one, don't be afraid to tweet at us @Marvel using the hashtag #MonstersUnleashed.
Every Marvel hero will be drafted into this Kaiju war, from street level vigilantes such as Luke and Cage and Deadpool to heavy hitters that include Iron Man and the Spider-Men.  Monsters Unleashed is meant to serve as a gateway to the various characters without the need for readers to know what has been going on lately in the various pages of these comics. But according to Alonso, the beasts of Monsters Unleashed are the real stars of this series:
Jack Kirby, Steve Ditko, Don Heck, and Herb Trimpe – all of these guys created incredible monsters that we remember from my childhood. They're the equivalent of those Ray Harryhausen-type monsters, those rubber suits that thrill us. To see them coming back, and to take them seriously, it's a lot of fun.
For Monsters Unleashed, a revolving team of artists will be drafted to help illustrate the action. Every issue will have a different artist, with Marvel selecting from their A-Team of talent to get Monsters Unleashed out on a bi-weekly schedule in January: Steve McNiven, Leinel Francis Yu, Adam Kubert and Salvador Larroca. Oh and Greg Land as well. "All of these artists are associated with huge scale superhero action, and we'll be giving them room to breathe," Alonso said.
There will be plenty of two-page spreads and splashes so the book feels as big as it is. Each issue is 30 pages long, which will allow for that. Why the monsters are here now and what they want, is gonna be part of the fun of the story. For people who say they want to see heroes fighting villains, well, here you go.

This is the Marvel Universe being momentarily united to deal with this common threat, because if they don't get united, there's going to be no Marvel Universe to live in. So that's an interesting dynamic right there.
Marvel has a huge collection of monsters that have been laying dormant, monsters that were massively popular in the early years of the Silver Age of comics before superheroes took over. It should be interesting to see how much nostalgia there still is for these B-movie relics. LET THEM FIGHT!
Last Updated: September 19, 2016