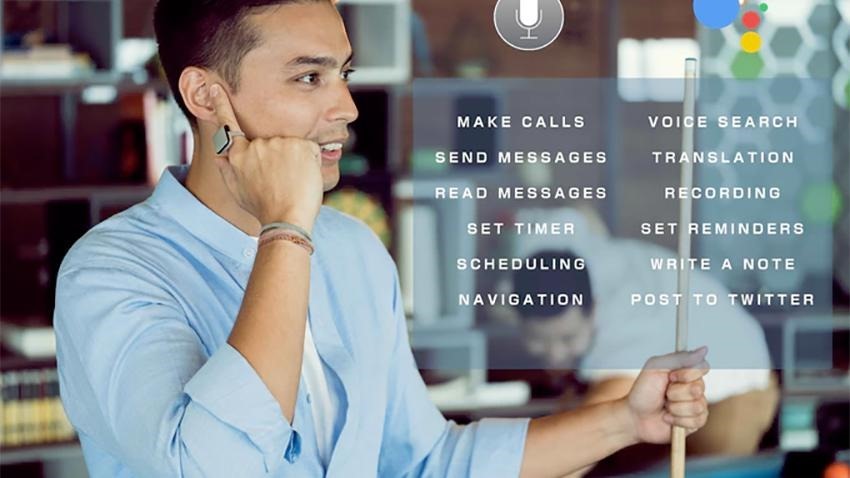 When you think of hands-free Bluetooth headsets, you usually imagine those single earpieces that make people look like they're talking to themselves when they're out in public. They're useful, even if they do make the people who use them look a bit silly.
They could certainly do with a rethink, which is where Hong Kong startup Origami Labs comes in. They've created a futuristic Bluetooth-enabled ring that not only functions as a communications device, but also lets you control your phone solely via voice.
The smart ring can be used to make calls, send messages, post to social media and just about anything else that personal digital assistants like Google Assistant enable. Intriguingly, it uses bond conduction to transmit its audio, so all you need to do is put your finger to your ear to hear crystal-clear sound. While that may negate the hands-free aspect, the smart ring isn't about that. It's about enabling people who are visually impaired to get the most from their phones.
It's the work of Kevin Wong and the team at Origami Labs. Kevin's father has been visually impaired since he was a teenager, so he wanted to find a way to help his father and those with similar impairment get the most out of technology.
It's on Kickstarter right now, where $119 gets you an ORII Smart ring when it ships in February. The project currently has $132,890 of its $30 000 goal, with 23 days to go on its funding. The company also has funding from Alibaba's Hong Kong entrepreneurship fund and Radiant Venture Capital.
"Ring, ring! ORII is the world's first voice-powered smart ring that turns your finger into a smart phone. Just by touching your ear you can make calls, send messages, set reminders, or anything else that Siri or Google Assistant can do for you. ORII uses bone conduction to send sound along your finger and into your ear. It's stylish and spy-ish, and only you can hear it. "
It'll let you look like a bit of a goofy secret agent, and I want one.
Last Updated: July 25, 2017