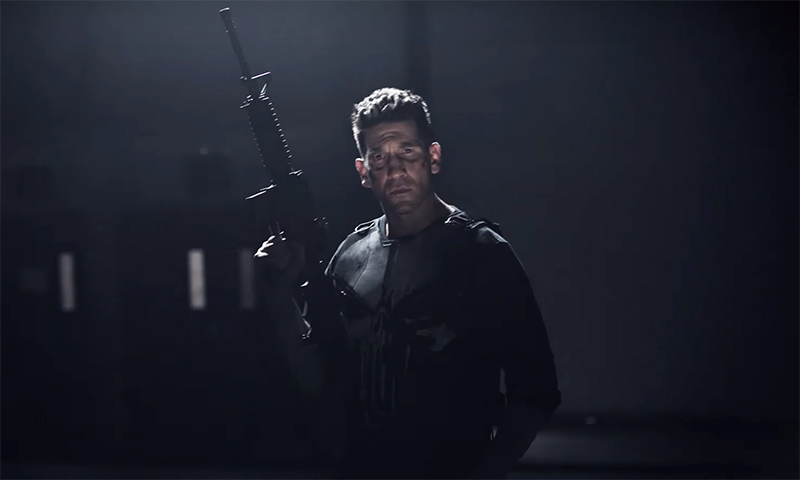 While the rest of Marvel's Netflix shows got unceremoniously killed off at the end of last year, much to the shock of many fans, The Punisher is still around and he's the one that will be doing the killing, thank you very much! And we won't have to wait long at all to see Jon Bernthal's titular vigilante Frank Castle back to his violent ways as Netflix revealed via a trailer last week that the upcoming second season is set to premiere a week from now on Friday, 18 January.
As we can see from the trailer, Ben Barnes' Billy Russo's transformation into the villainous Jigsaw is going into full swing. Comic book fans had been wondering how returning showrunner Steve Lightfoot would adapt the iconic Punisher villain, especially since Barnes' handsome face didn't look that messed up and scarred at the end of last season. It would appear though that the production is going for a bit of an artificial look with a black and white mask emulating the comic book version's shattered visage. This transformation was made even clearer in a brand new motion poster tweeted out by the official The Punisher account.
Jigsaw's appearance isn't the only one that will be put under the spotlight in season 2 though. Bernthal recently spoke to CBR during a set visit and revealed that season 2 will delve into the "tactical reason" why Castle emblazons his chest with the iconic – and very easy to see in a gunfight – white skull logo.
I mean, it's tough, you know? I just remember last year, there was a whole thing where — like when he was making the vest — there was going to be a whole scene with Micro, where they're kind of at the computer, figuring it out, and it was going to be the first time with him in the vest and he was just going to sort of be like drinking tea. I'm like, 'You can't do that, man! It's going to look so frickin' stupid!'

To me, I'm really rigorous with the writers that, if he's got to wear it, there's got to be a tactical reason. There's got to be something behind it, because he's not a flashy guy, you know? He spent Season 2 of Daredevil kind of laughing at Daredevil, like, 'What the fuck is with that costume? Like what's with those ears? What are you doing?' We've got to kind of make that work. I actually feel like this year, when he puts it on, they figured out a very intelligent, very tactical reason. A very psychologically tactical reason to wear it. And I think it makes a lot of sense.
We can find out exactly what that reason is just 11 days when The Punisher season 2 kicks off!
Last Updated: January 7, 2019