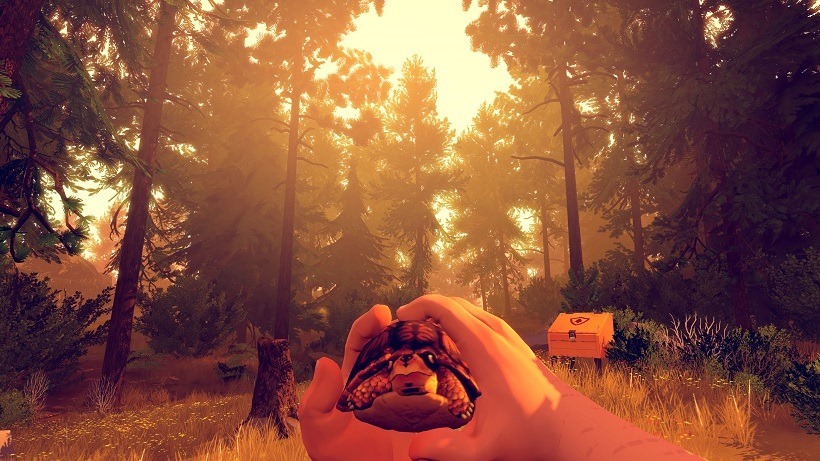 Firewatch might not have been the perfect game, bit if there's one thing it nails is feeling human. The relationship between its protagonist Henry and his superior Delilah is at the core of why Firewatch works so well, and it's enough to warrant a film. Developers Campo Santo have partnered up with Good Universe (Oldboy, Neighbours) to produce a film based on their hit indie success.
Firewatch is being made into a film, just a few months after it launched to critical and commercial success. The game sold north of a million copies when it launched in February of this year, and recently just released on Xbox One with some bonus features. This new partnership with Good Universe includes multiples games and films, which could indicate that Campo Santo intends to make this sort of crossover a regular thing for future projects.
Firewatch follows the journey of Henry – a new lookout in the Wyoming wilderness that has moved out there to escape his deeply troubled past. He soon forms a relationship with his mysterious supervisor Delilah, as they both investigate some strange occurrences in the park during the early 1980s. While Firewatch is an experience that everyone should play through, it isn't without some flaws as I described in my review from earlier this year.
A brilliant adventure packed with some of the best dialogue gaming has ever been medium to, Firewatch manages to engross you from the moment it begins and throughout its fittingly brief tale. Even if the journey is far more captivating than the eventual destination, Firewatch is more than worth the price of admission. Wyoming and its mysteries await.
Dialogue and player agency were central to Firewatch's strengths, so watching Camp Santo and Good Universe tackle that without the ability for viewers to make choices will be interesting. It's a project I'm definitely going to be keeping my eyes on closely.
Last Updated: September 27, 2016