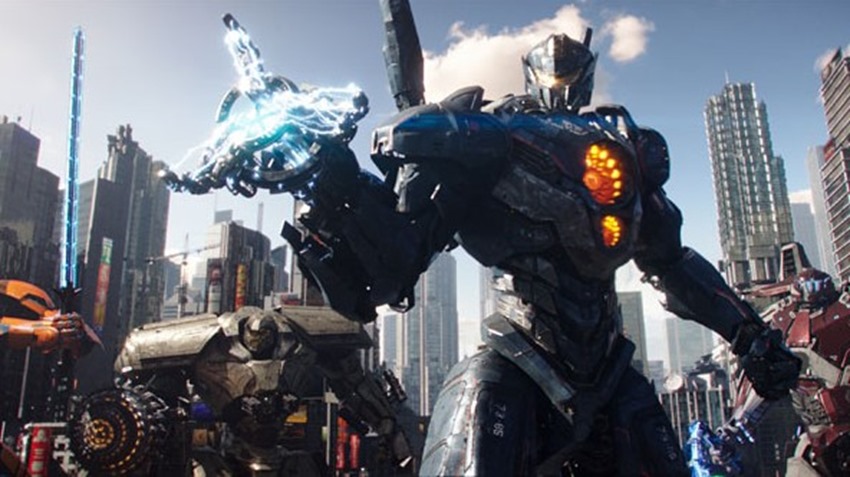 Humanity's time on this planet is limited, thanks to our naturally self-destructive tendencies. Extinction is only a matter of time, but I genuinely do believe that we'll leave our greatest artistic achievement behind for the next generation of species who succeed in ascending to the top of the food chain: The greatest movie ever made, in the form of 2013's Pacific Rim.
A film so dang good, that it won every Oscar across multiple Earths in the multiverse and went on to kickstart an entire generation's worth of research into making Jaegers a reality (citation needed). Anyway, while Pacific Rim is the kind of film whose symbolism is worthy of being permanently inked on your fragile flesh, it's not the only film in the series.
The Kaiju-busting juggernaut expands its family in a mere three months, as early 2018 will see Pacific Rim Uprising unleashed. You've probably already seen one trailer that makes you wonder why humanity can't pool its resources to build gigantic jackhammers around the rift that plays whack-a-mole with any beasties that pop their heads up out of their own horrid dimension.
Well here's another trailer sort of, and while it contains the usual Hollywood Hype of an actor looking to sell their latest film, it also includes plenty of new footage to gawk at:
John Boyega stars as the rebellious Jake Pentecost, a once-promising Jaeger pilot whose legendary father gave his life to secure humanity's victory against the monstrous "Kaiju." Jake has since abandoned his training only to become caught up in a criminal underworld. But when an even more unstoppable threat is unleashed to tear through our cities and bring the world to its knees, he is given one last chance to live up to his father's legacy by his estranged sister, Mako Mori who is leading a brave new generation of pilots that have grown up in the shadow of war.

As they seek justice for the fallen, their only hope is to unite together in a global uprising against the forces of extinction. Jake is joined by gifted rival pilot Lambert and 15-year-old Jaeger hacker Amara, as the heroes of the PPDC become the only family he has left. Rising up to become the most powerful defense force to ever walk the earth, they will set course for a spectacular all-new adventure on a towering scale.
I think I just…emptied my clip. Pacific Rim Uprising stars John Boyega, Scott Eastwood, Jing Tian, Cailee Spaeny, Rinko Kikuchi, Burn Gorman, Adria Arjona and Charlie Day. Hopefully it'll answer the age-old question of where Hannibal Chau's damn shoe disappeared to.
Last Updated: December 5, 2017